All images are clickable!
An amazing new deal has gone live at Mytheresa! This one is a flash sale and is only available for 3 more days. You can get an EXTRA huge discount off already discounted sale items! Usually, I don't get that enthusiastic about further reductions off sale items but I was so surprised at how amazing the stock selection was – and the insane deals to be had! The extra discount is up to 40% off but pretty much everything I saw had a further discount of either 30% or 40% off. These items were already discounted by 30-40% which means at the very least, you'll be getting these items for less than half price, going up to 65% off!
I've rounded up my favourite picks above and below but you can view the full sale stock selection here! This one is only available in the US, Canada and Asia (Hong Kong, Australia, Singapore, China, South Korea, Macao, Taiwan) and is only live until this Sunday (end 11:50 CET).
FEATURED ABOVE
1. Self-Portrait Dress // 2. Max Mara Cardigan // 3. Light Blue Jeans // 4. Blush Blazer // 5. Max Mara Sweater // 6. Printed Skirt // 7. Midi Skirt // 8. Ralph Lauren Hoodie // 9. D&G Top Handle // 10. Gianvito Rossi Ankle Boots // 11. Gianvito Rossi Suede Ankle Boots // 12. Chloe Tan Shoulder Bag // 13. Camel Coat // 14. Gianvito Rossi Biker Boots // 15. Leopard Print Heels // 16. Skinny Leggings // 17. Slider Sandals // 18. Nude Sandals
There is no discount code needed and the further reduction will automatically be taken off at checkout.
ITEMS I OWN AND LOVE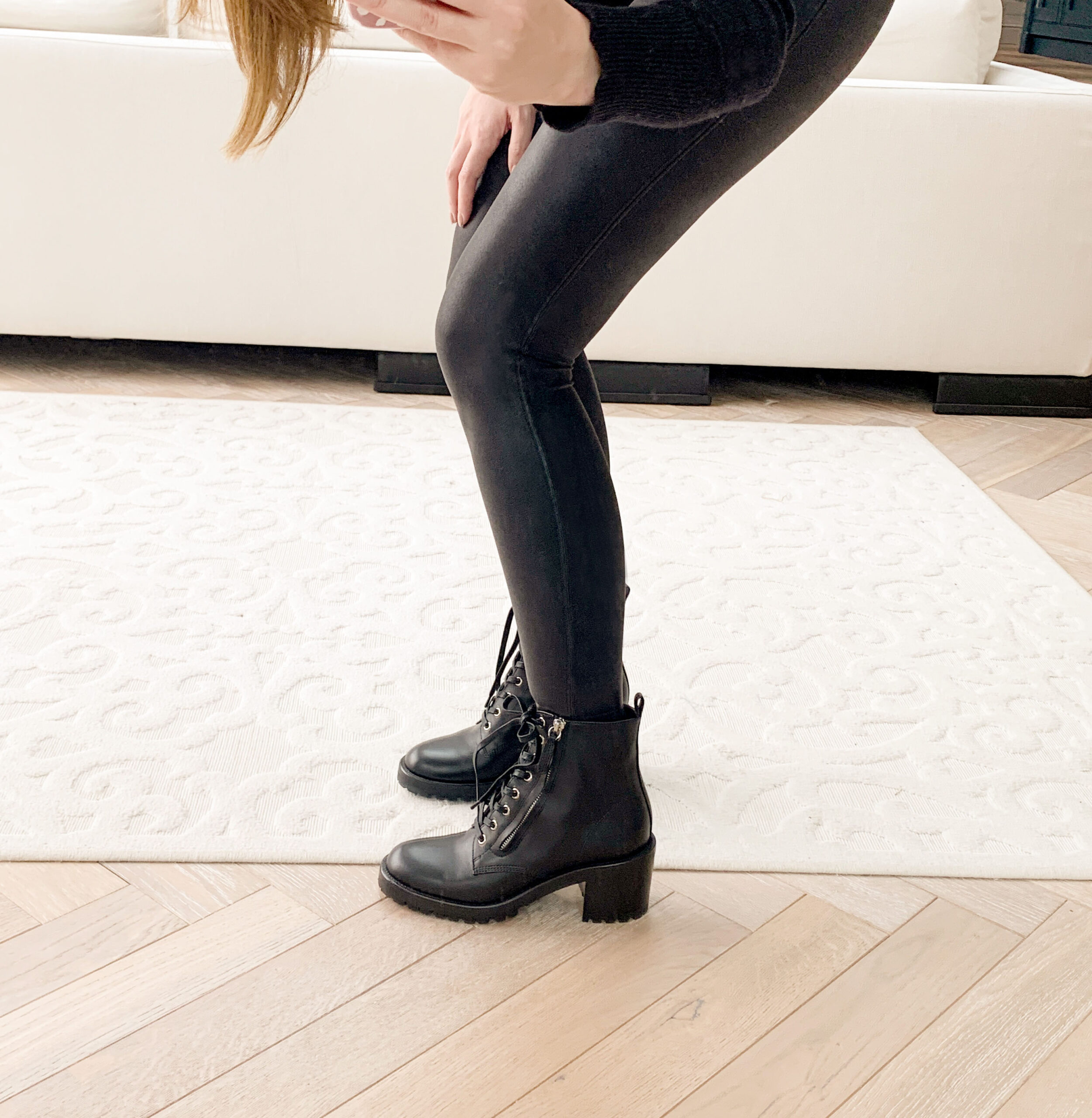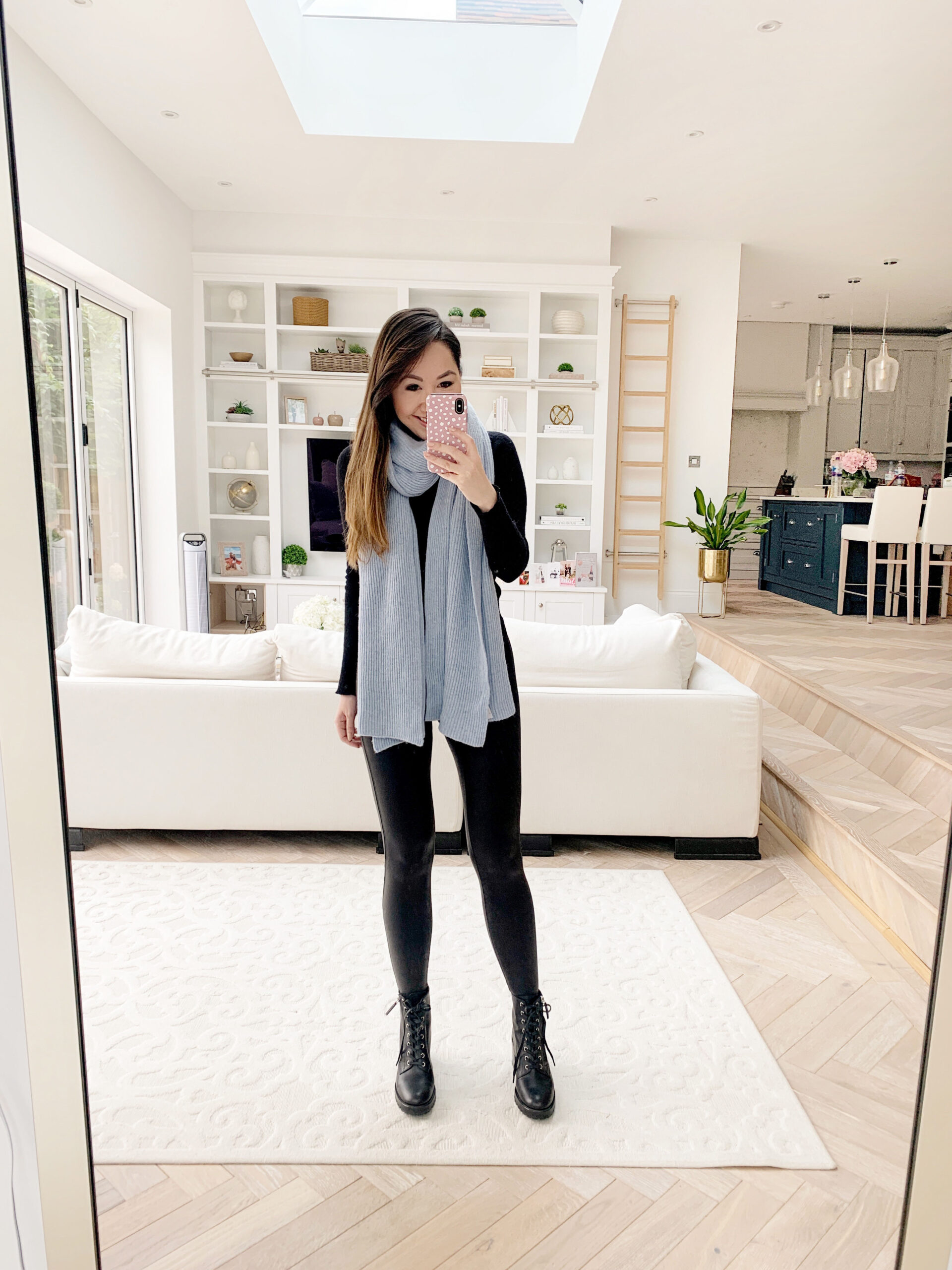 Gianvito Rossi boots (TTS) // Blue Oversized Scarf
I was particularly excited to see my Gianvito Rossi biker boots on MAJOR sale – they are already 30% off, with an additional 30% off! I have never seen a deal on these this good and I'm anticipating biker boots to be a big trend this winter so this is an amazing price! They do still have a decent amount of sizes left but I imagine these will go quickly.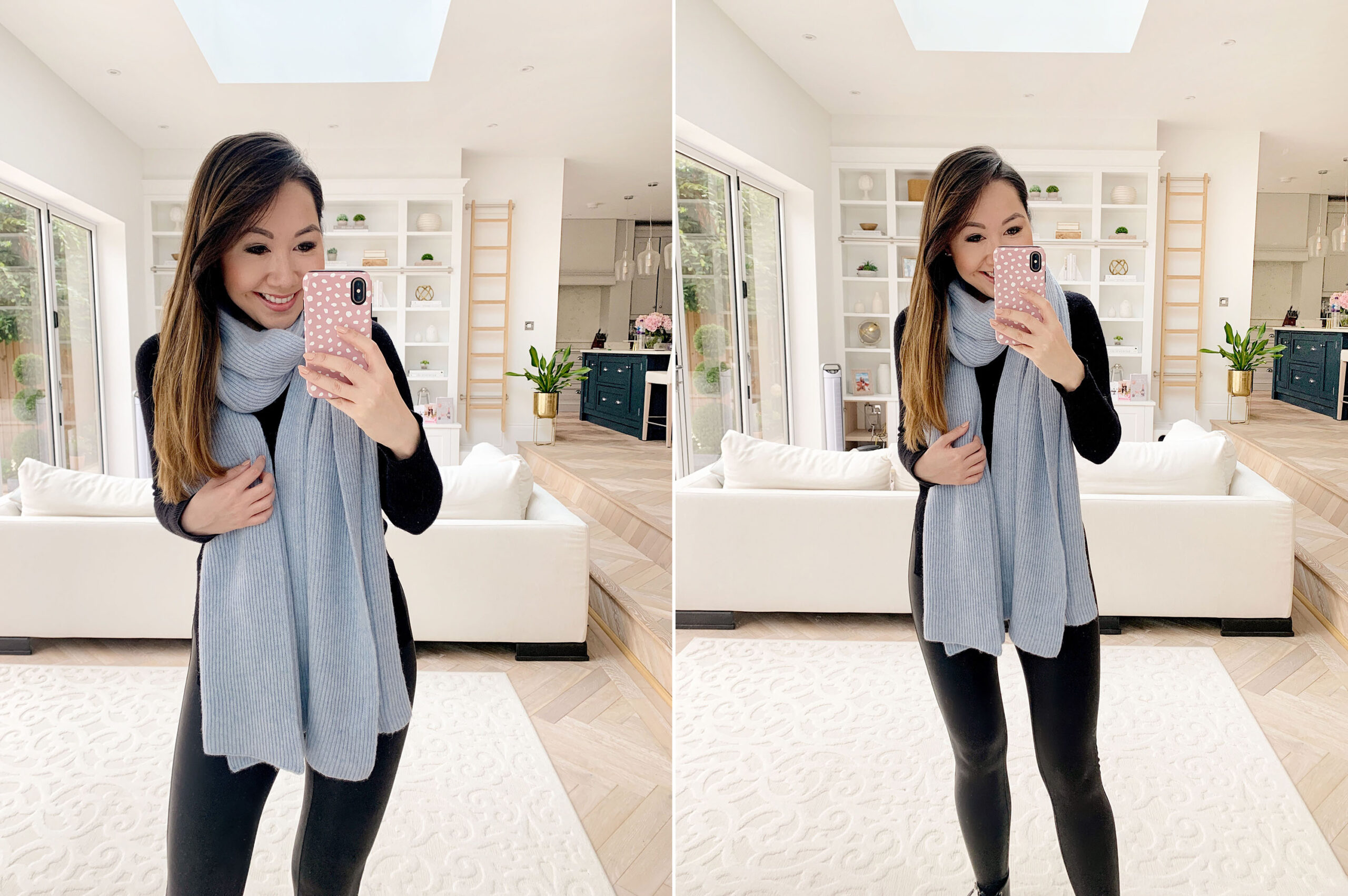 Also included is my cosy blue scarf! This is just the prettiest colour – the perfect sky blue and it's now on sale for only $80! It's a huge scarf so perfect for wrapping around and the colder months.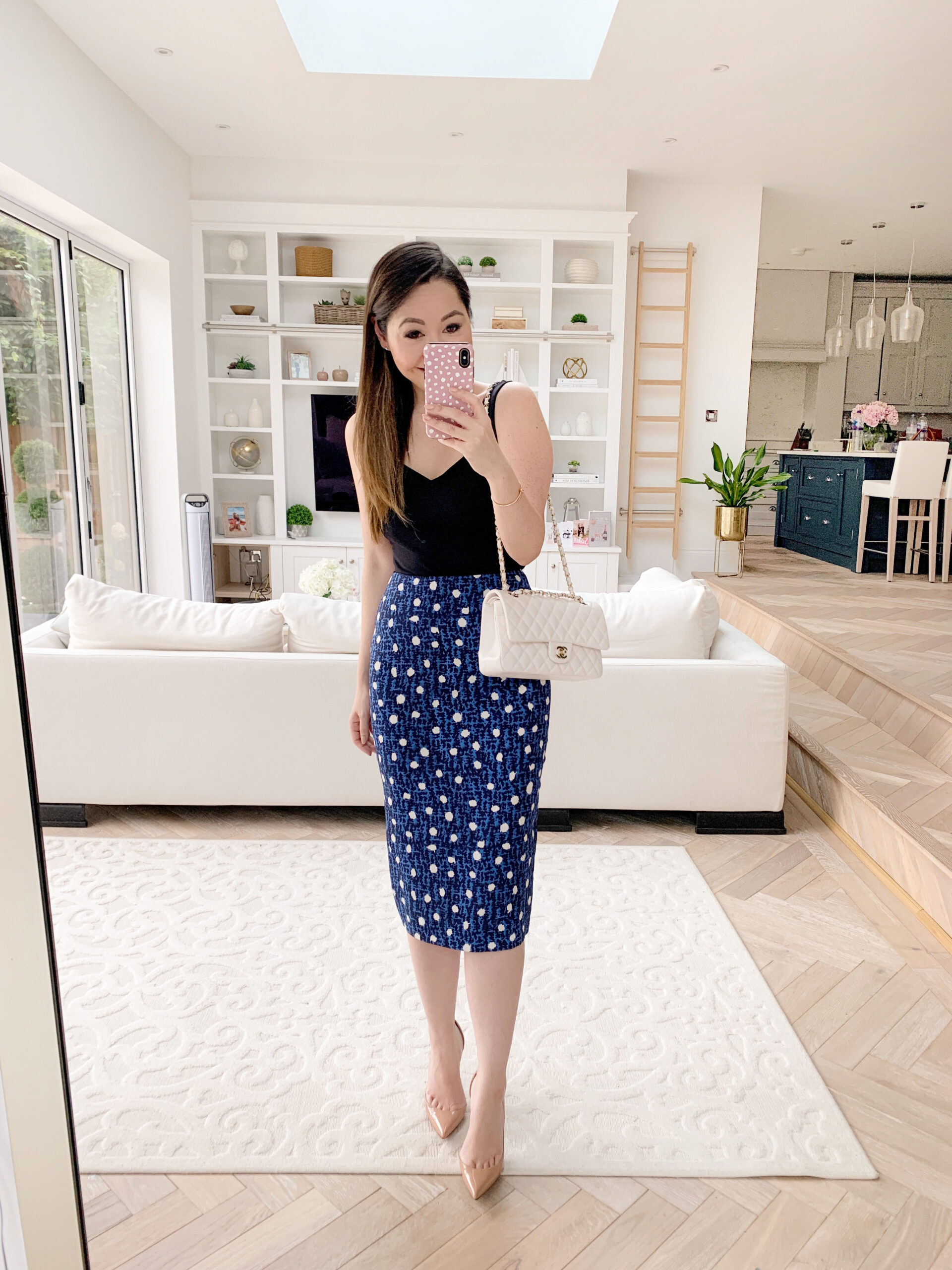 Blue pencil skirt (I took a size 2)
My pencil skirt is included in the flash sale and with the stacked discounts, is less than half price! I wish you could feel the fabric through your screen haha because it is so gorgeous! It does have a decent amount of stretch but sucks you in, in all the right places whilst having the loveliest, most silky soft feel. Truly an unreal skirt – and such an amazing price! I actually just snapped this pic tonight as it's what I wore for our date night but I think it would work just as well in an office setting. I took a size 2 and it fits generally TTS I'd say.
1. AG Farrah Jeans // 2. Polo Ralph Lauren Hoodie // 3. 7 For All Mankind Illusion Jeans
Three other items I own that are worth highlighting – my beloved AG Farrah jeans (the same style that always sells out at the Nordstrom sale!) are included and there are still a decent amount of sizes left. With the stacked discount, they come to $133 – which is a steal for AG jeans, especially the Farrah line!
My white Polo Ralph Lauren hoodie is also included (size up – I took a medium and it's still a fairly snug fit) as are my illusion jeans from 7 For All Mankind. If you've not tried this denim line and like your skinny jeans, these are definitely worth checking out – so crazy flattering!
ACTIVE WEAR PICKS
All images are clickable!
1. Stella McCartney x Adidas Cropped Hoodie // 2. Blue Leopard Sports Bra // 3. Neutral Leopard Sports Bra // 4. Rainbow Sports Bra // 5. Varley Sports Bra // 6. Cream Sweatpants // 7. Blue Leopard Leggings // 8. Neutral Leopard Leggings // 9. Rainbow Leggings // 10. Varley Leggings
The active wear section is also incredibly well stocked with some incredible brands heavily discounted. I am so in love with this gorgeous light blue leopard print set (bra here and leggings here!) – so cute! There are a lot of Varley separates included in the flash sale too and with the layered discounts, they're all over 50% off!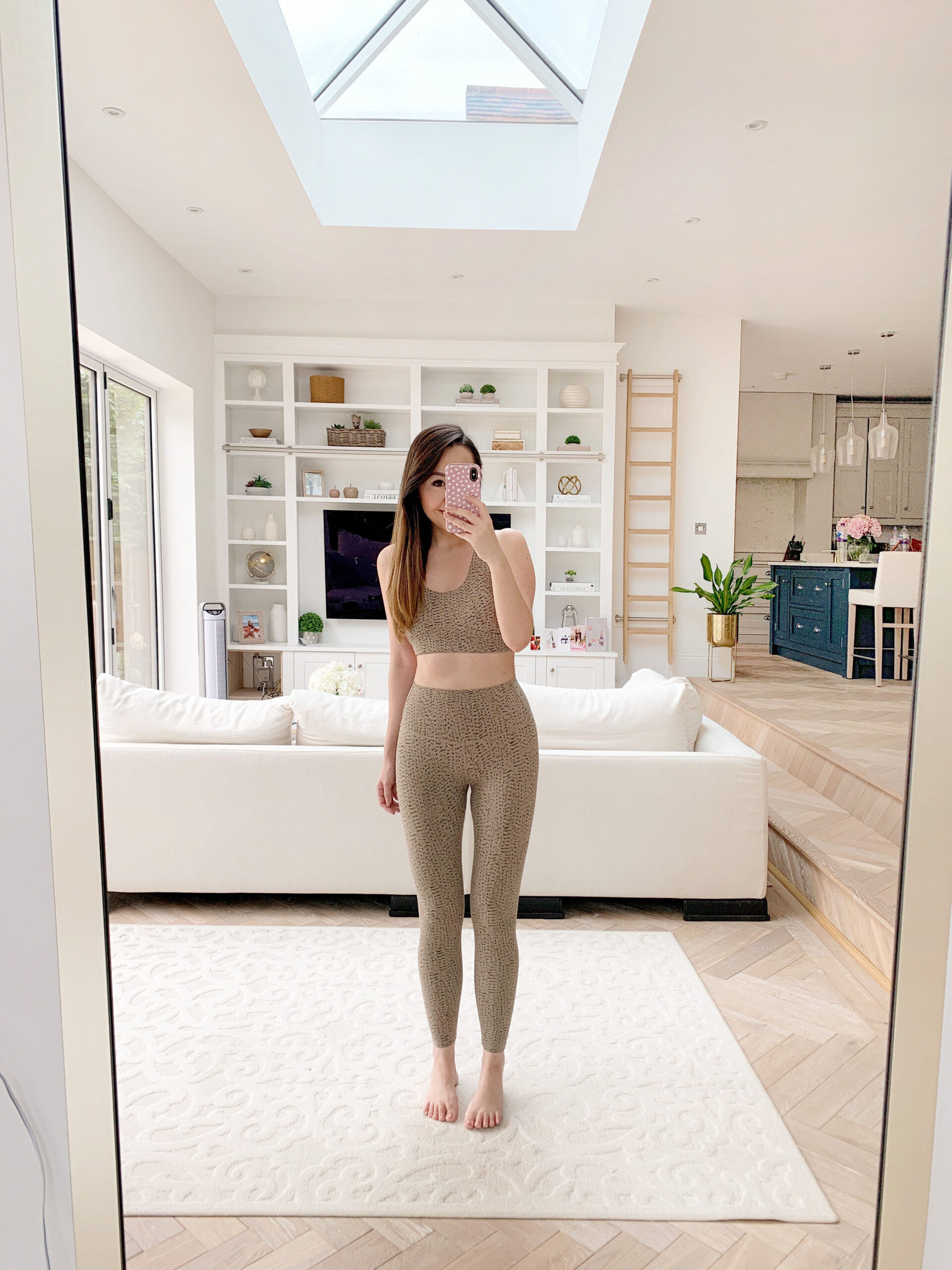 I own this sports bra and leggings set myself and it is one of the softest, most comfortable I own! The fabric is on another level and is the perfect amount of compression and flexibility. Would definitely recommend checking out Varley if you haven't already – it's positioned as a luxury activewear brand and you can certainly feel the difference in quality and fabric. I actually loved the fabric on this one so much that I bought my mum the same sports bra and she loves it just as much as I do!
A/W WARDROBE PICKS!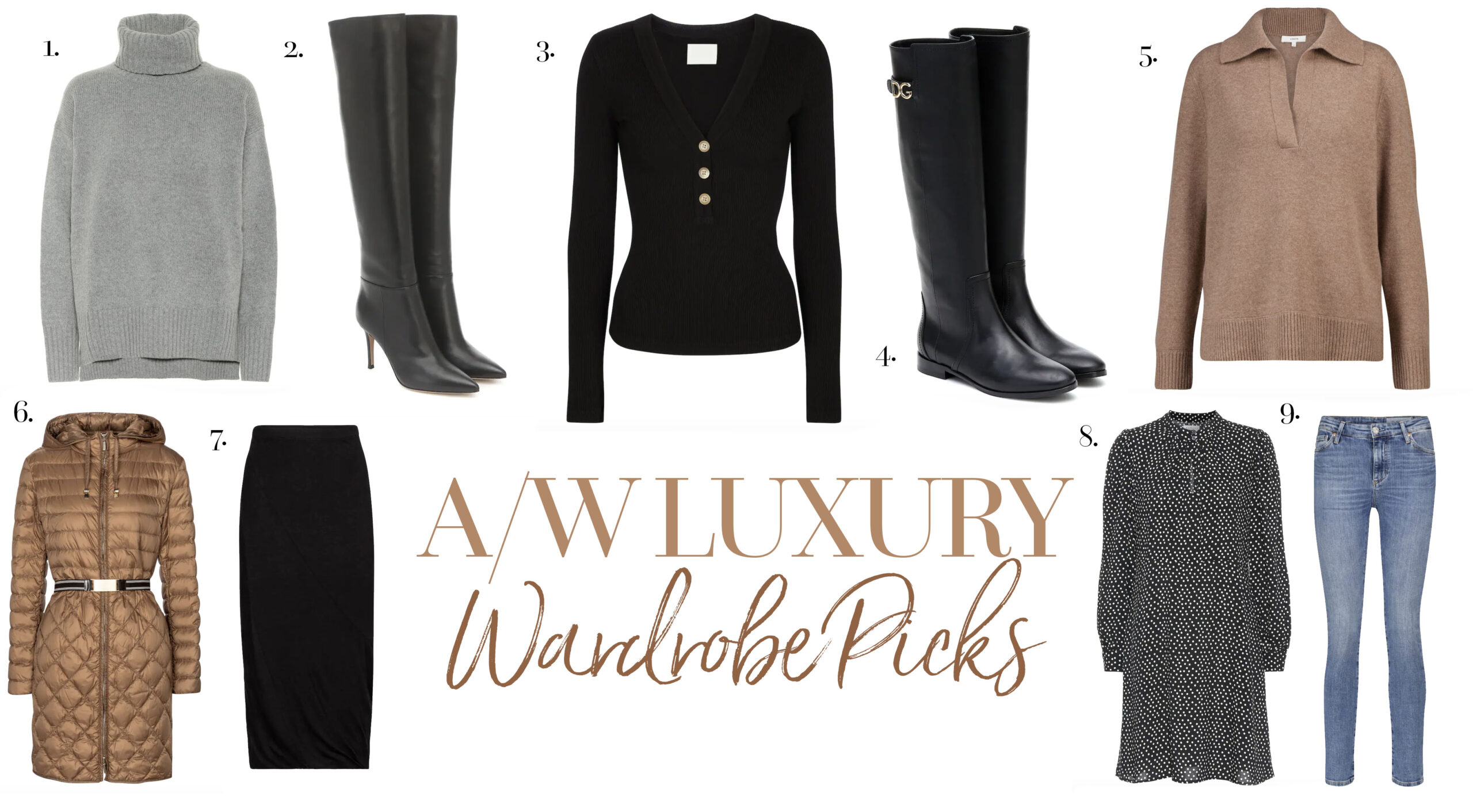 1. Gray Max Mara Sweater // 2. Gianvito Rossi Boots // 3. Black Henley // 4. D&G Boots // 5. Vince Sweater // 6. Max Mara Coat // 7. Black Drape Pencil Skirt // 8. Polka Dot Dress // 9. AG Jeans
Finally, as we're heading into the Fall/ Autumn season, I thought I'd also share some cooler weather appropriate picks. There are plenty of great pieces for the upcoming colder months from cozy Vince knits to gorgeous classic knee high boots – all at seriously discounted prices!
Let me know if you snag anything!