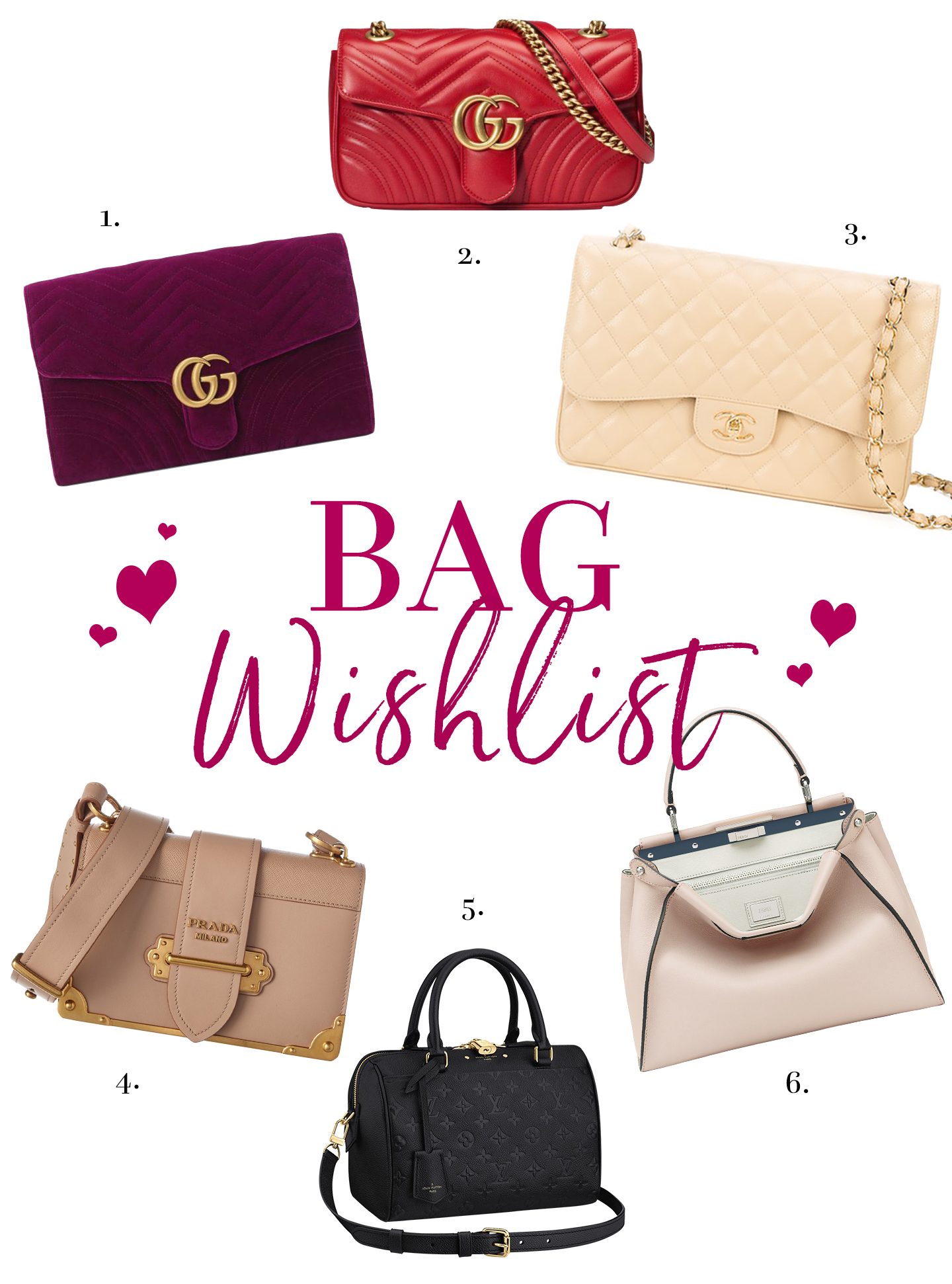 I haven't done a designer bag wishlist post in a very long time on here so now that I don't have a big ol' wedding to pay for, I thought it was about time I'd indulge in some wishlist planning! This time around, I thought I'd do a little pro vs. con for each bag as realistically, this is how I weigh up my purchases. I think most people that have followed me for a while know I like to think about my purchases for a decent amount of time (which is a nice way of saying I obsess over them in a totally healthy way…) so I thought it only fair to give a glimpse into my crazy thought process here too 🙂
Gucci Marmont Velvet Clutch // 2. Gucci Marmont Red Mini // 3. Chanel Beige Clair Jumbo // 4. Prada Cahier Bag // 5. Louis Vuitton Speedy B Empriente // 6. Fendi Peekaboo
Prada Cahier Bag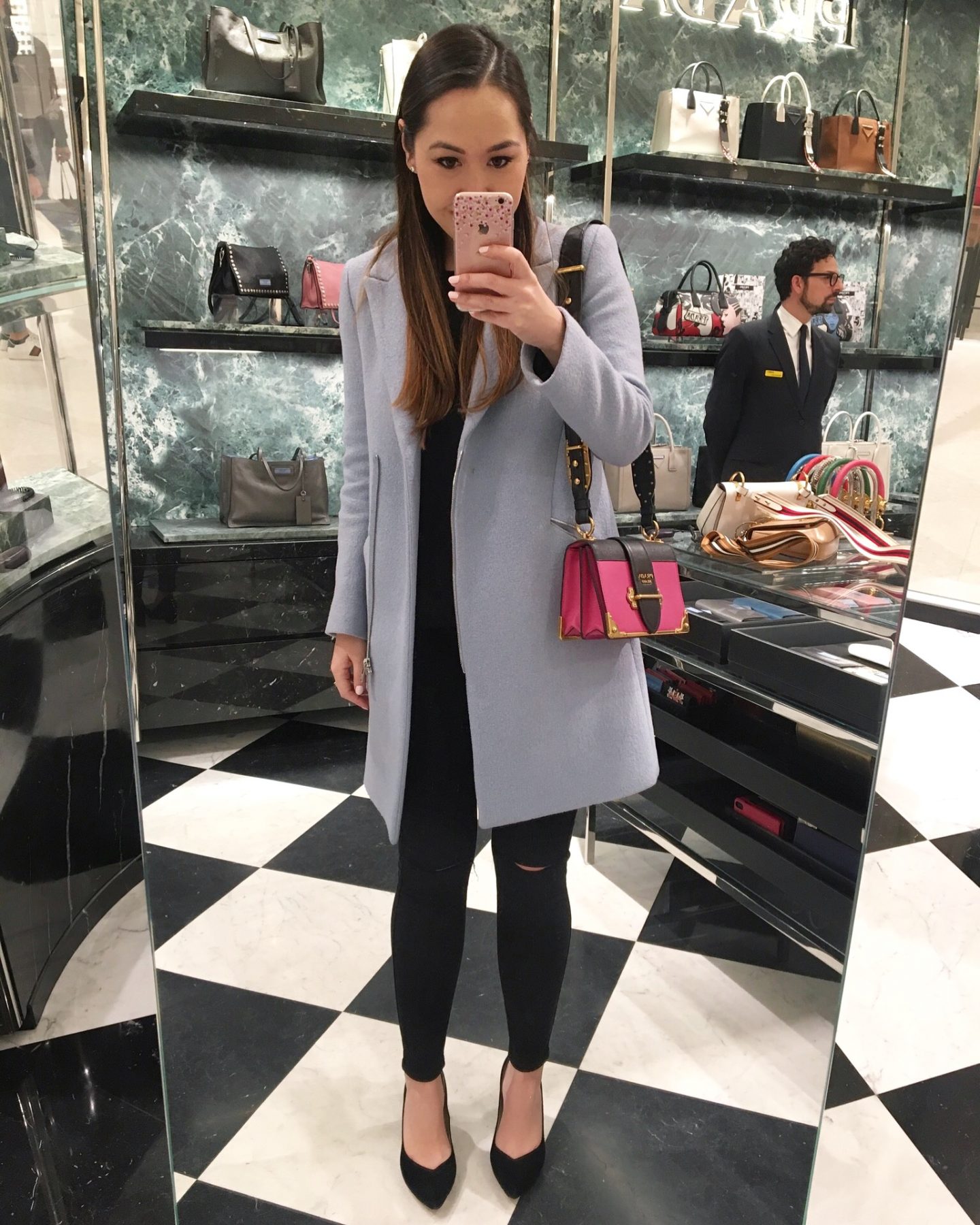 The Prada Cahier bag has been around for a couple of seasons now and it's grown on me the more I've seen it. Totally different from other Prada styles, I just love how chic and different it is to their usual aesthetic not to mention the huge variety of colours and materials available.
Pros: The style and… well, look how pretty! Somehow it seems both feminine and edgy and I've seen it worn a bunch of different ways – all equally as cool as the next. I'd almost certainly go for a more neutral colour if I was to buy one but the colourful ones are very fun to try on!
Cons: It reminds me a bit of the Chanel Boy bag and I don't get a ton of use out of the ones I have. Probably the only reason I haven't pulled the trigger yet as I wonder if they're too similar? That said, the pull is strong with this one…
Gucci Marmont Velvet Clutch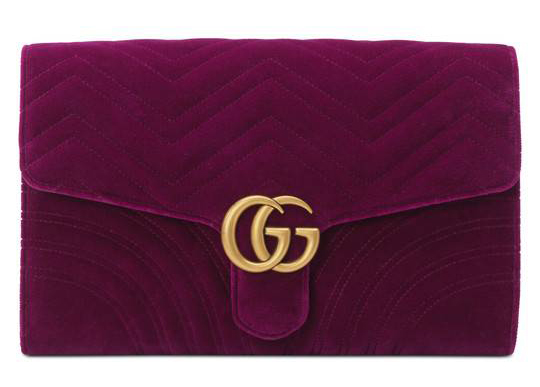 Perhaps the least practical on this list but I can't help but love this Gucci Marmont Velvet Clutch. I saw this new release on the Gucci site about a month ago and have been periodically 'checking' on it ever since (anyone else do this? No? Just me?).
Pros: I love a bit of velvet and this looks like the perfect statement clutch for A/W outfits. Plus the colourways are just beautifully rich.
Cons: Durability and usability. Velvet isn't exactly known for its low maintenance qualities and clutches tend to be put on tables a lot which concerns me.
Gucci Marmont Red Mini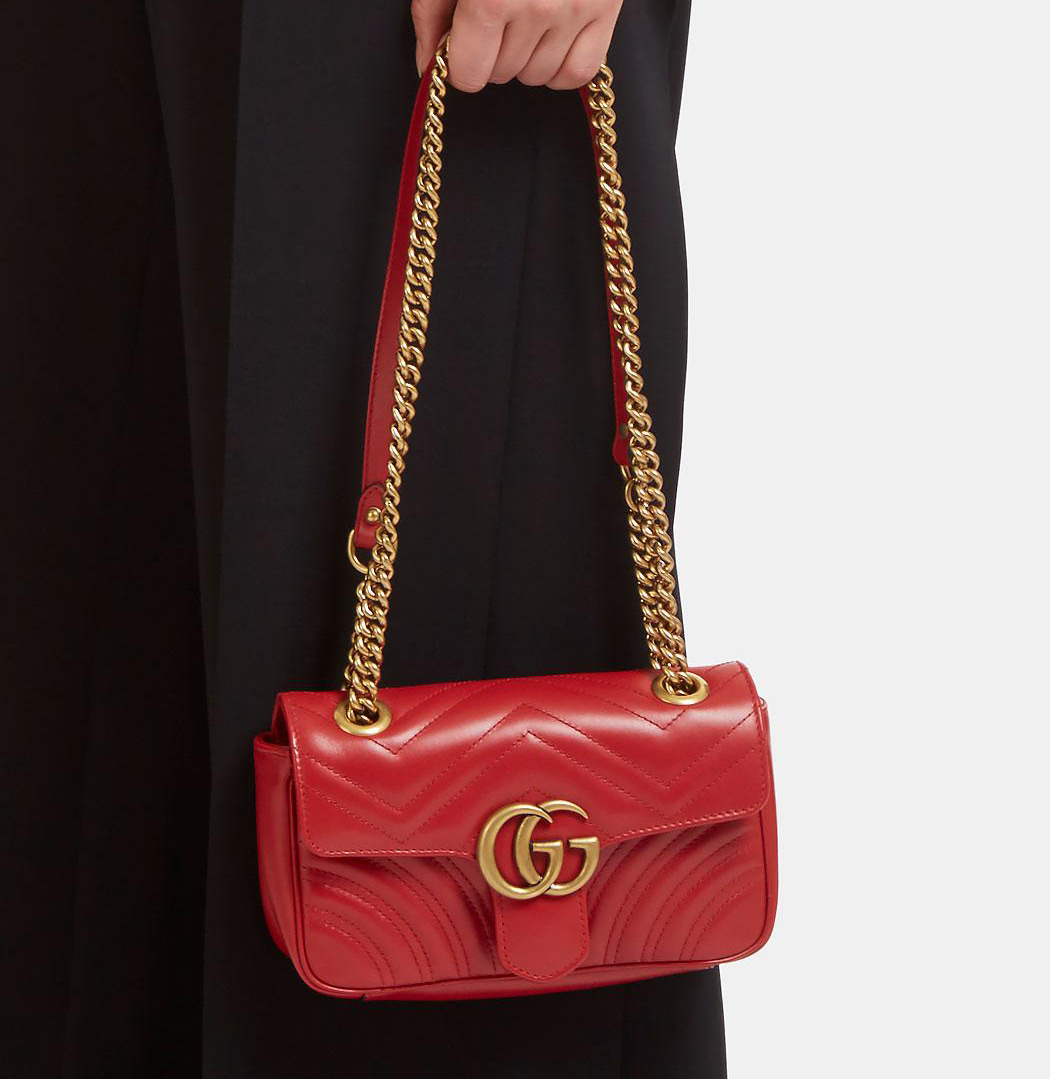 Despite my better judgement, I've been craving a red bag. I put the no-more-red-bags rule in place after I sold my red Chanel Jumbo that I got approximately zero use out of. That said, it's been a few years, my style has changed a bit and I can't help but want this adorable pop of colour in my wardrobe!
Pros: I know I love the Gucci Marmont line for both its look and functionality so it's tried and tested for me. I just don't seem to tire of these bags and the red Gucci Marmont mini is utterly gorgeous.
Cons: I don't have the best track record with red bags (or any pops of colour for that matter) and I wonder if a 4th Marmont bag is too much, even though I do really love them.
Louis Vuitton Speedy B Empriente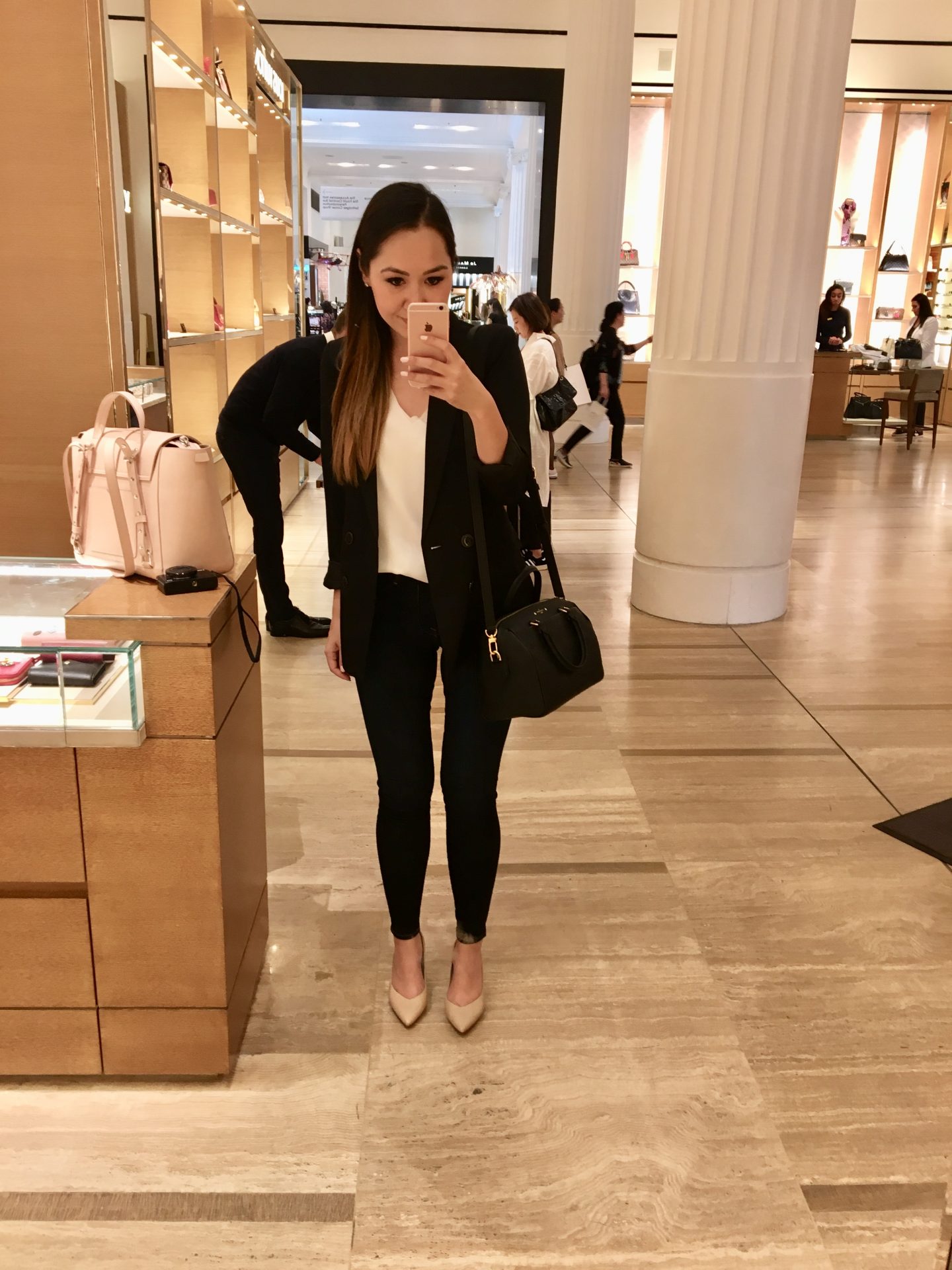 I tried the Louis Vuitton Speedy B on in store a little while ago and surprised myself with how much I loved it. I was initially looking at a coloured version but the black was so chic that I was immediately converted.
Pros: Classic and timeless. The Speedy is iconic and I absolutely adore empriente leather.
Cons: I have firmly been in the Neverfull camp until now and I'm concerned I just won't get that much use out of a speedy. Totes are still my grab-and-go bag of choice so I want to still maintain that balance of styles.
Fendi Peekaboo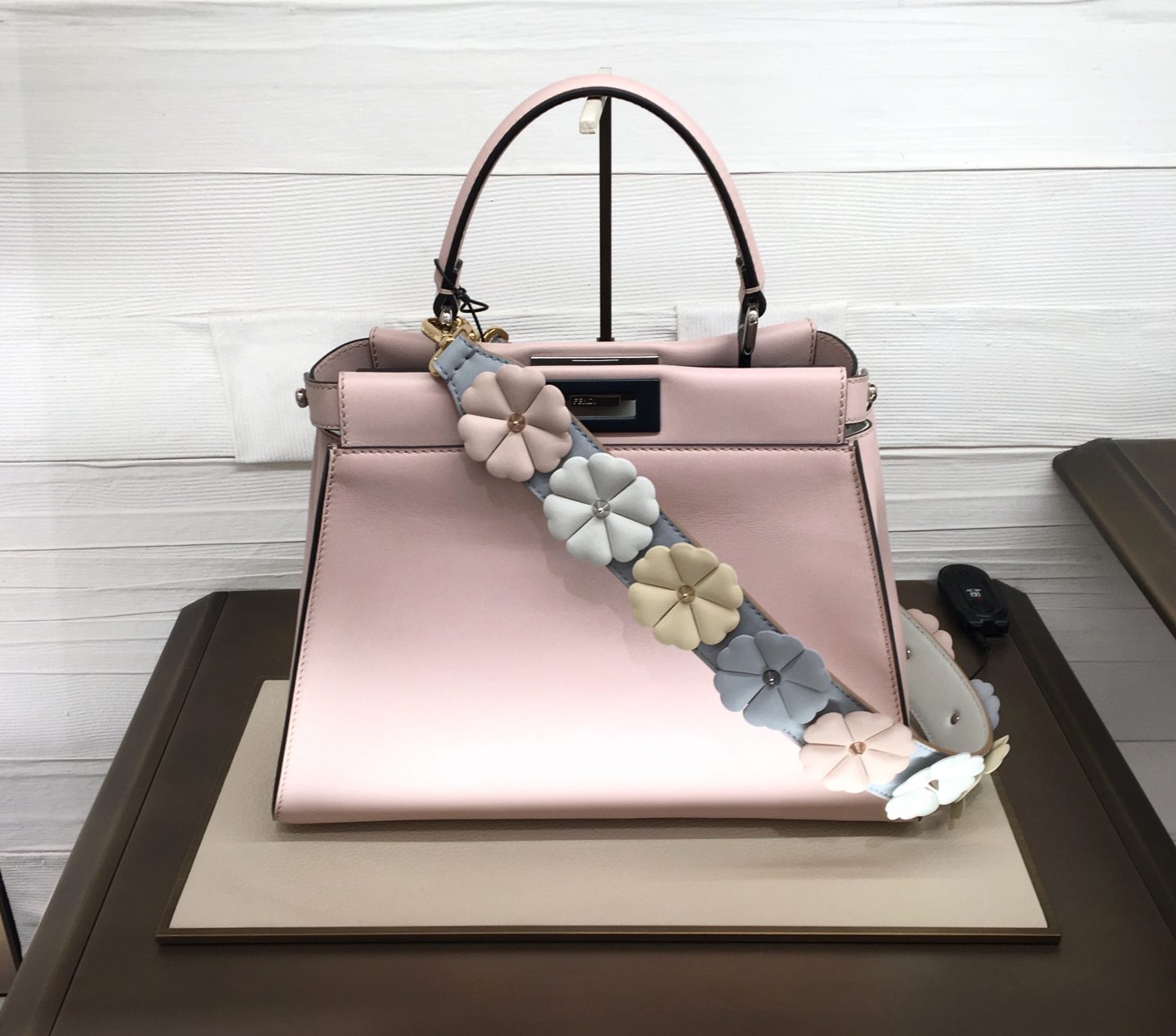 Ahh the Fendi Peekaboo. I always think of Fendi as the true bag-lovers brand. It's both super iconic whilst being a bit under the radar and Fendi consistently nail it with ridiculously gorgeous colours and details.
Pros: I already know I love the style and have wanted a more neutral colour for ages now.
Cons: The price! Eek! This is firmly Chanel territory and the fact is that Fendi just doesn't hold its value in the same way as Chanel. Whilst I don't ever buy with the intention of reselling, I always like to have the option if I don't love a bag as much as I think I will so bad resale value always makes me pause.
Chanel Jumbo Beige Clair 
Photo credit: Southern Curls and Pearls
This has been at the back of my mind for a while now. The Chanel jumbo is still my absolute favourite bag of all time so it is crazy to me that I would have multiples of other bag styles but only one jumbo (albeit that could have something to do with the slightly hefty price tag!).
Pros: You can't get much more classic and as mentioned, this is my all-time favourite bag style. 7 years later with my current jumbo and I still can't get enough.
Cons: The price! I'd have to pay almost double what I spent on my black one which is a bit hard to get my head around (especially as it wasn't exactly cheap to begin with!).
Phew! And that's it for the bags that are currently swirling around in my head! What's currently on your wishlist? Let me know in the comments below!