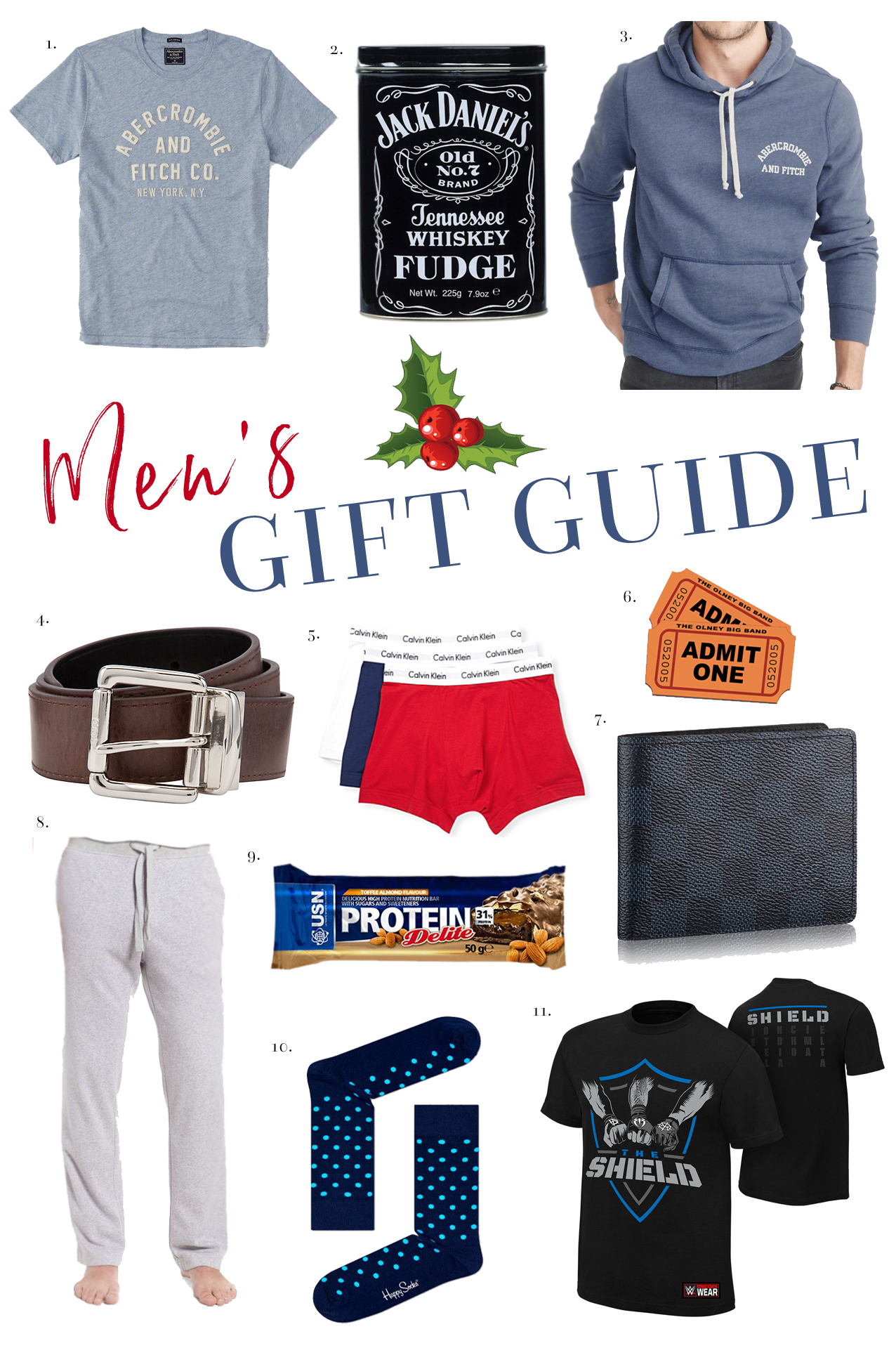 I've had so many requests to do an updated Men's Gift Guide and we were hoping to do a video but things are so crazy this year that we just haven't had the time so I thought I would at least contribute a Men's Gift Guide blog post! I think the world probably has enough generic men's gift guides so I'm listing here what I've actually bought Dan, in case the men in your life have similar taste 🙂
1. Abercrombie & Fitch T-Shirt // 2. Jack Daniels Fudge // 3. Abercrombie & Fitch Hoodie // 4. Ralph Lauren Reversible Belt // 5. Calvin Klein Boxers //    6. Trevor Noah Tickets //  7. Louis Vuitton Wallet // 8. UGG Lounge Pants // 9. USN Protein Bars // 10. Happy Socks //  11. Shield T-Shirt
1. Abercrombie & Fitch T-Shirt
If you follow me on IG Stories, then you may have seen me purchase this but my buying process for t-shirts for Dan is essentially to feel my way around the store for the softest possible fabrics. This t-shirt and the hoodie below were the standout winners for softness.
2. Jack Daniels Fudge
I buy him these every year and every year they go down very very well. The tins are cool (although I wish we didn't have quite so many now…) and the fudge is delicious.
3. Abercrombie & Fitch Hoodie
Not an enlightened purchase but a fail-safe one and as mentioned, the softest hoodie they currently offer (I would know, I literally felt them all) – and currently on major sale!
4. Ralph Lauren Reversible Belt
Dan wanted both a new black and a new brown belt and had both on his list for Black Friday. He didn't find any but I spotted this which I thought was genius. Reversible black and brown for the guy that doesn't like fuss! It has a simply clean design and is pretty fairly priced IMO.
5. Calvin Klein Boxers
I bought him some last year from the US and they were an epic fail. For some reason, they were massive and are still lying at the back of his closet. I tried again this year in the US but made sure to open the packet and… the same thing again. So, I played it safe and bought these from Selfridges (I suspect the UK has different sizing/ cuts). He loves bold bright colours (specifically the primary colours haha!) so hopefully he'll love these.
6. Trevor Noah Tickets
Even if you're not a Trevor Noah fan, then tickets for a show or gig are always a great thing to buy for the men in your life. For his birthday last year, I bought him Bruno Mars tickets which went down a treat. We're both big fans of The Daily Show so when I saw he was coming to London, I snapped up tickets.
7. Louis Vuitton Wallet
This is one I debated on because Dan is so not a luxury label guy, which to be honest, I prefer. I'm not a huge fan of logos on guys which I know, is totally hypocritical of me but that's the truth! That said, I decided to get him this wallet for a few reasons.
1. He mentioned to me once that he actually liked the print (which is unusual for him and luxury brands).
2. It's made of canvas and as my Neverfulls have shown over the years, LV canvas is pretty much indestructible.
3. LV stand by the quality of their products in my experience. I got him a Hugo Boss wallet last year and one year on, we've had the exact same issue as the wallet he had before in that it's falling apart. So, I figured we might as well try for a more durable material with hopefully a quality guarantee in case there are any issues.
8. UGG Lounge Pants/ Joggers
If you watch my videos, you may know that Dan is a fan of the jam. To coincide with this, he also delights in comfy clothing and he's been wanting a new pair of joggers for ages. Every pair I've found though has either tapered bottoms (he hates the style), a non-elasticated waist (again, he's not a fan) or aren't soft enough. And then, lo and behold, my go-to gift brand comes through again! I found these ones whilst searching through Nordstrom's men's section online (I rely on their customer reviews a lot when hunting for gifts) and these were highly rated. I tracked them down in the UK and they are every bit as great as I'd hoped. A good length, not too narrow in the leg and soooo super soft. I know he's going to love them and I can't wait to give them to him!
9. USN Protein Bars
We discovered these when Costco stocked them briefly. Sadly, Costco has moved on but Dan hasn't. He loves these protein bars and has been known to eat 5 in a day (I wish I was kidding). They're fairly decent in terms of the nutritional content (for this kind of protein bar anyway) and they taste like a slightly richer snickers bar. Not easy to track down but if you do, well worth it.
10. Happy Socks
A yearly gift which are a no brainer. These socks are colourful, well made and always go down very well. Mine and Dan's favourites are the polka dot variety.
11. Shield T-Shirt
Any WWE geeks out there? This t-shirt is a semi-joking one and is going in his stocking but I think anyone that watches the WWE can agree – the Shield is pretty cool. I have no idea if he'll wear this but I know it will illicit a smile. Size down though if you do buy one; they run big.
Phew! And that's it for this year's round-up of Dan's gifts! I hope you found it useful – I'll let you know if any of them are duds 😉