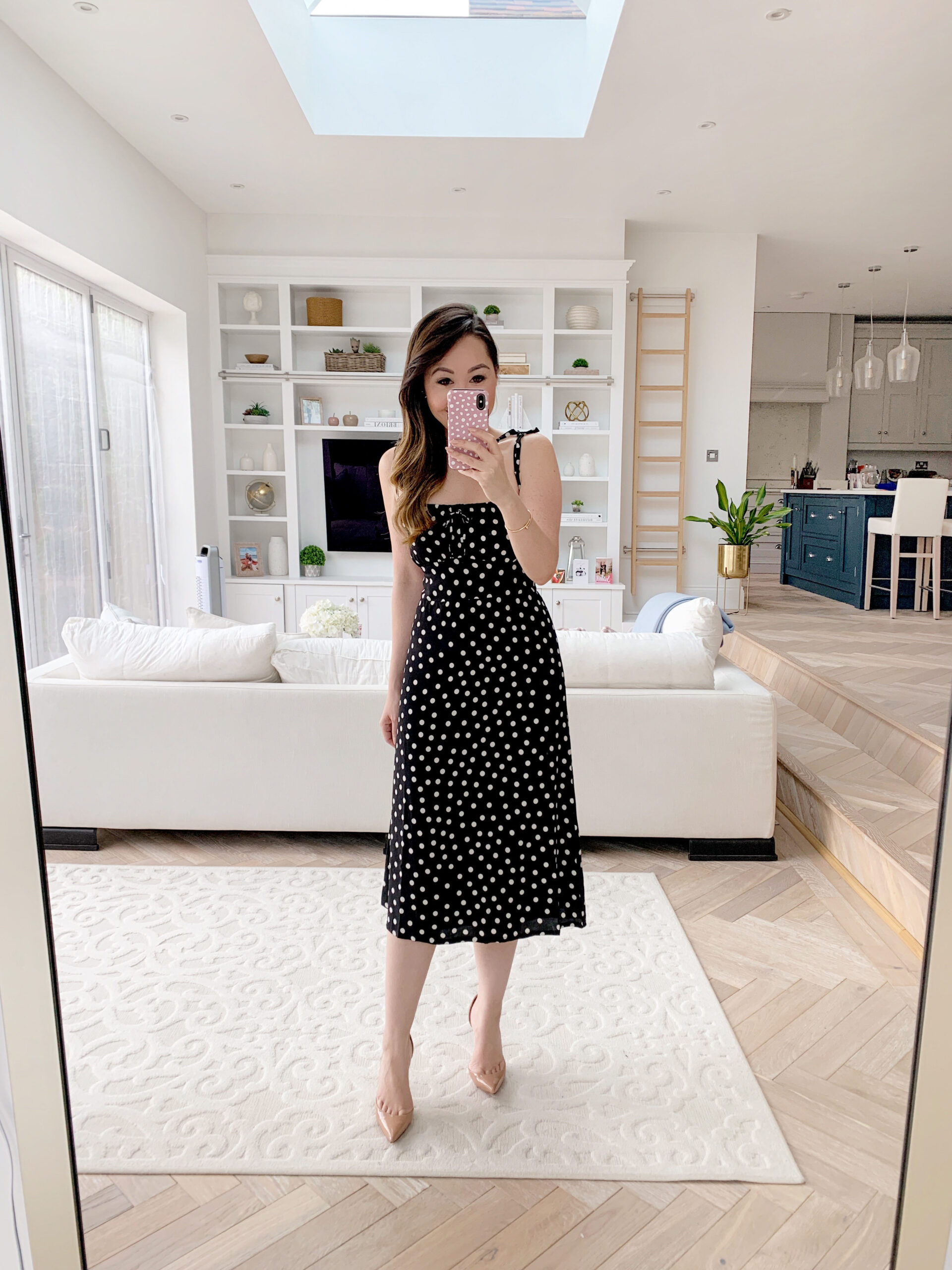 Polka dot dress (I took a size small)
It's the last day of the 24s.com luxury discount offer so I thought I would do an updated round-up with all in stock items – along with all the amazing items that I discovered were included in the offer along the way! This incredible sitewide offer is available internationally (except for France and South Korea which are excluded).
This one is a tiered discount so the more you spend, the more you save. The lowest tier is just $150/ £150 – where you can take 15% off your purchase, going up to 25% off! The tiered spend details are listed below along with the discount codes you'll need to use for the discount to apply at checkout.
15% off €/£/$150 – use code CVD15
20% off €/£/$300 – use code CVD20
25% off €/£/$500 – use code CVD25
Today is the LAST DAY – so if there's something you had your eye on, I would nab it quickly!
FEATURED ABOVE
1. Valentino Roman Stud Bag // 2. Chloe Lauren Flats // 3. Valentino Roman Stud White Bag // 4. Chloe Mini Marcie // 5. Chloe Grey Crossbody // 6. Salvatore Ferragamo Belt // 7. Chloe Blush Crossbody // 8. Chloe Blush Wallet // 9. Veja Sneakers // 10. Chloe Periwinkle Blue Wallet // 11. Marc Jacobs Tote Bag // 12. Prada Tote Bag // 13. Tom Ford Tote // 14. Polka Dot Dress // 15. Marc Jacobs Snapshot Bag // 16. Stella McCartney Bag // 17. Max Mara Skirt // 18. Chloe Tan Mini Marcie // 19. Chloe Small Wallet
Full list of currencies here:
150$/£/€/150 CHF/ 250 AUD/ 250 CAD / 1200 CNY / 1400 HKD / 200000 KRW
300$/£/€/ 300 CHF/ 400 AUD/ 400 CAD / 2000 CNY / 2300 HKD / 350000 KRW
500$/£/€/ 500 CHF/ 800 AUD/ 800 CAD / 4100 CNY / 4500 HKD / 700000 KRW
ITEMS I OWN AND LOVE!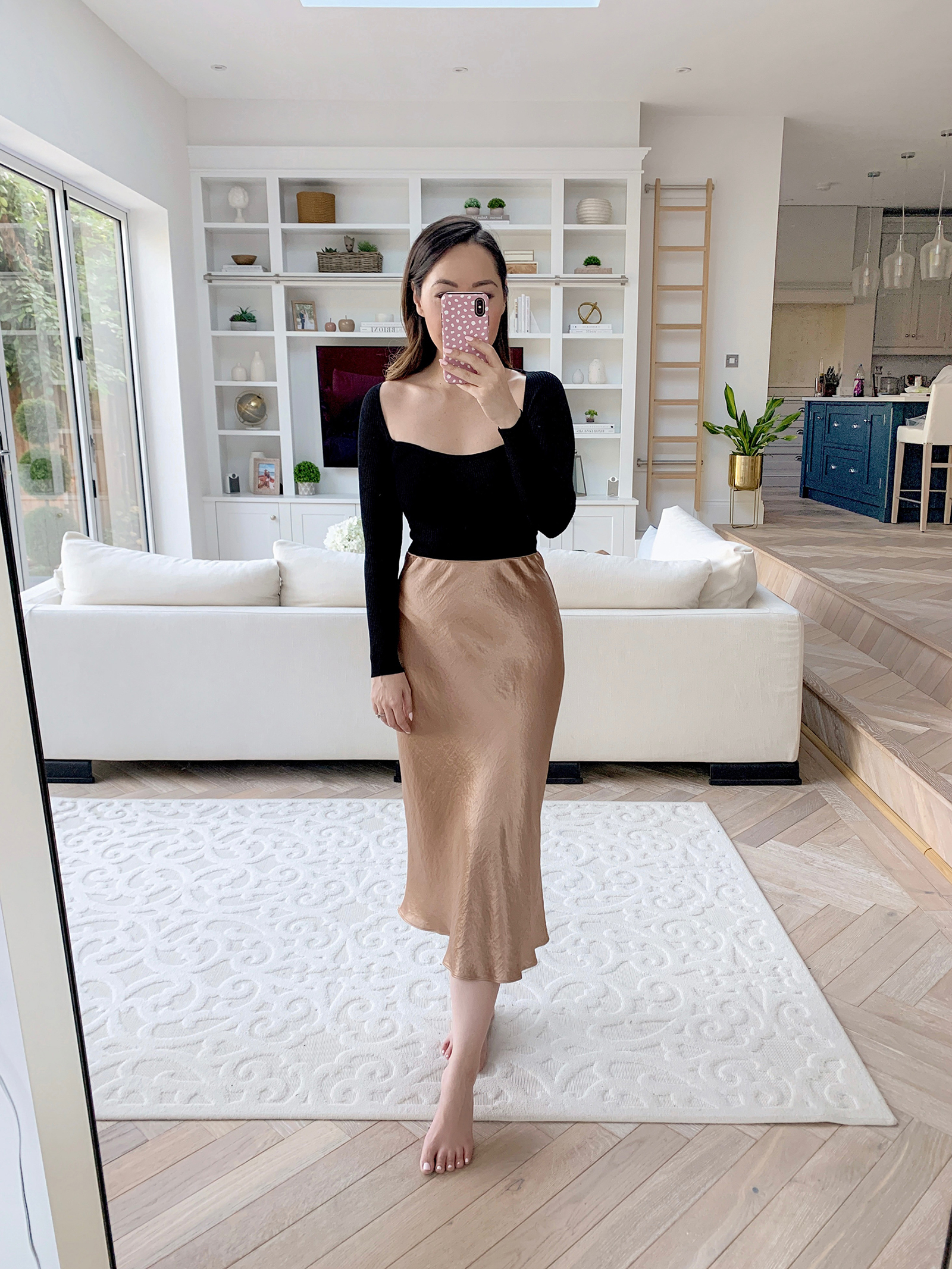 A couple of favourite pieces to call out: My much-asked about bias cut skirt is featured in the sale – and from what I can tell, it looks to be the exact same colour that I own! I paid full price for mine (and I do think it was worth it!) but obviously with the discount, it's so much better value for money! I took a size IT 38 but could have sized down.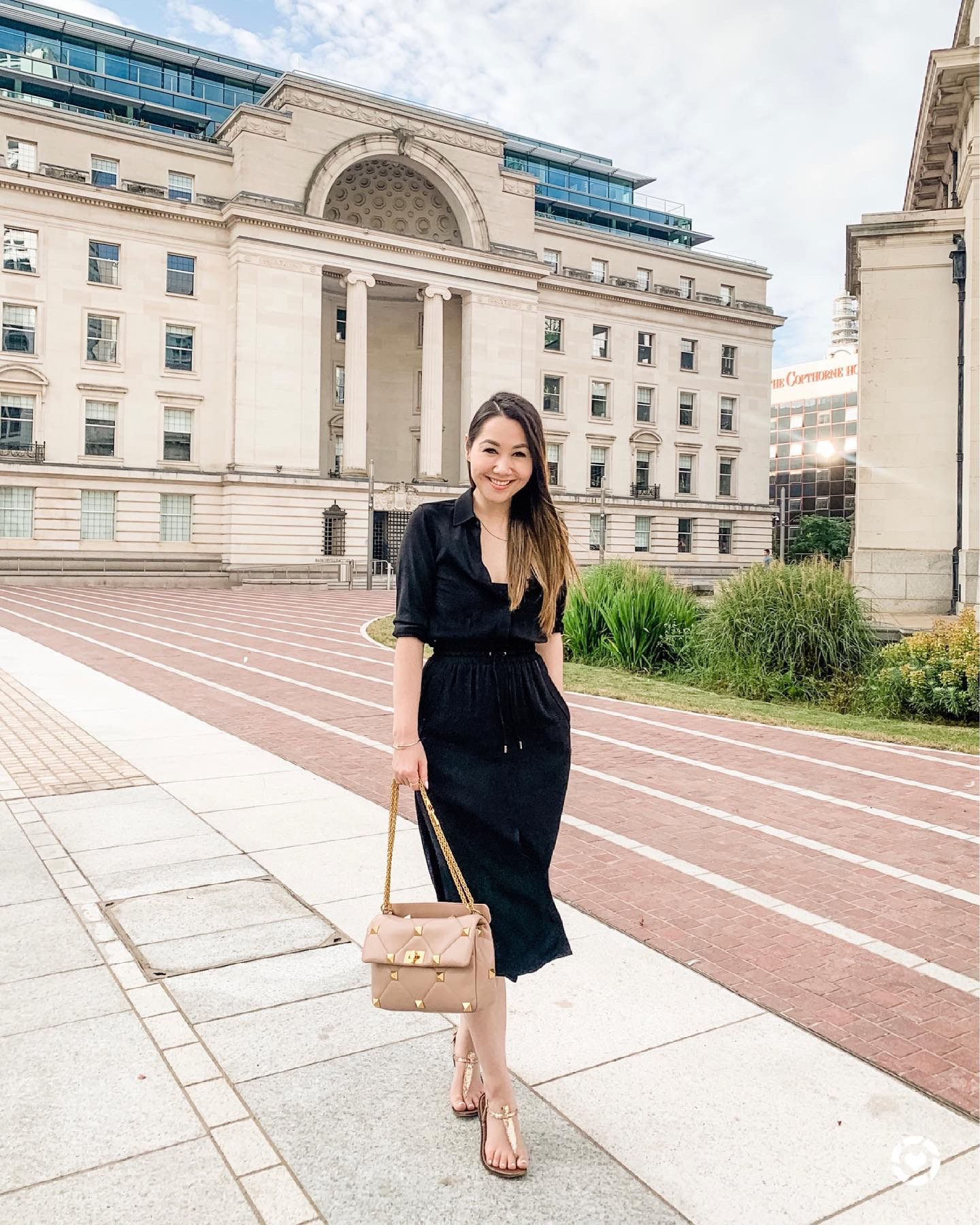 A couple of bag favourites are also included – my Valentino Roman Stud bag is featured – and with the tiered discount, you can get a whopping 25% off! This is the best deal I've ever seen on the Valentino line – the max discount I've previously seen is 15% so 25% off is incredible!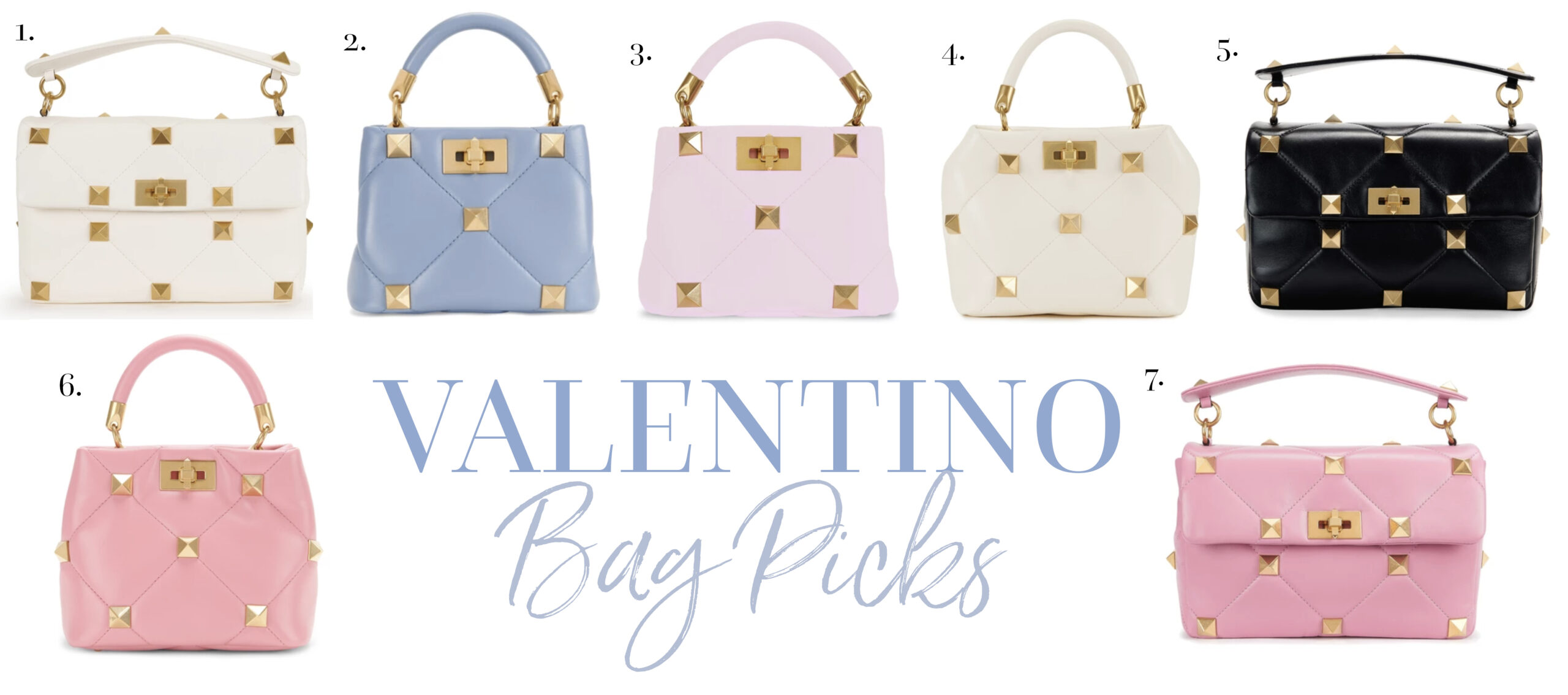 1. Valentino Large Ivory Roman Stud // 2. Blue Bucket Bag // 3. Baby Pink Bucket Bag // 4. Ivory Bucket Bag // 5. Black Large Roman Stud // 6. Candy Pink Bucket Bag // 7. Candy Pink Roman Stud
They have the ivory and black colours available in the size that I have (the large). The medium size is slightly smaller and is available in the black and the orange.
They also have the new bucket bags in stock in pretty much every colour – from the gorgeous light blue shade to baby pink!
My Chloe Mini Marcie in tan is also included as is this stunning shade – very similar to the tan, just with a hint of dusky pink…. swoon!
For overnight bags, my Tom Ford tote is included! I've used this bag a ton this week and am just loving it – so perfect if you're after an oversized tote! You can turn the handles in and use it exclusively as a top handle or use the longer straps over the shoulder. It's incredibly lightweight so is ideal for travel – I tend to pack my bags full so I love that it isn't super heavy! If you're concerned about the light colourway, then the black version is also included.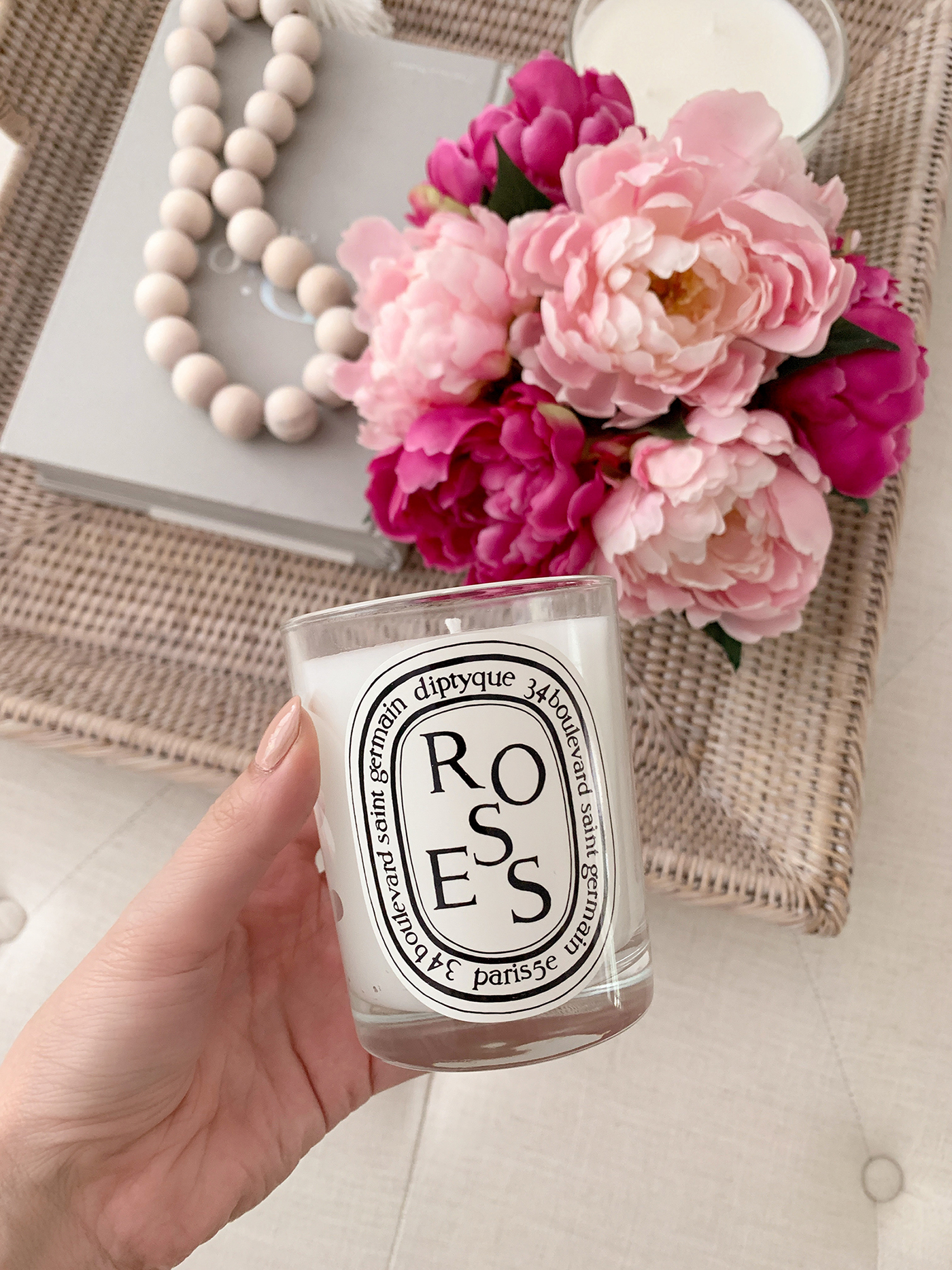 Finally, Diptyque is included! Beauty is included in the offer however the discount code only works up to the 20% discount (using code CVD20). If you do spend over $/£/€ 300 though, then you can get a whopping 20% off Diptyque candles (as well as all other beauty they offer). I don't think I've ever seen these candles discounted that much so I placed a big order to stock up for both myself and for gifts. You really can't go wrong with any scent but my go-tos are Roses, Jasmine and Baies.
BURBERRY PICKS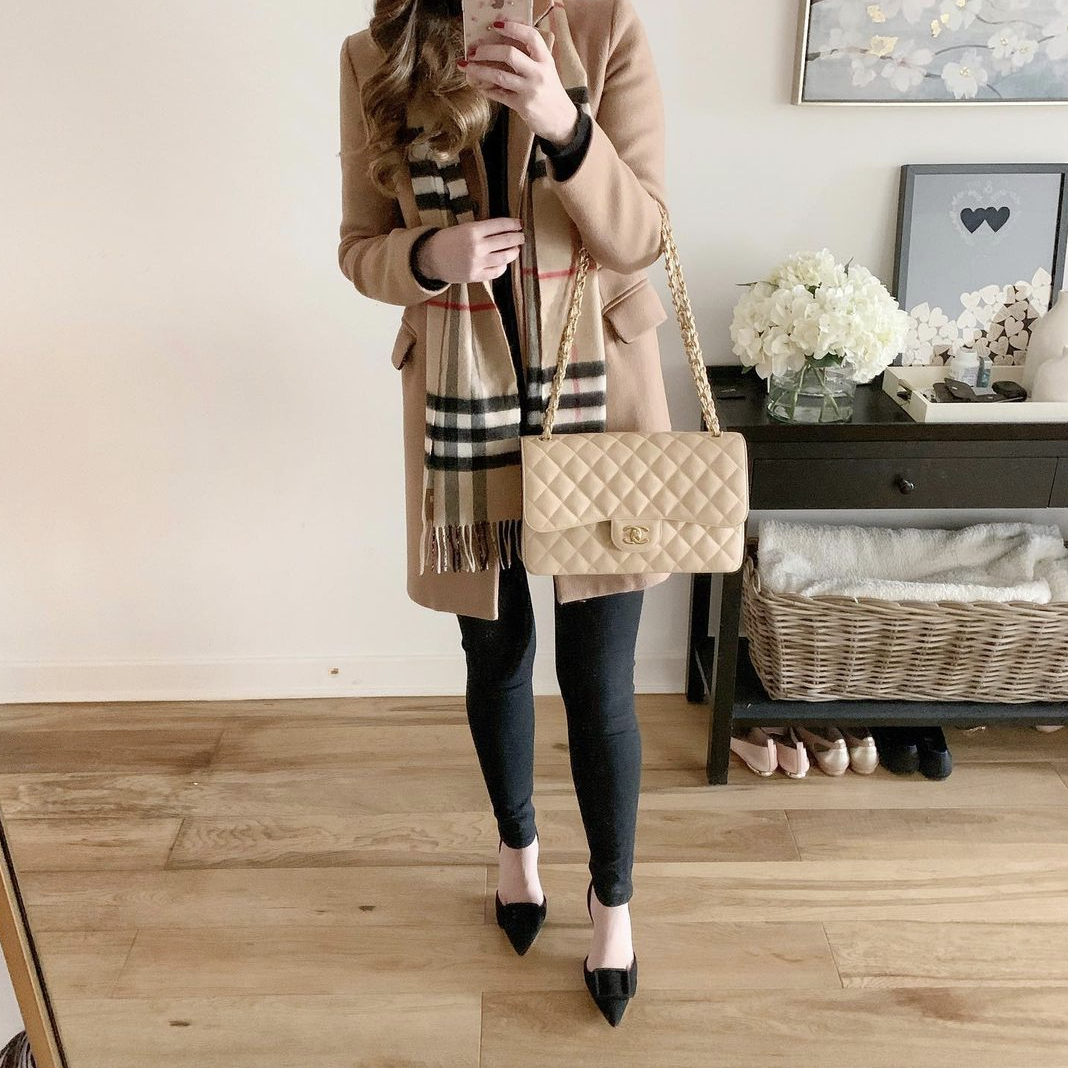 Burberry is a big one that's included in this discount code – and this is the best deal I think I've EVER seen on Burberry scarves! By themselves, I think most of them hit the 20% discount mark but obviously if you spend over $/£/€ 500, then you'll get the full 25% off!
I absolutely adore my Burberry scarves – I own both the classic camel and the blush pink combo and they are some of my most used winter accessories – ever! So classic, and a fantastic way to dress up an outfit quickly!

1. Burberry Cream Scarf // 2. Burberry Reversible Tan Belt // 3. Burberry Nude Bag // 4. Burberry Bear Charm // 5. Burberry Pink Scarf // 6. Burberry Beige Scarf // 7. Burberry Black Bag // 8. Burberry Black Belt
Not everything Burberry is included but it looks like all the accessories are – including their super classic scarves – available in their classic beige check, their beautiful blush colourway as well as their light cream version. Such a great deal!
MORE BAG PICKS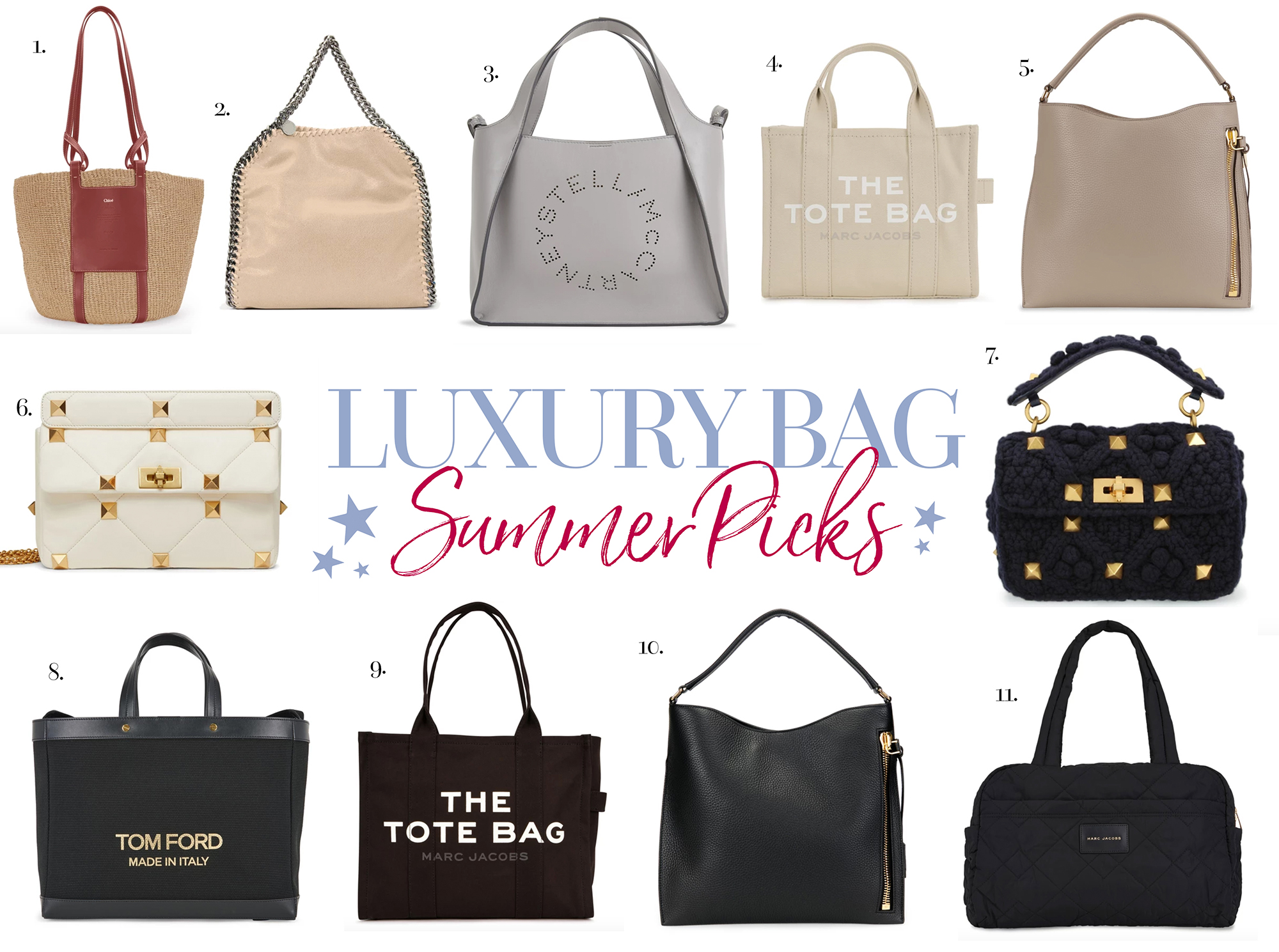 1. Chloe Weave Shoulder Bag // 2. Stella McCartney Shoulder Bag // 3. Stella McCartney Grey Bag // 4. Marc Jacobs Mini Tote // 5. Tom Ford Nude Shoulder Bag // 6. Valentino Roman Stud Bag // 7. Valentino Black Fabric Roman Stud Bag // 8. Tom Ford Tote // 9. Marc Jacobs Tote Bag // 10. Tom Ford Black Shoulder Bag // 11. Marc Jacobs Quilted Bag
There are so many amazing bag picks, I struggled to get my edit down – from the Marc Jacobs tote line (seriously, so underrated! Mine is such a workhorse) to super luxe Tom Ford options, there are so many great styles and many of them will hit the highest tier level automatically so you can take 25% off.
WARDROBE STAPLES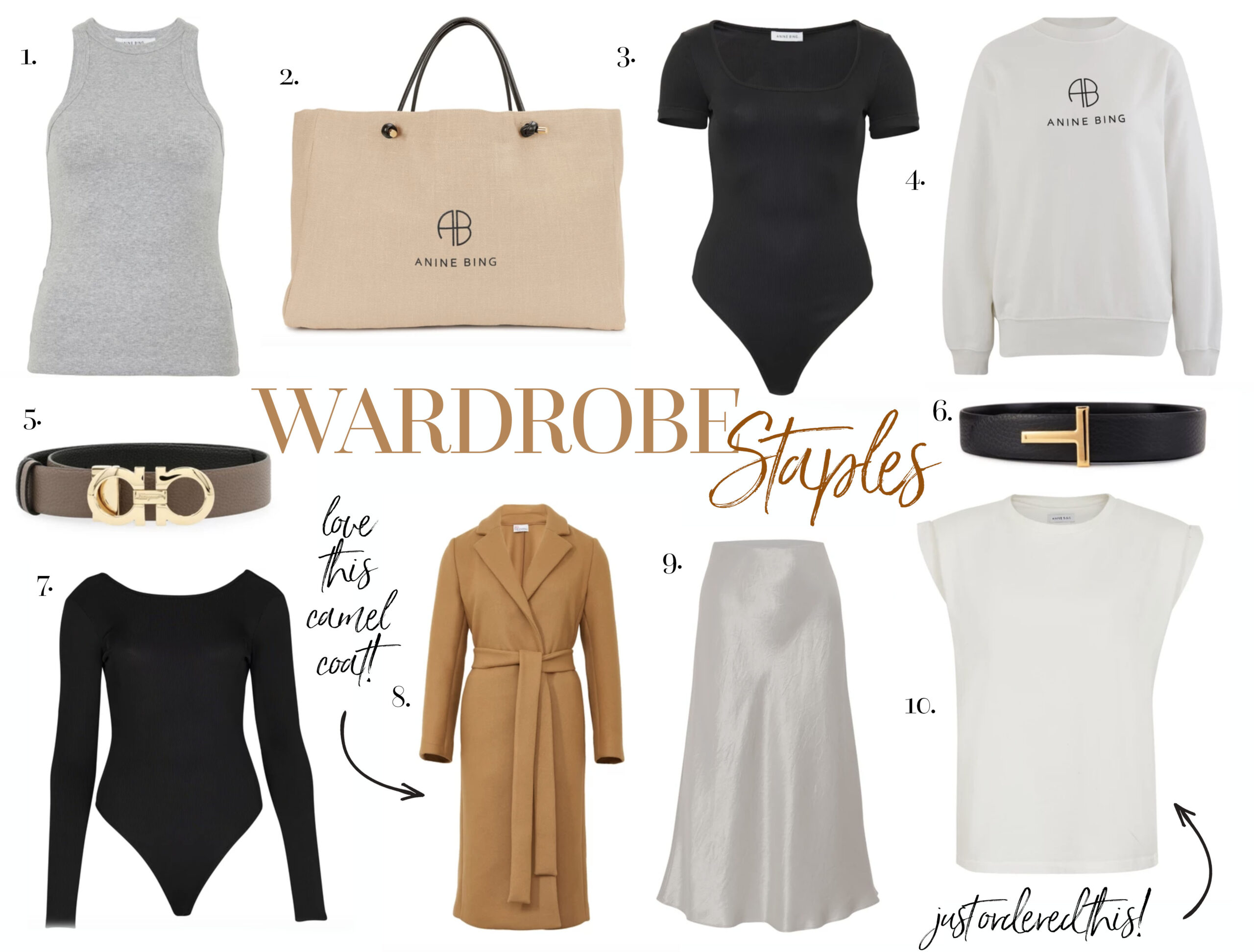 1. Grey Tank // 2. Anine Bing Tote // 3. Black Bodysuit // 4. Anine Bing Sweatshirt // 5. Salvatore Ferragamo Belt // 6. Tom Ford Belt // 7. Black Long Sleeve Bodysuit // 8. Camel Wrap Coat // 9. Max Mara Bias Cut Skirt // 10. Padded Shoulder T-Shirt
There are also so many fantastic wardrobe pieces to shop – from beautiful, timeless camel coats to classic Salvatore Ferragamo belts to wonderful on point Anine Bing pieces. I have been searching for the perfect padded shoulder tee for a while so when I saw this one, I quickly ordered it – I'll try and do a try on shot on my YT channel when it arrives!
SHOPPING FROM 24S.COM
I've spoken about shopping from 24s.com many times before but if you're not familiar with them, they are owned by LVMH (so about as legit as you can get!) and are based in Paris. They do ship internationally and they calculate all taxes and customs for you at checkout – so no surprises upon delivery! I myself have ordered from them; their packaging is beautiful and happily, returns were also so simple for me.
There are some brand exclusions (the usual suspects such a Louis Vuitton, Dior, Fendi, Gucci etc.) however everything I have included in the collages are included in the discount code offer! I suspect stock will move quickly though so if there is anything you have your eye on, I would definitely recommend nabbing it sooner rather than later.
Happy shopping!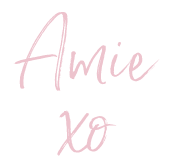 Please note, an earlier version of this blog post was sponsored by 24s.com.