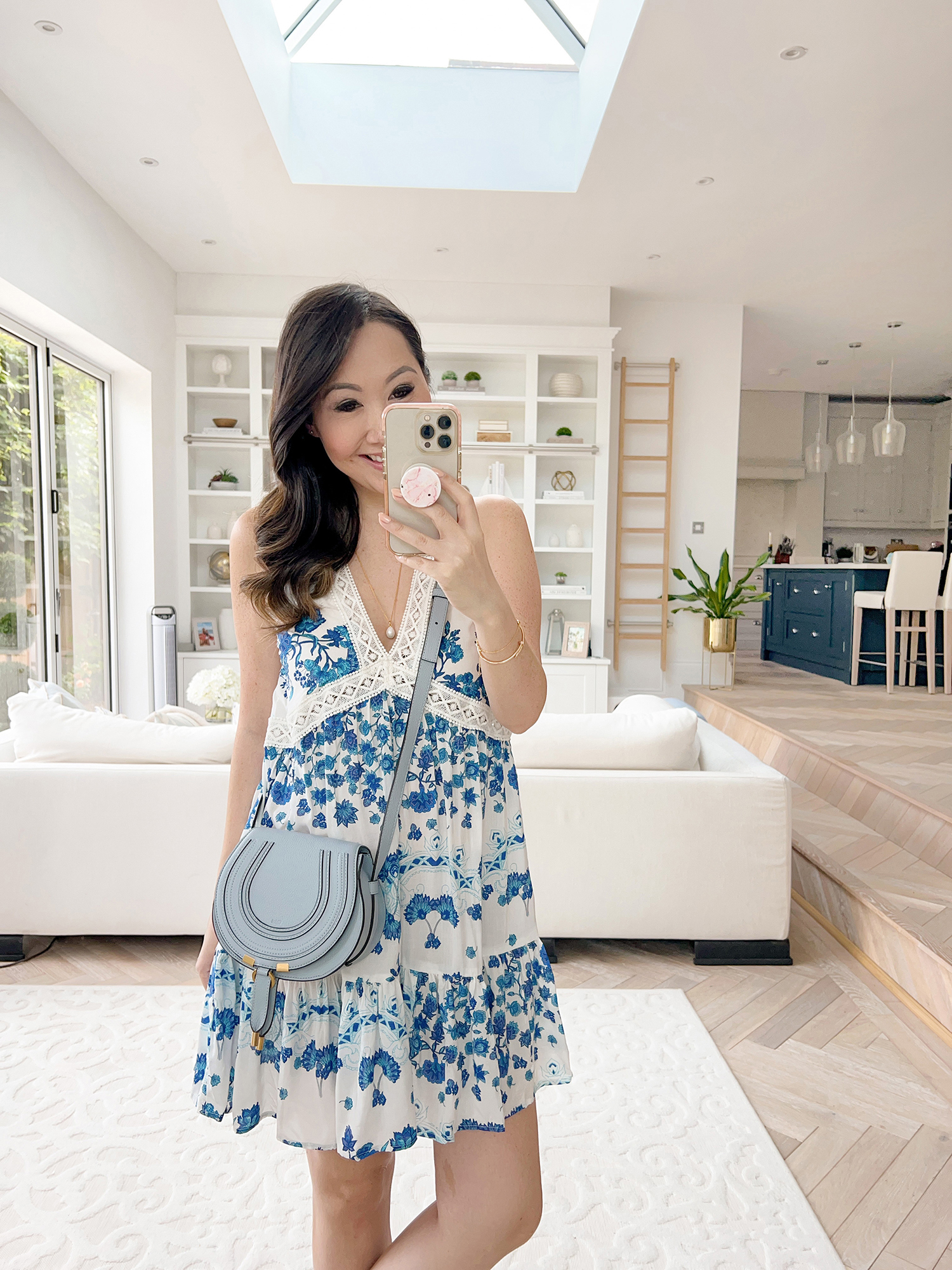 Pictured above – Chloe Mini Marcie (take 20% off with code LTK20) // Blue & White Dress
There are SO many amazing sales happening right now – lots of high street sales but also happily, a lot of luxury discount codes too! I've definitely been shopping these sales myself so I've done a combination of highlighting the pieces that I've purchased along with some wardrobe favourites that I already own that are on sale and then some picks from each sale too 🙂
LUISAVIAROMA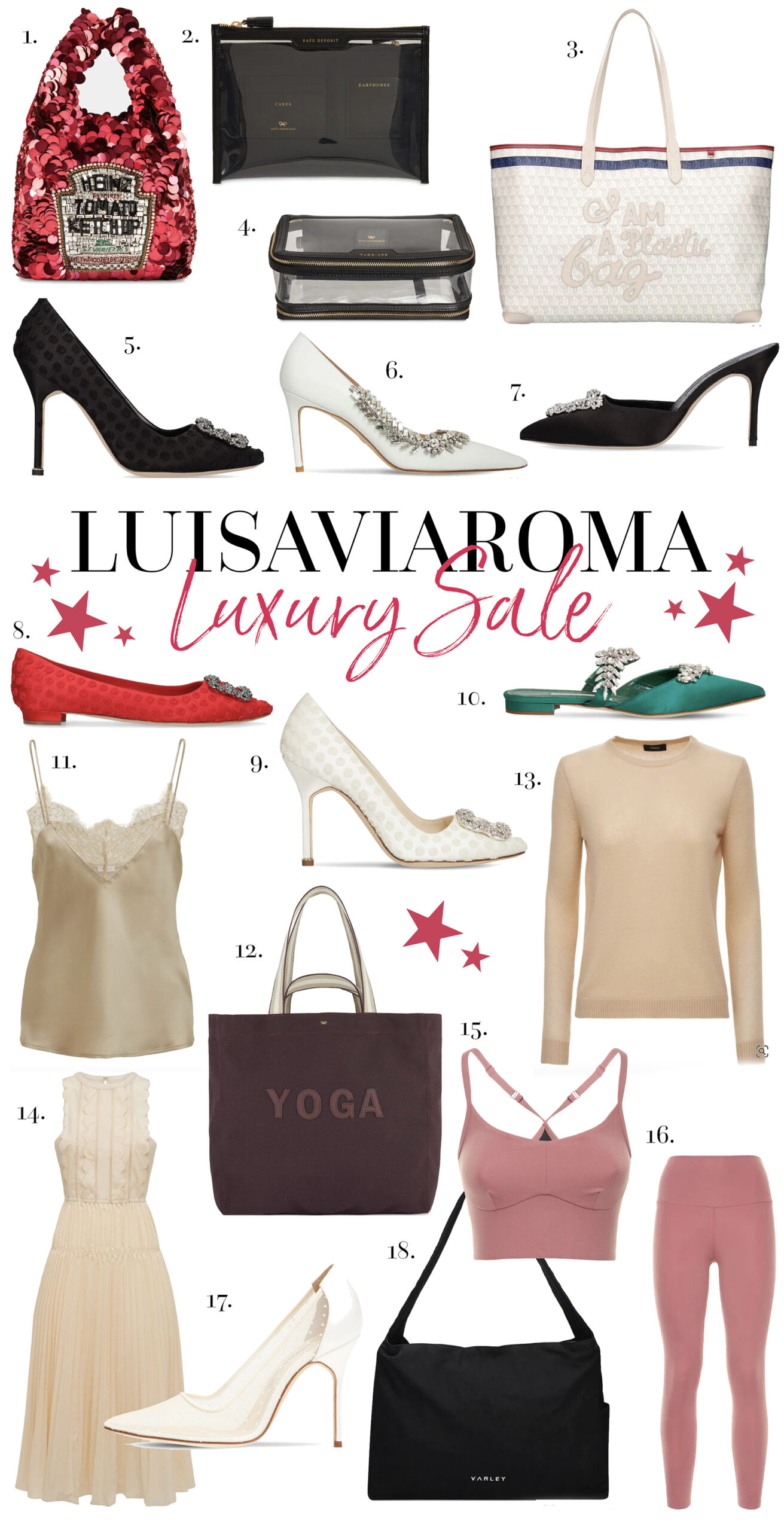 1. Anya Hindmarch Ketchup Bag // 2. Anya Hindmarch Zip Pouch // 3. Anya Hindmarch White Tote // 4. Anya Hindmarch Black Flight Pouch // 5. Manolo Blahnik Polka Dot Pumps // 6. Stuart Weitzman Crystal Pumps // 7. Manolo Blahnik Mules // 8. Manolo Blahnik Red Flats // 9. Manolo Blahnik White Polka Dot Pumps // 10. Manolo Blahnik Green Mules // 11. Anine Bing Camisole // 12. Anya Hindmarch Yoga Tote // 13. Theory Cashmere Sweater // 14. Self-Portrait Dress // 15. Pink Sports Bra // 16. Pink Leggings // 17. Manolo Blahnik Tulle Pumps // 18. Varley Bag
Luisaviaroma have a 40% off discount code that's live right now – it excludes black starred items but there are still a ton of amazing items included! I've done a lot of the digging and found so many great pieces (some of which I couldn't resist ordering myself – 40% off is such an amazing deal!). You'll need to use APPRL40 at checkout to claim the 40% off. Some items are already marked as 30% off – if you use the code at checkout though, it'll override the 30% off and get you the full 40% off 🙂
There are so many amazing items included – from pretty much the entire Anya Hindmarch line, including the classic black version of my in flight bag (I actually use mine as my daily makeup bag but it does work great for travel too!). There are a ton of Manolo Blahnik styles included too – and all of the styles I featured above work with the 40% off code!
The discount code ends on Thursday 30th June.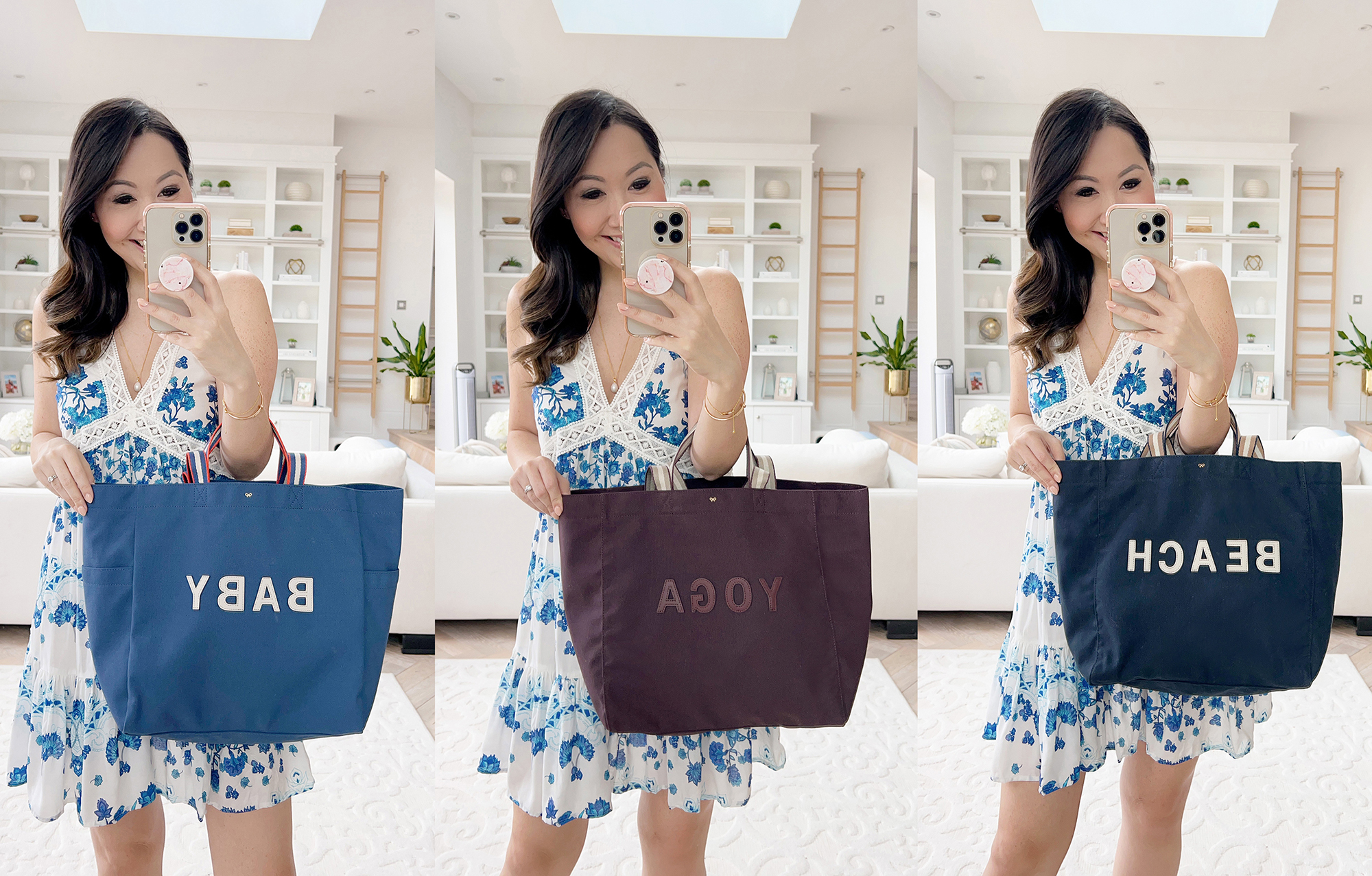 I'm a huge Anya Hindmarch fan and my latest love from her line are these fantastic canvas totes. They are so incredibly useful, super strong and so much chicer than so many other options out there! I now own three varieties and counting! All of the ones I own are in stock and included in the 40% off discount code – you can find the Yoga one here, the Beach one here and my newest one, the Baby tote here (totally couldn't resist haha!).
You can also see all the other varieties and styles from her line here.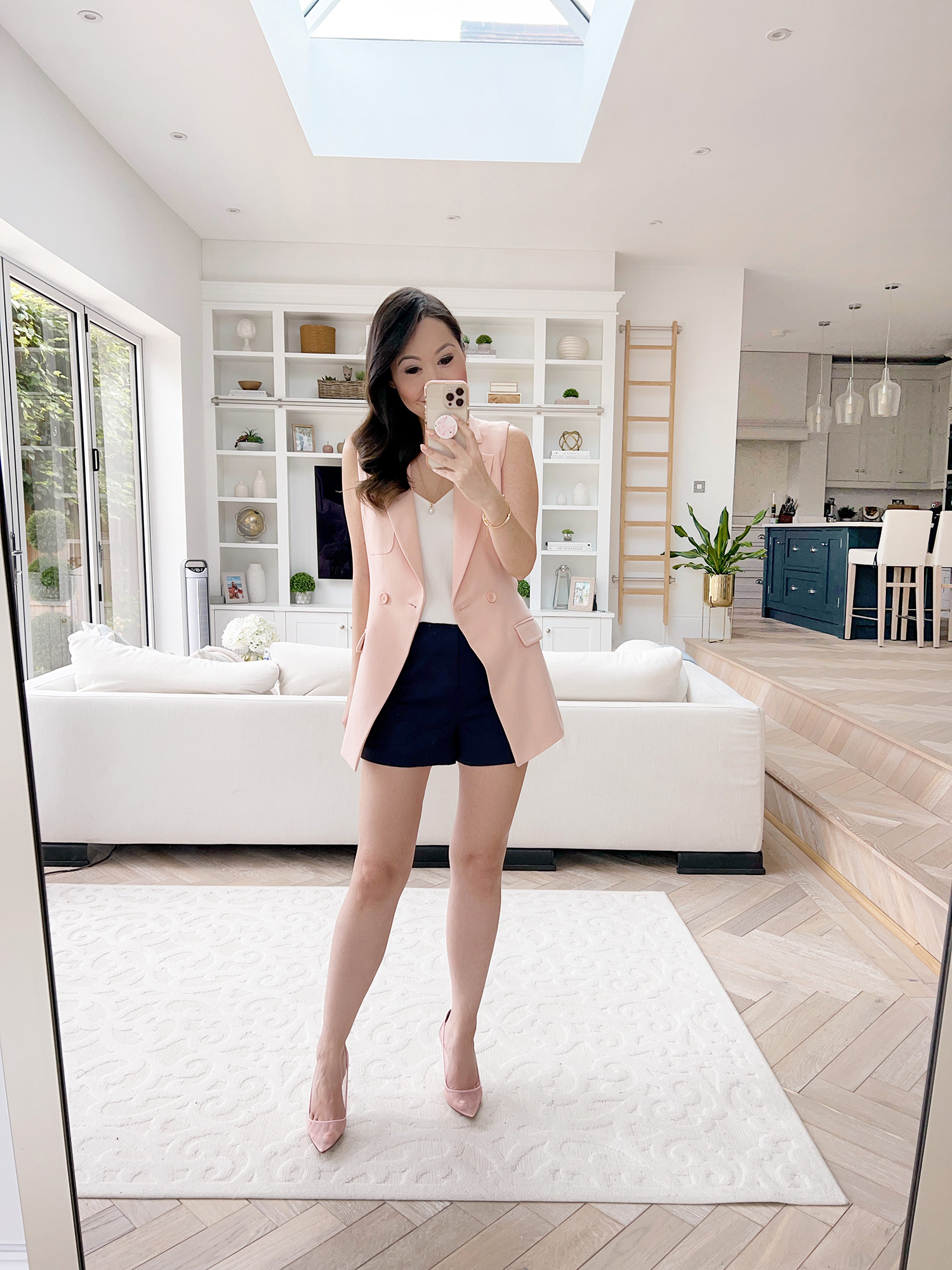 Pink Tulle Heels (40% off) // Black Shorts (in stock version here) // White Cami // Pink Waistcoat
There are SO many great Manolo Blahnik styles included! My tulle heels are still fairly well stocked with sizes and are included in 40% off! I went for the pink ones you can see above but they're also available in the beautiful white style.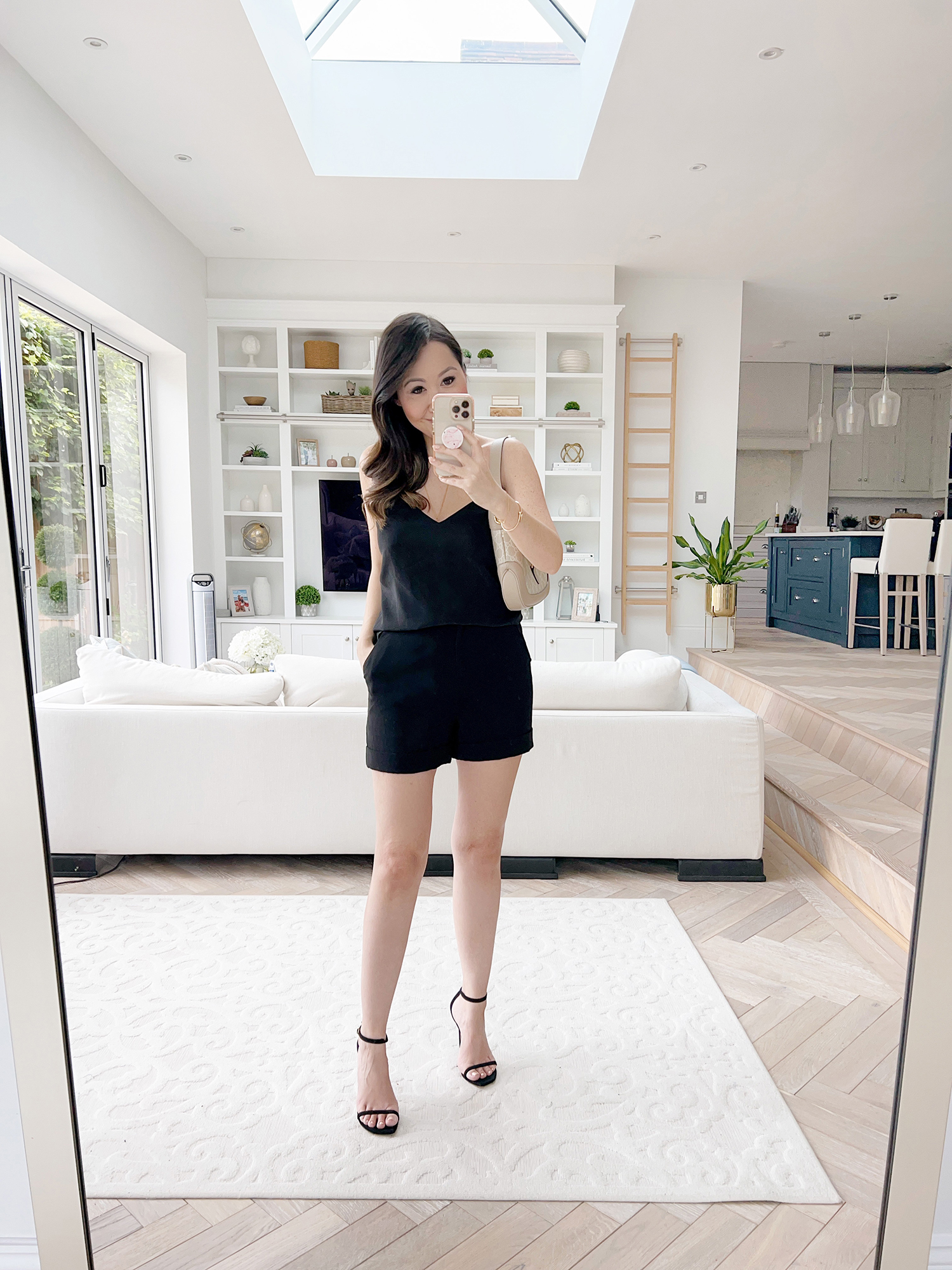 Black Cami // Black Shorts (in stock version here) // Gucci Jackie Bag // Stuart Weitzman Heels
My Stuart Weitzman heels are also included – they're quickly selling out in the black colour but are also available in the red. These are the best 'barely there' heels and are a style SW have released for years but have updated the toe area with this shoe to be slightly squared off. Super chic and flattering!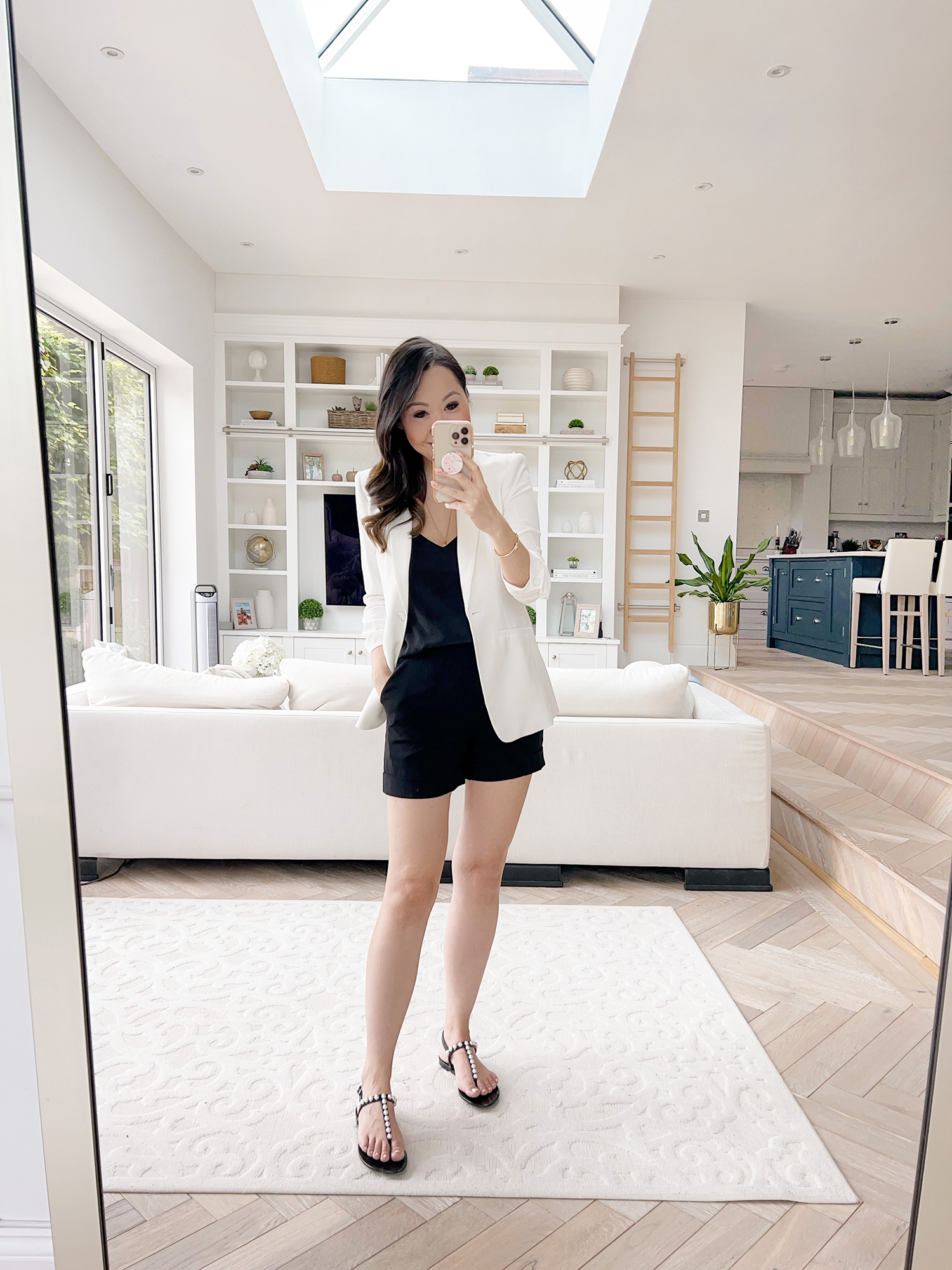 White Blazer // Black Shorts (in stock version here) // Black Cami // Pearl Sandals
Finally, my Stuart Weitzman sandals! My ones are unfortunately sold out now however SW has released several new varieties – all of which are included in the discount code! The detailing on each does vary but the main difference is the colour. You can see the bronze version here, the black version here, the silver version here and finally the nude version here.
24S.COM
1. Chloe Marcie Tote // 2. Marc Jacobs Mini Tote Bag // 3. Chloe Mini Marcie // 4. Chloe Woody Tote // 5. Alexander McQueen Sneakers // 6. Chloe Pouch // 7. Chloe Sandals // 8. Chloe Sunglasses // 9. Burberry Tan Scarf // 10. Burberry Bear // 11. Burberry Blush Scarf // 12. Chloe Wallet // 13. Burberry Pale Pink Scarf // 14. Chloe Crossbody // 15. Yellow Tea Dress // 16. Halter Dress // 17. Midi Skirt // 18. Strapless Dress // 19. Black Midi Dress // 20. Navy Wrap Dress // 21. Camel Wrap Coat // 22. Blush Wrap Coat // 23. Cream Wrap Coat // 24. Self-Portrait Dress
24s.com have also gone live with a discount code that's available until Thursday 30th June. This one is a tiered discount code – however the tiers are extremely generous with the lower tier requiring only a $/£/€ 200 spend to nab a 15% off discount code. The upper tier gets you 20% off your entire order with a minimum spend of $/£/€ 400.
You'll need to use the code LTK15 for the 15% off discount code and LTK20 for the 20% off discount code.
As usual, there are a ton of amazing items included – I've rounded up my favourites above as well as some wardrobe favourites of my own below. The big ones here are Chloe accessories, Burberry items, S Max Mara coats – all available at the higher discount of 20% off. S Max Mara is rarely discounted anywhere these days and the higher tiered discount code works so you can take a huge 20% off new season wrap coats! I own several of their coats now and they are genuinely the most luxurious, beautifully classic pieces.
Burberry is another one that is often excluded – but you can use the discount codes on their beautiful scarves, accessories and coats.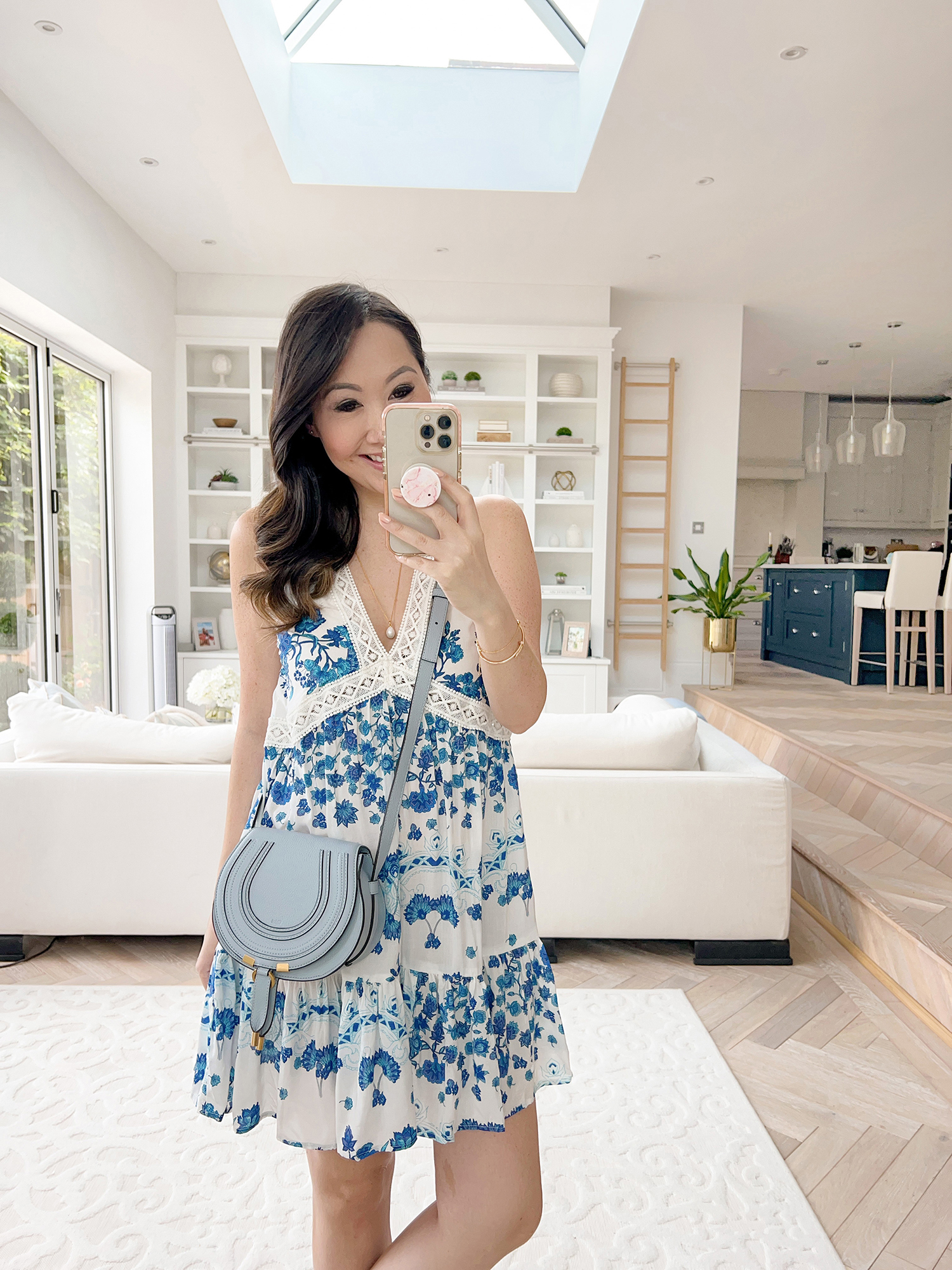 My new baby blue Chloe Mini Marcie is included and currently in stock! This hits the higher tier so you can nab 20% off. The colour is the prettiest thing – perfect for spring/ summer!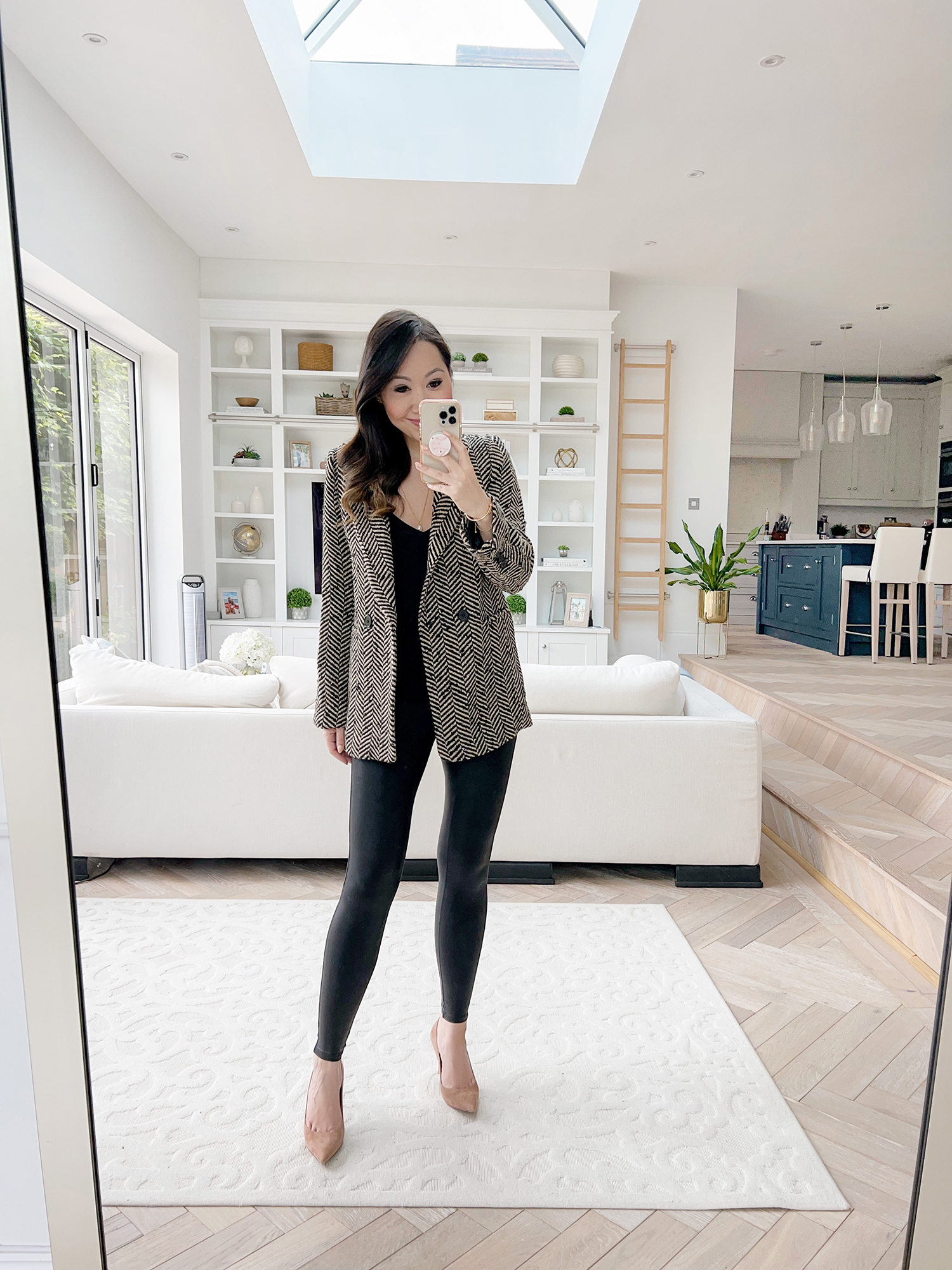 Not exactly a warm weather but my Anine Bing blazer is also included and currently in stock. This spent most of last winter being out stock (I know because I stalked it online for the entire time haha). It works with both discount codes so depending on the spend, you can get 20% off! It does run big so I would recommend sizing down – I took a size XXS.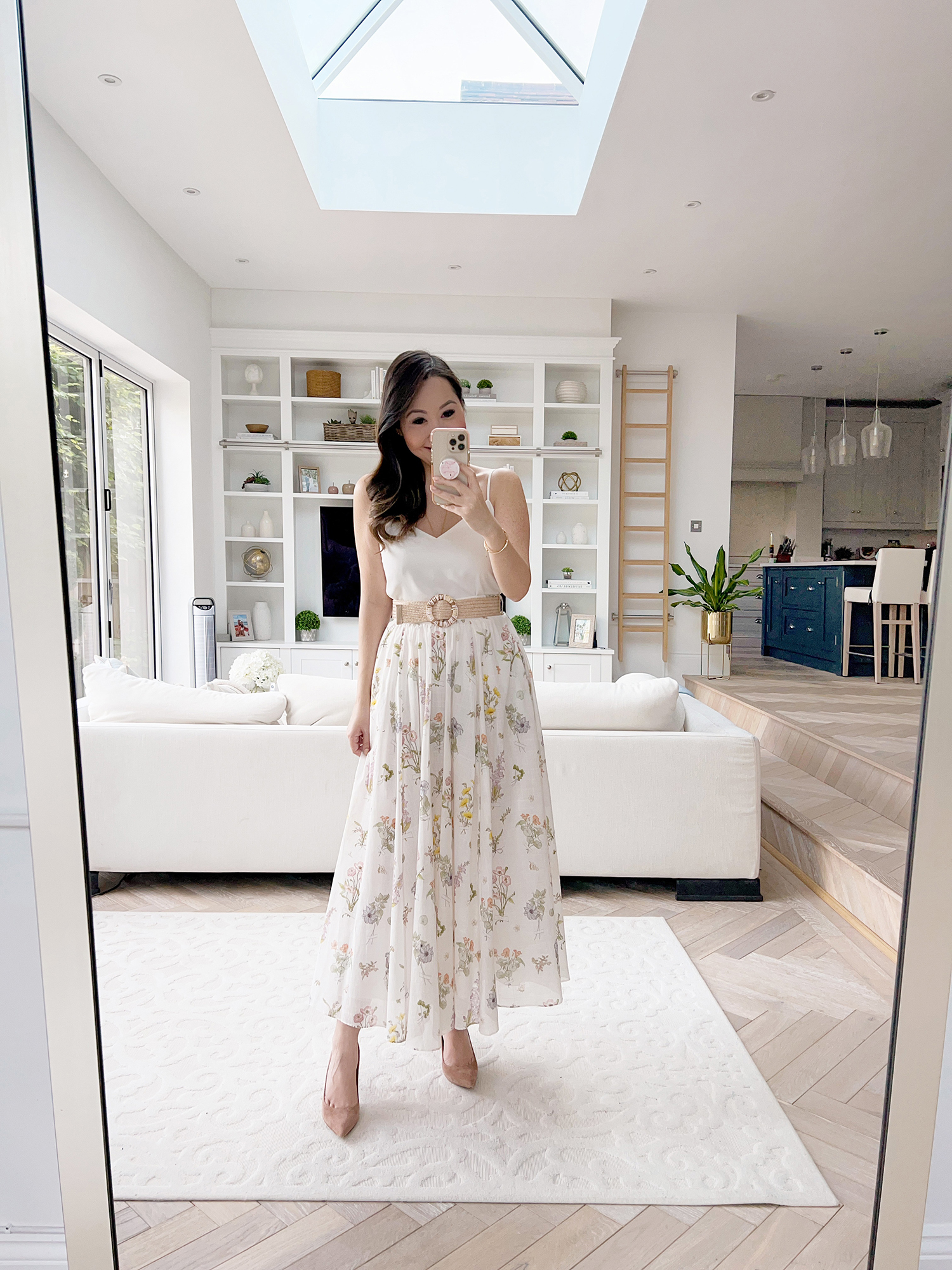 This skirt is a new addition to my wardrobe – definitely a splurge as it's from Zimmermann but I just fell in love with how beautiful it is! I only own a few Zimmermann pieces but they've become such treasured items in my wardrobe so I'm happy to splurge knowing how much wear I get out of them over the years. This one is the dreamiest thing – light and airy but at the same time full of volume. The belt comes with it and perfectly completes the look IMO. I took a size 1 in mine.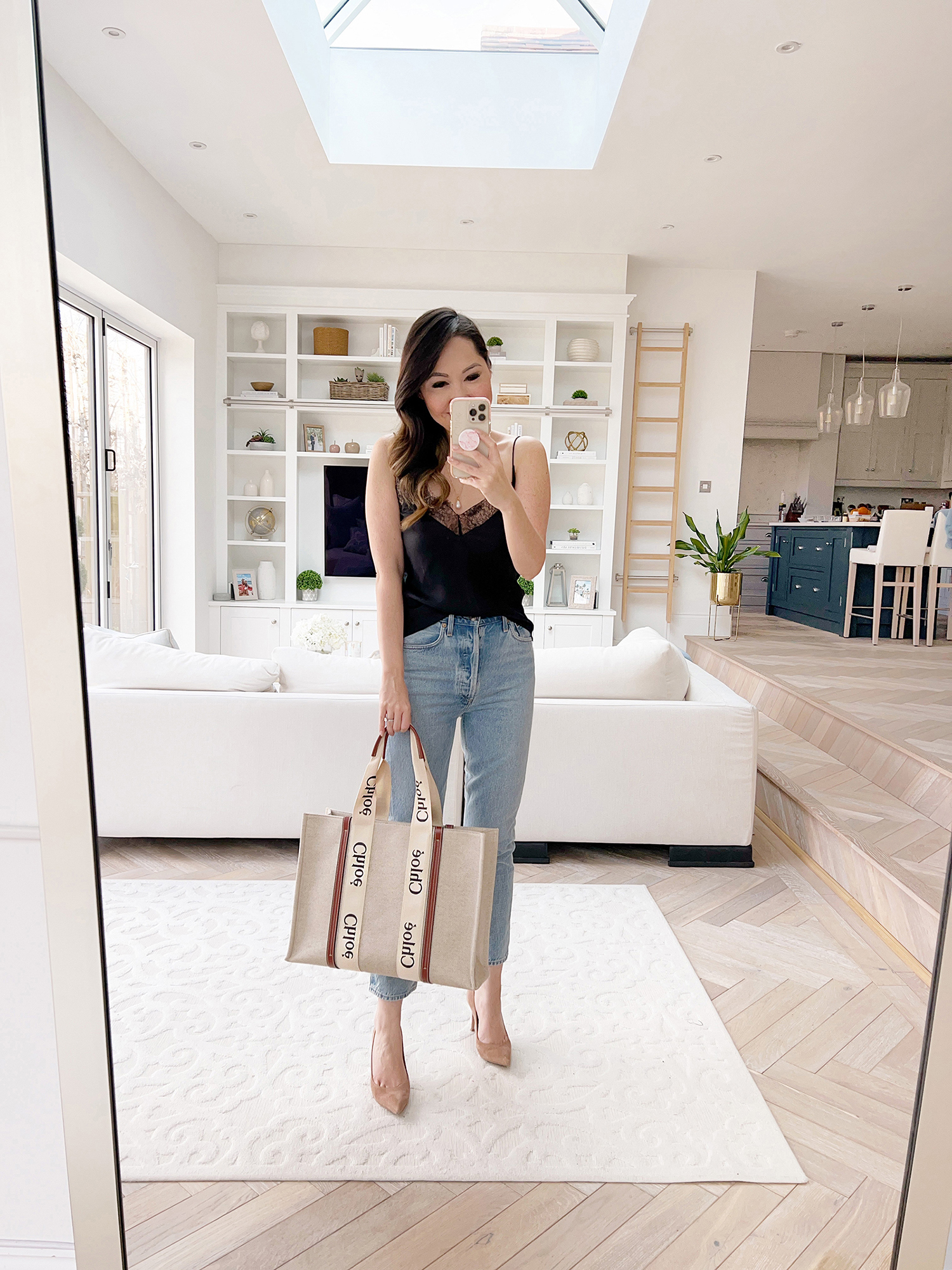 The Chloe Woody Tote is also included if you've been waiting on a generous discount code for it – sadly my colour is currently out of stock but they do have the navy trim version in stock as well as some new arrivals in the line, including this neutral option and this adorable patterned mini version.
Finally, a quick call for Burberry scarves – again, I know not exactly the season (depending on where you live!) but a Burberry scarf never dates and 20% off is incredibly rare. They have a great colour selection with currently good stock levels.
MULBERRY
All images are clickable!
1. Lilac Shoulder Bag // 2. Bryn Bag // 3. Lilac Mini Zipped // 4. Darley Wallet // 5. Lilac Zip Around Purse   // 6. Amberly Clutch  // 7. Black Quilted Bag // 8. Lilac Wallet // 9. Coin Zip Purse // 10. Small Iris // 11. Trifold Wallet  // 12. Oversized Quilted Bag // 13. Chain bag  // 14. Pink Tote  // 15. Quilted Nylon Bag
Mulberry has gone live with their sale! This one is live in both the US and now the UK with some of their iconic pieces included.
The sale offers up to 40% off on a range of classic and limited edition pieces. Their selection includes the gorgeous Bayswater bag, available in various shades which would be a perfect investment for your summer wardrobe. They've also added their beautiful new quilted Lily in the mini size as well as their fantastic oversized quilted Lily – the black with GHW version is so stunning! Finally, they also have reduced their ever popular WOC chain styles and their classic Amberley styles too.
FARFETCH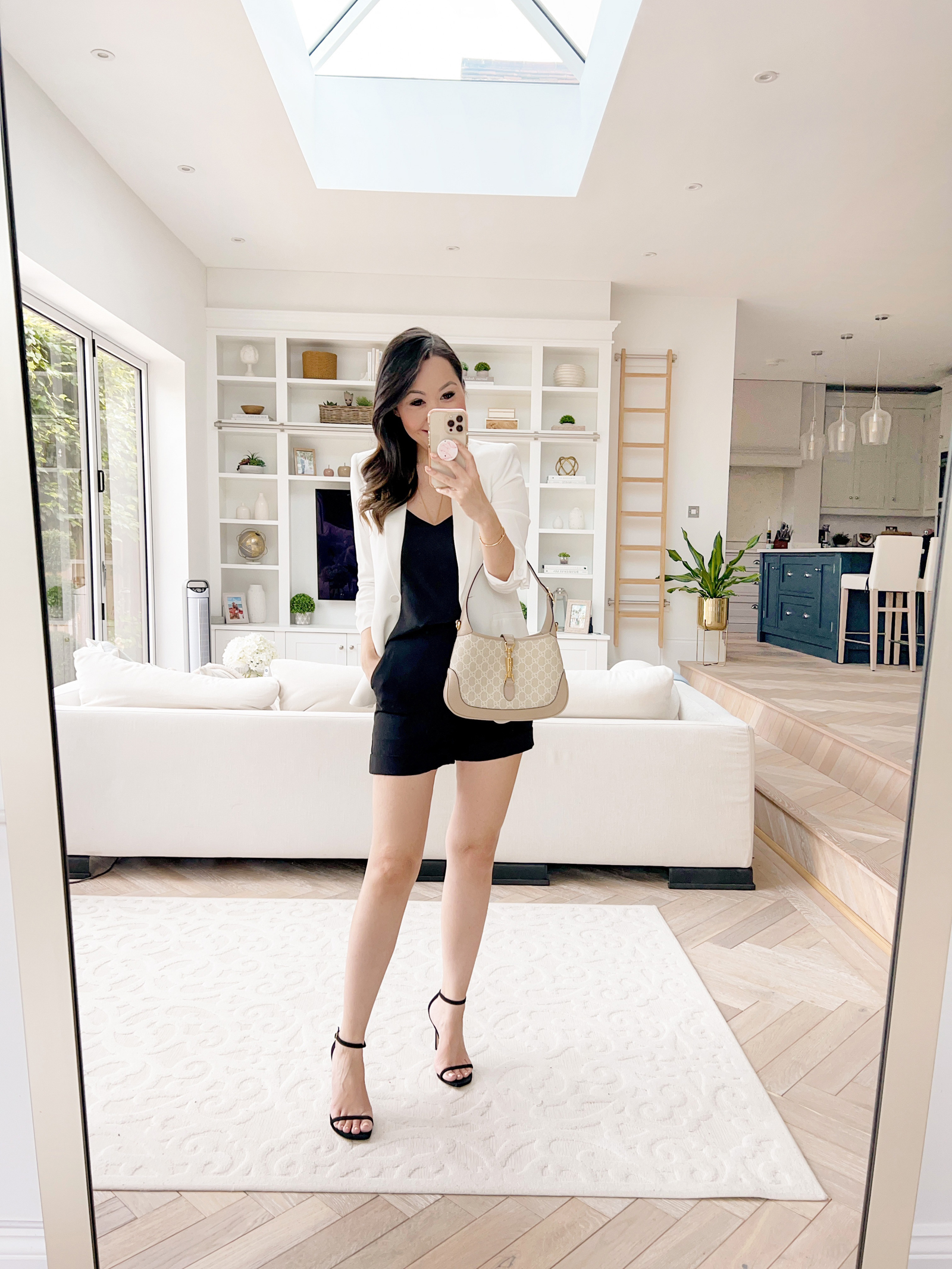 Black Cami // Black Shorts (in stock version here) // Cinq A Sept Blazer // Gucci Jackie Bag // Stuart Weitzman Heels
Farfetch – their designer sale has gone live with so many items included. For full price items, my code is still active and nabs you 10% off sitewide with very few exclusions and happily, this now works with existing accounts too! There are so many great pieces that rarely have any kind of sale that work with the discount code – a particular favourite of mine is my Cinq A Sept blazer which you've probably seen me wear about a gazillion times haha. The most perfect fitting blazer! Definitely a splurge but absolutely worth the cost per wear for me.
You'll need to use code CA10 at checkout to nab the discount 🙂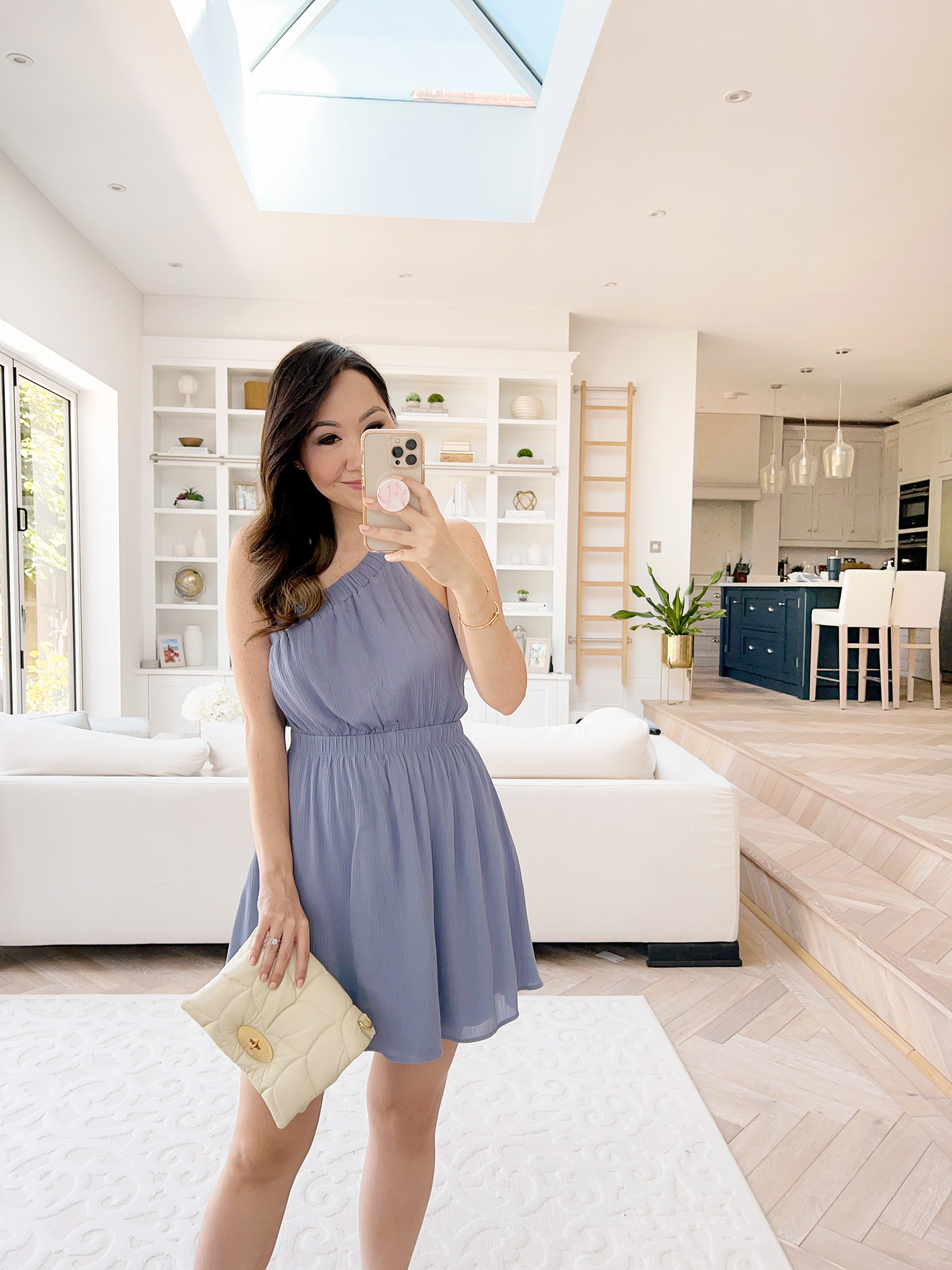 My Mulberry softie is also included in the discount code and oh my goodness, I love this bag so much! It's genuinely as close to a pillow in a bag as you can get haha. If you love soft leather, then I'd definitely say you need to feel this one IRL – it's so magical!
ALL OTHER SALES
There are a ridiculous amount of sales happening right now so I've rounded up the best ones worth checking out here:
Lululemon – their summer sale is now on with new items constantly being added and restocked. Definitely worth a look, I've already shopped this sale twice myself!
Reiss – their end of season of sale is here! Shop the selection here.
Nordstrom – their end of season clearance sale is here with a ton of new markdowns.
Stripe & Stare – just launched their summer sale. If you're not familiar with them, they sell underwear and PJs made of the softest, most incredible fabric! I got a pair for Christmas and absolutely adore them. I used the sale to nab myself this pair of summer PJs. I usually take a size small but got the medium this time to hopefully last me all the through 🙂
Saks Fifth Avenue – now live with their designer clearance and there is a ton included!
Karen Millen – 20% off sitewide with an extra 15% off dresses with the code DRESS.
Phew! That is it for this kind of enormous sale round-up. Let me know if you know of any good sales that I missed out!