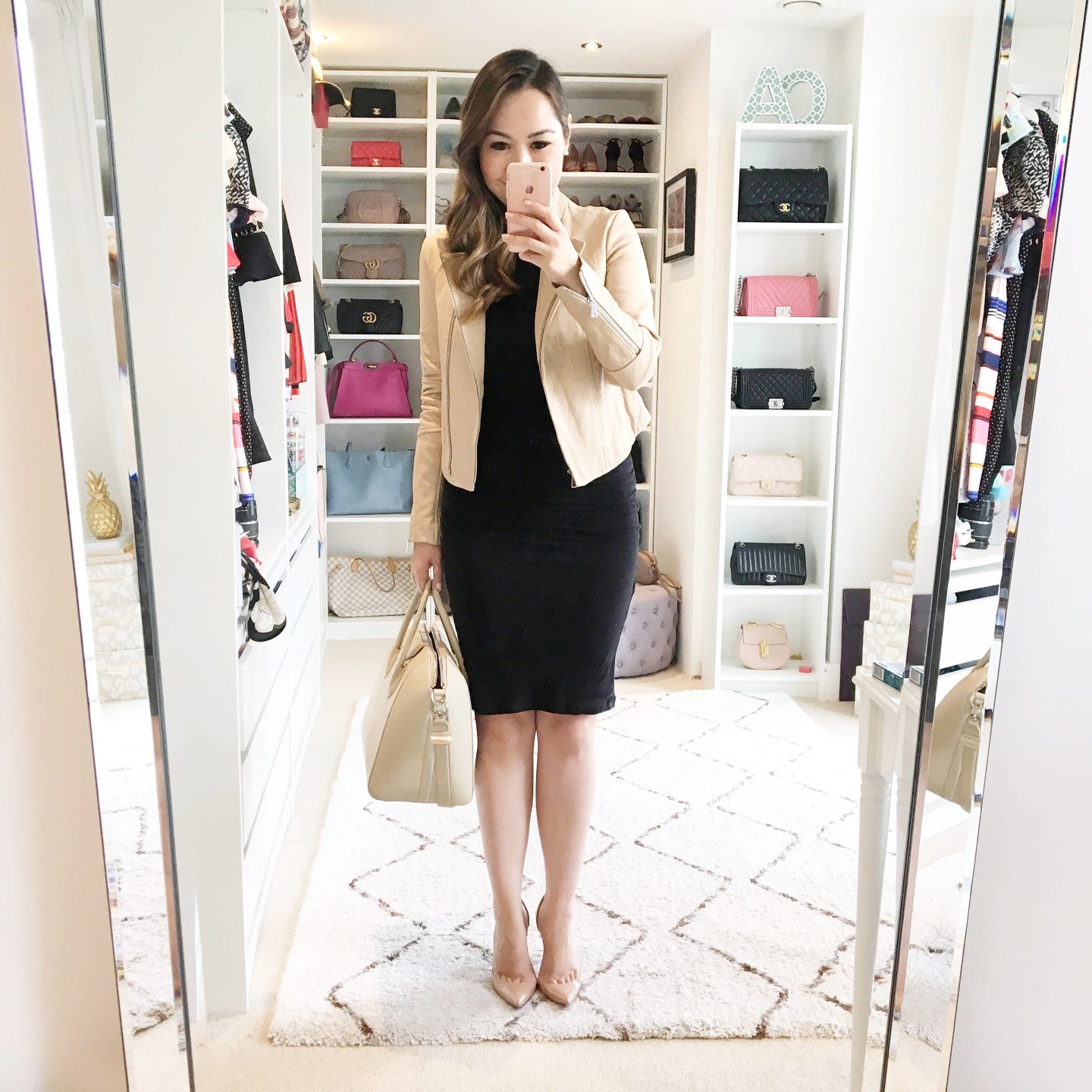 I thought it was probably about time for another Instagram Outfit Round Up! The weather has been all kinds of crazy in the UK switching from hot and humid to cold, windy and rainy – at least it's keeping us on our toes!  Here are all the details on the outfits you may have seen on my Instagram.
Black Dress // Vince Leather Jacket (sold out) – similar here // Christian Louboutin pumps // Givenchy Antigona
It was my first time wearing my new black dress and I loved it. So comfortable and flattering – and so easy to switch out from day to night. My jacket is a few years old but this BB Dakota one is similar.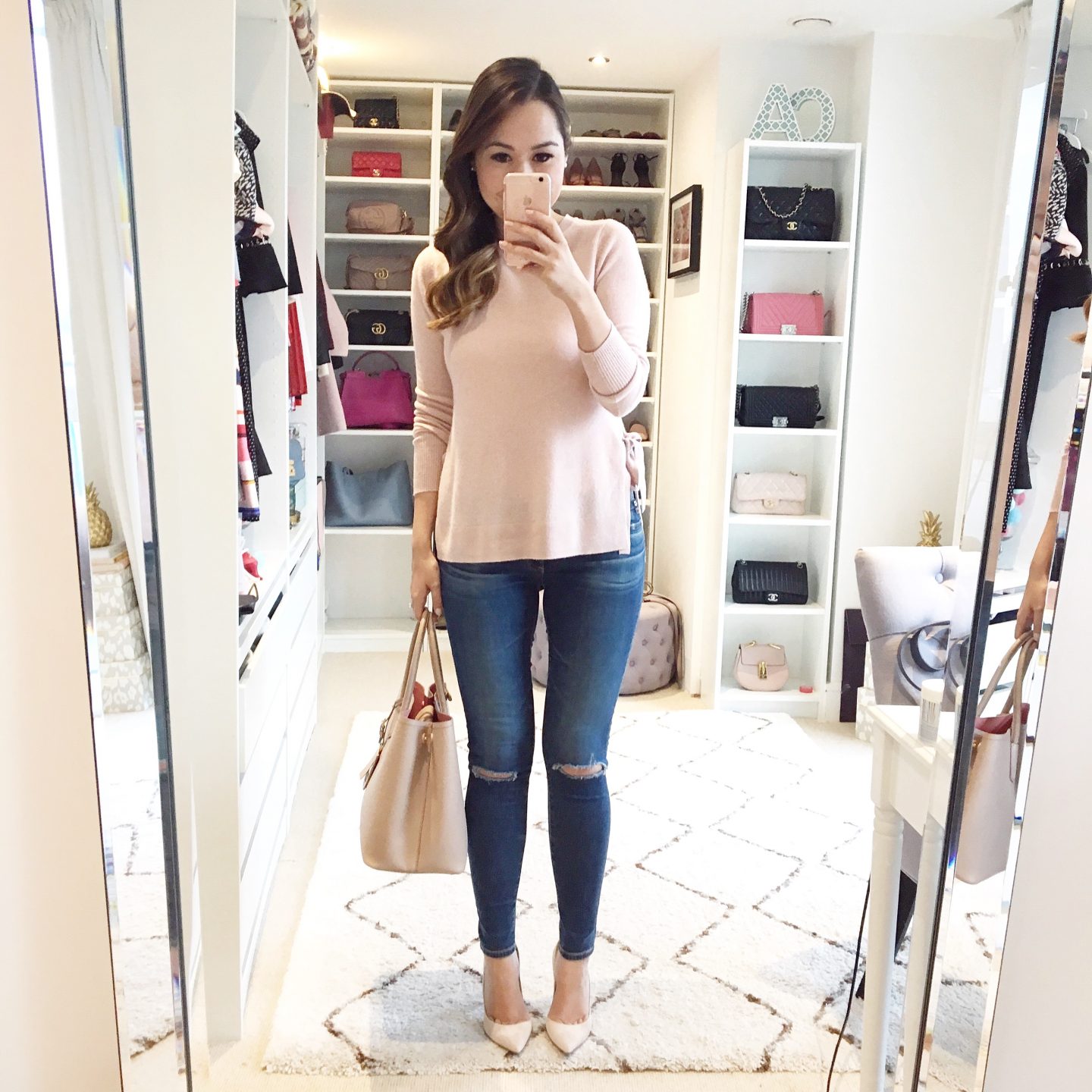 Pink Sweater with bow ties // Jeans (sold out) – updated version here // Pink Suede Pumps // Prada Double Tote
It's taken a cold and slightly miserable turn recently but on the plus side I was able to wear my super cute new sweater! The combination of pink, side bows and cashmere instantly won me over – plus it's so comfy! I matched it with my long awaited Prada Double Bag 🙂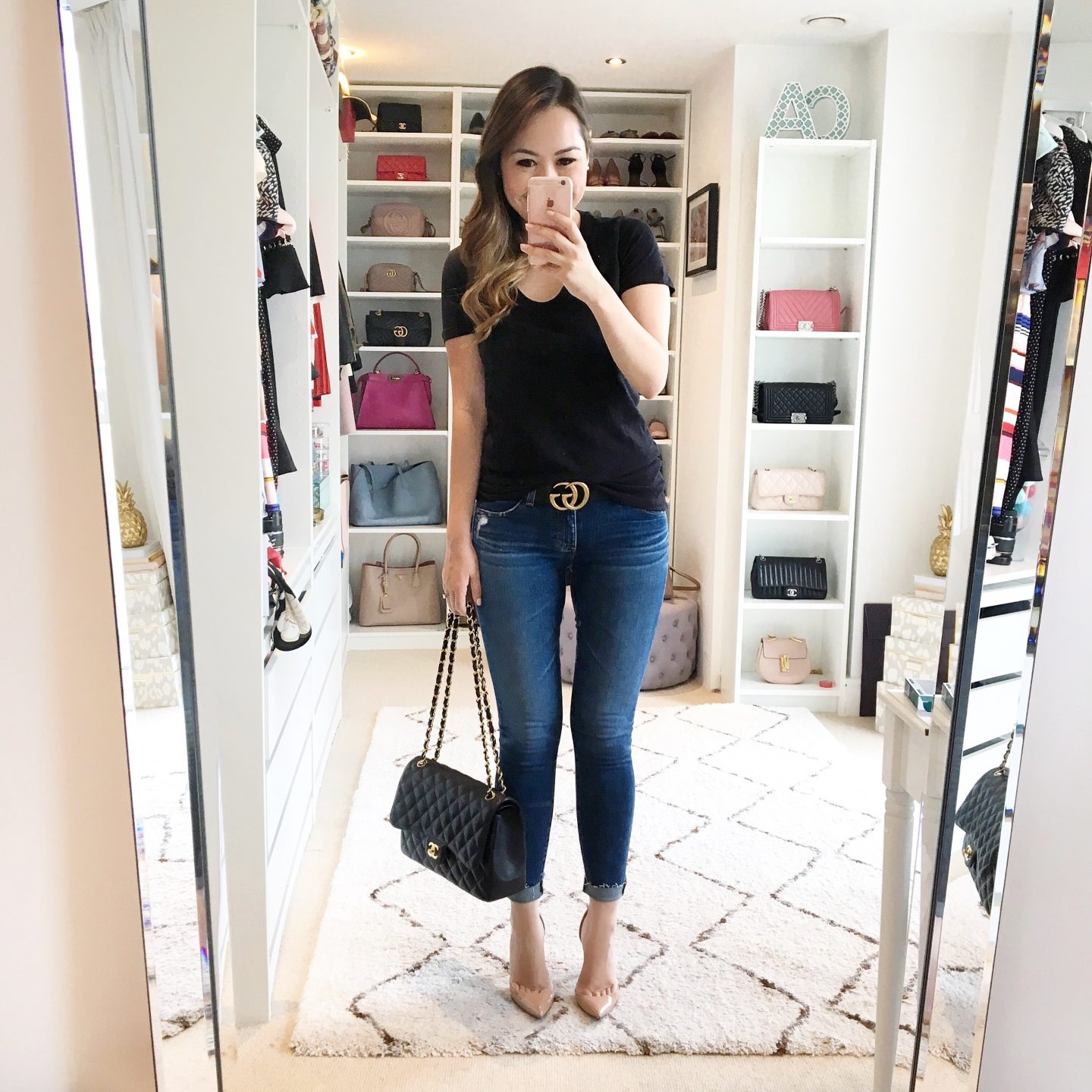 Black T-Shirt // Jeans // Gucci Belt // Christian Louboutin Pumps // Chanel Jumbo
Sometimes simple is best (especially when I have no time and just need to grab something!). This black t-shirt was such a great buy and is the perfect fitted-but-still-a-little-slouchy fit. And of course, my new jeans! Not going to lie, they're not quite as comfy as last year's AG purchase but still head and shoulders above my other jeans!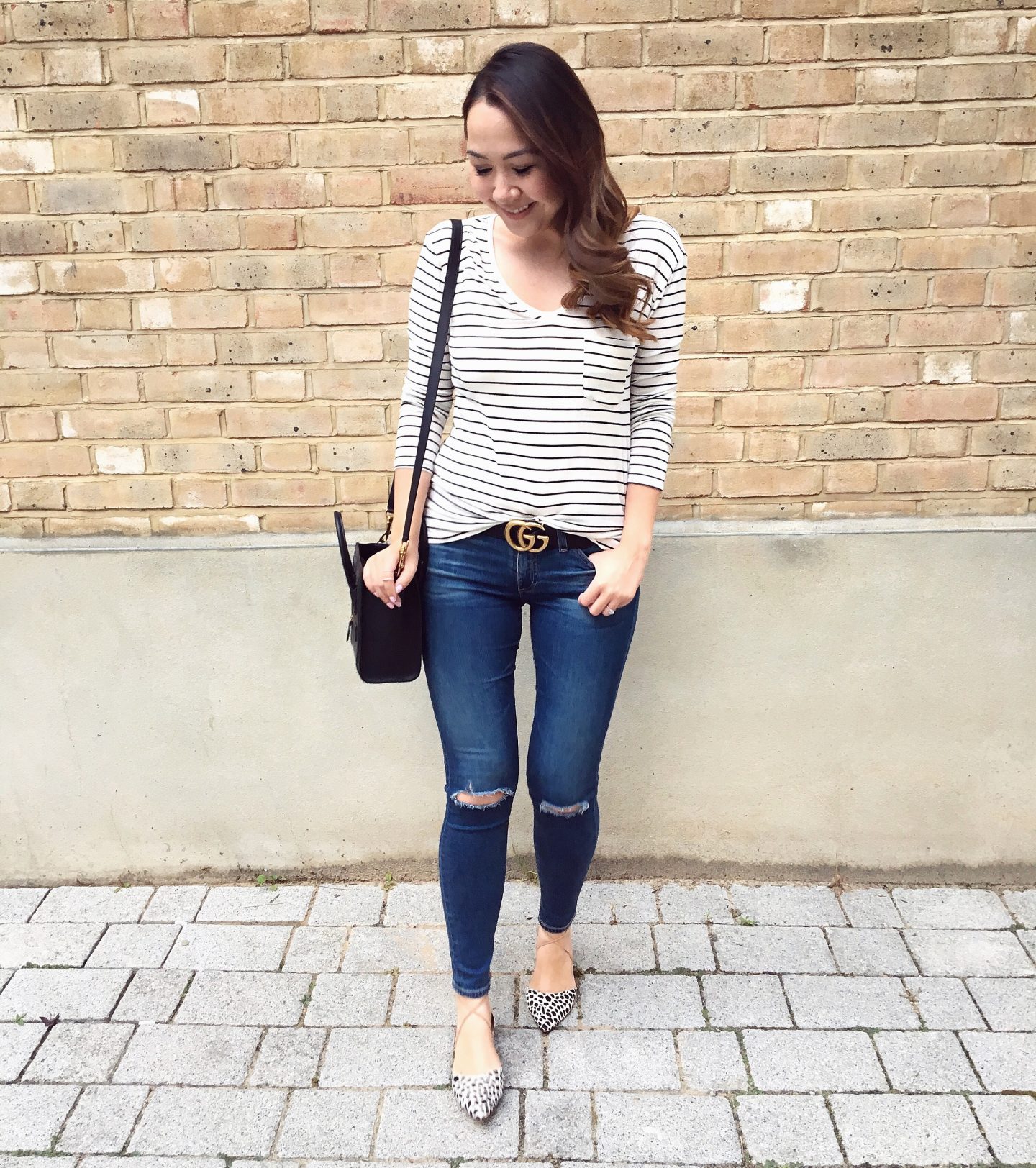 Striped Shirt // Jeans (sold out) – updated version here // Leopard Print Tie Flats // Gucci Belt // Celine Nano
I wore this for a casual date night and loved it – we ended up walking to a restaurant about 20 minutes away and these flats were so comfy! No breaking in required which is the way to my heart as far as shoes are concerned. Super cute and super comfy – definitely one of my best NSale purchases!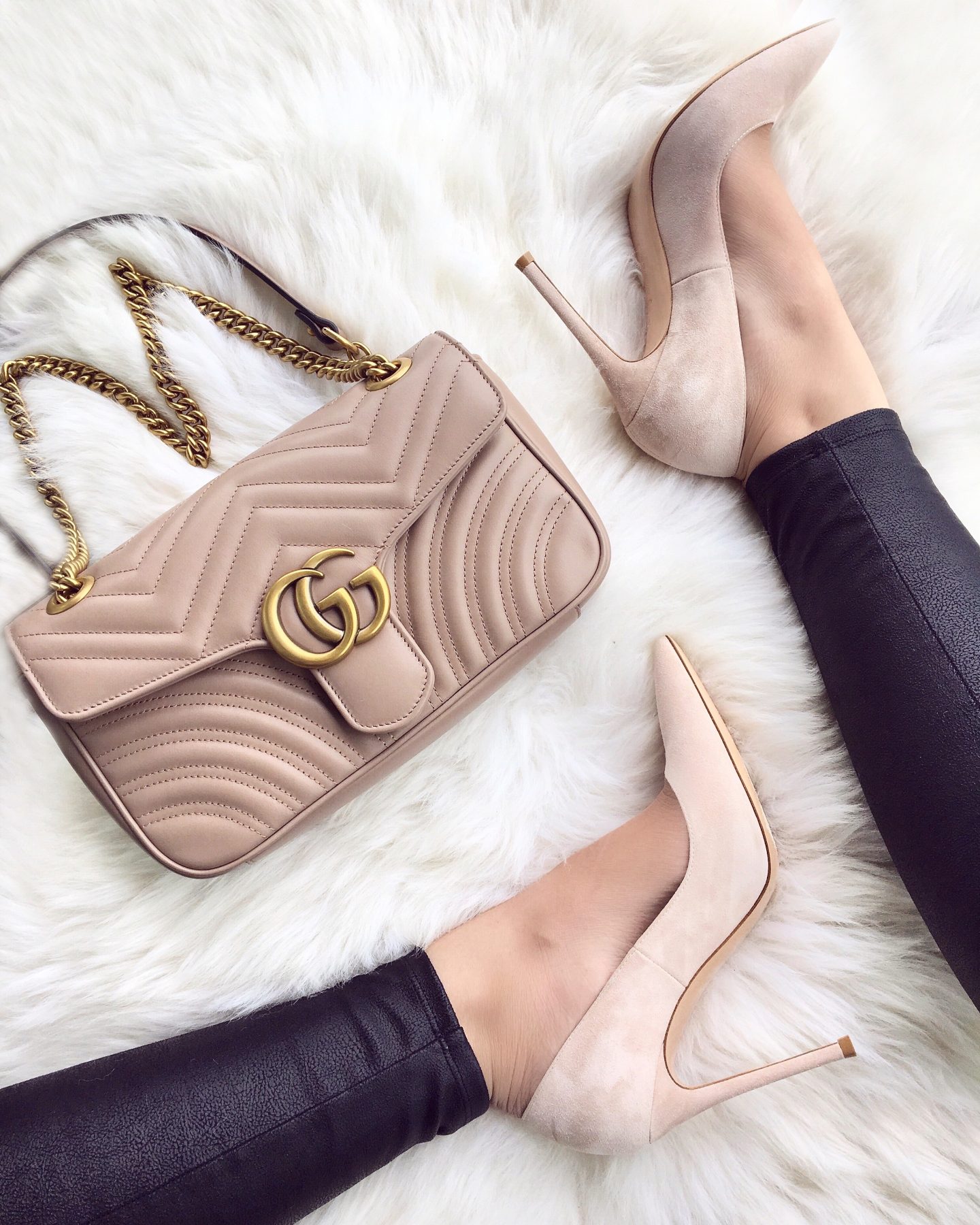 Faux Leather Leggings // Pink Suede Pumps // Gucci Marmont Flap
I love these faux leather leggings – the texture is amazing, soft but definitely with the look of real leather. I wish I had sized up because it is really, really tough getting them on but apart from that, I'm happy with my purchase!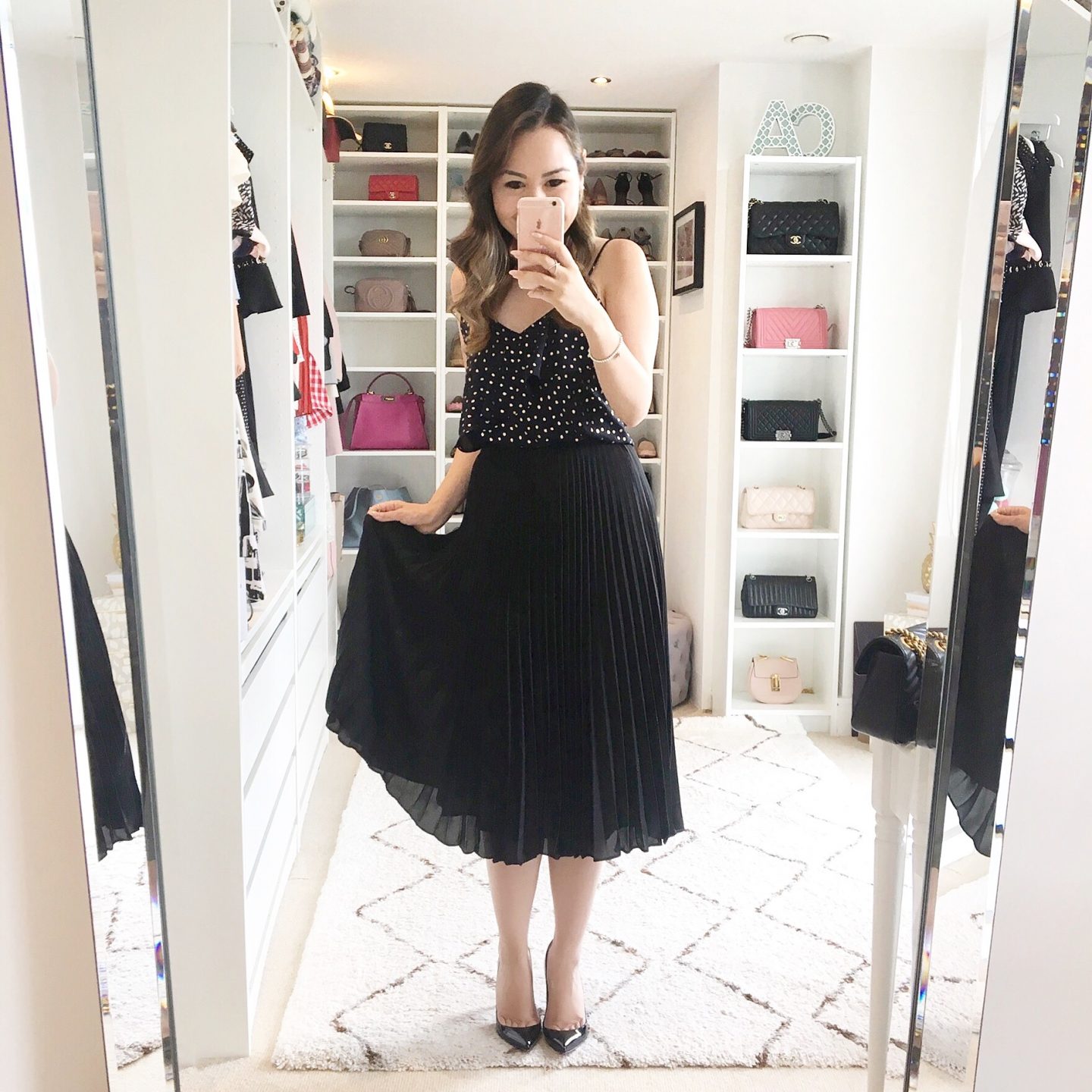 Zara Top // Black Pleated Skirt (on sale!) // Christian Louboutin Pumps
This pleated skirt is the prettiest thing, I'm so in love with it! The perfect amount of weight and flowiness (to use the technical term) and versatile enough to wear to the office and casually/ dressed up. My cami top is from Zara and is on sale! I sadly didn't buy mine on sale but thought it was a bargain even full priced. Super pretty print (it has little gold stars on it!) and equally good with jeans and skirts.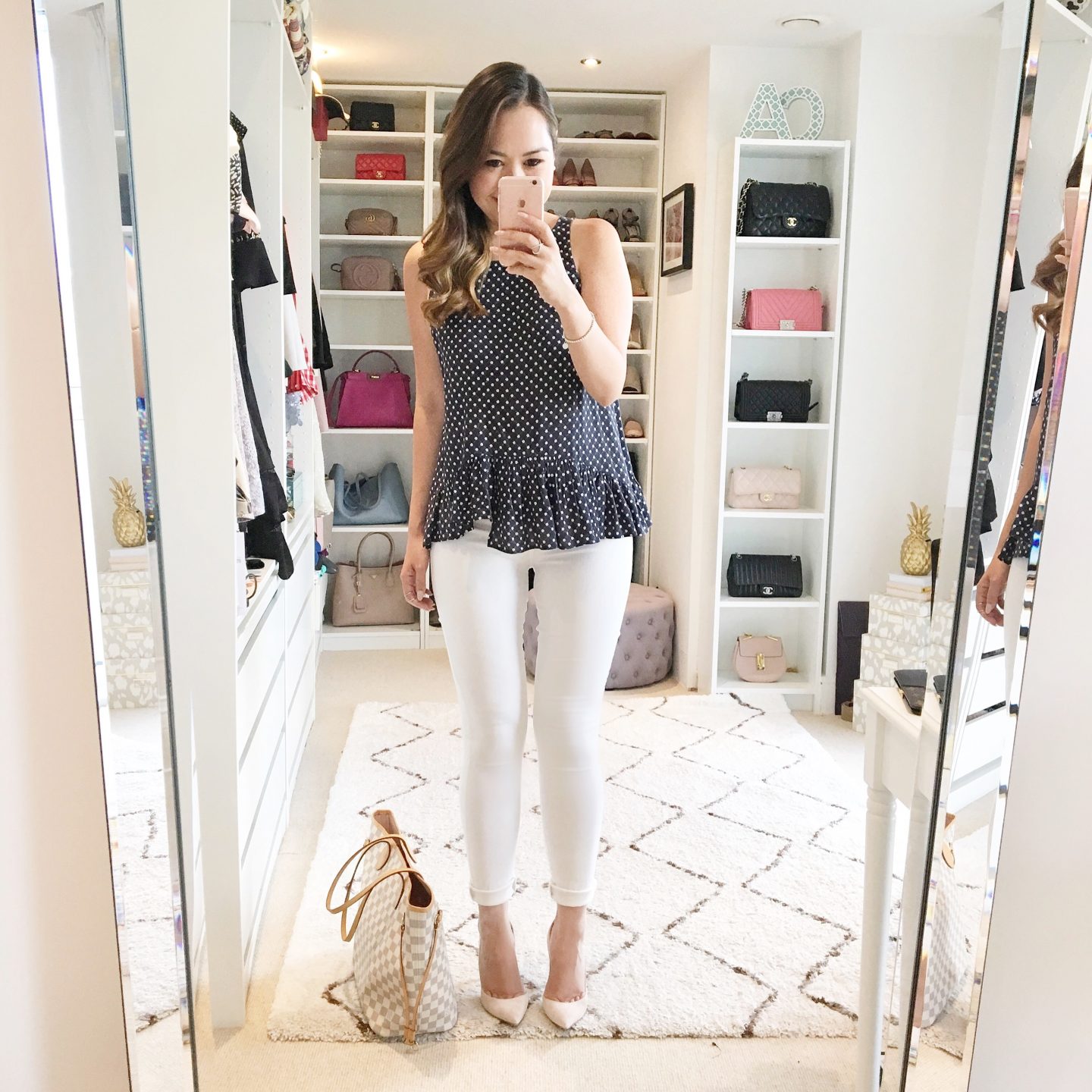 Asymmetrical Top (sold out) – similar here and on sale // White Jeans // Pink Suede Pumps // Louis Vuitton Neverfull
I always look forward to using my Neverfull Azur and I really love it with white denim (my favourite Hudson pair are currently 40% off!) – so fresh and summery. I paired them with my Gianvito Rossi pumps which you'll see a ton of in this post (I have been loving them recently!!).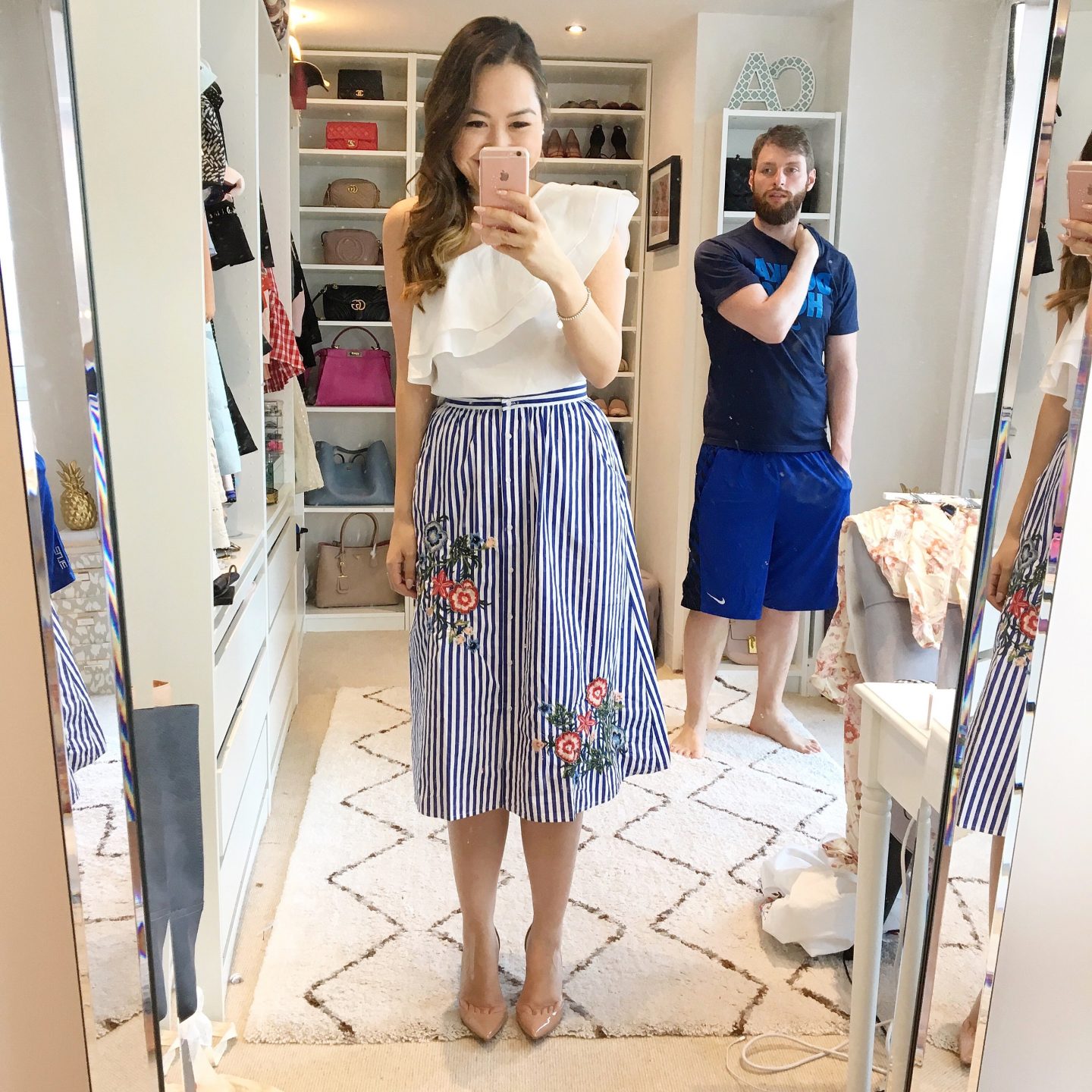 White Ruffle Shirt // Embroidered Skirt // Christian Louboutin Pumps
With my photobomber! He is too funny – so blissfully unaware of all thing social media! This is one of my favourite outfit combos from summer so far – the skirt alone instantly makes me feel like I'm on holiday! The top is also such a good basic (that's really not basic!), so good with jeans and skirts.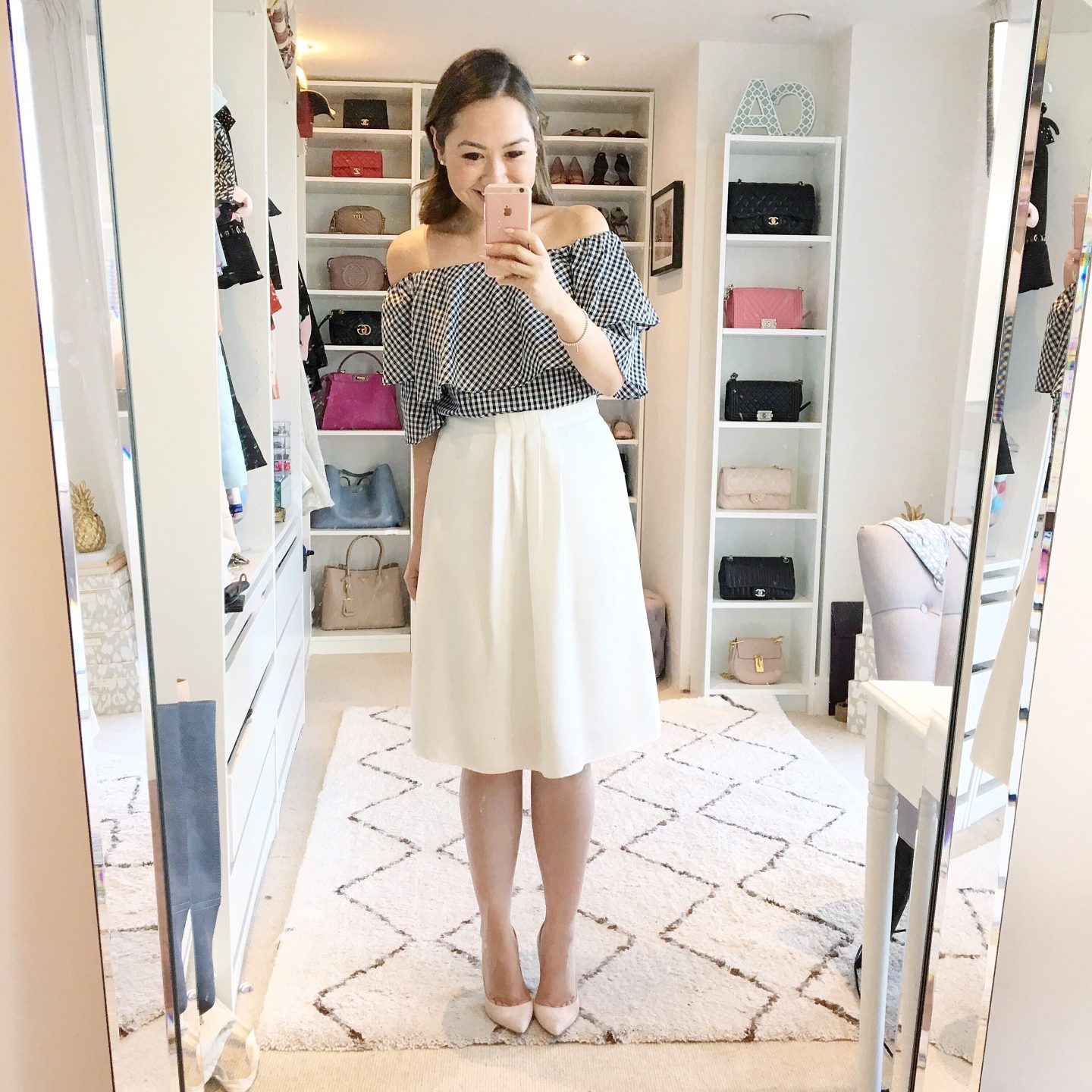 Gingham Top // Reiss White Skirt (sold out) – similar here // Pink Suede Pumps
I am all about the gingham at the moment and this is the funnest top! I've worn both with jeans and skirts and it's great with both. My skirt is an old one from Reiss (their skirts are well worth checking out for work – nicely cut and they don't crease!) but I've linked similar (if you take away the belt haha!).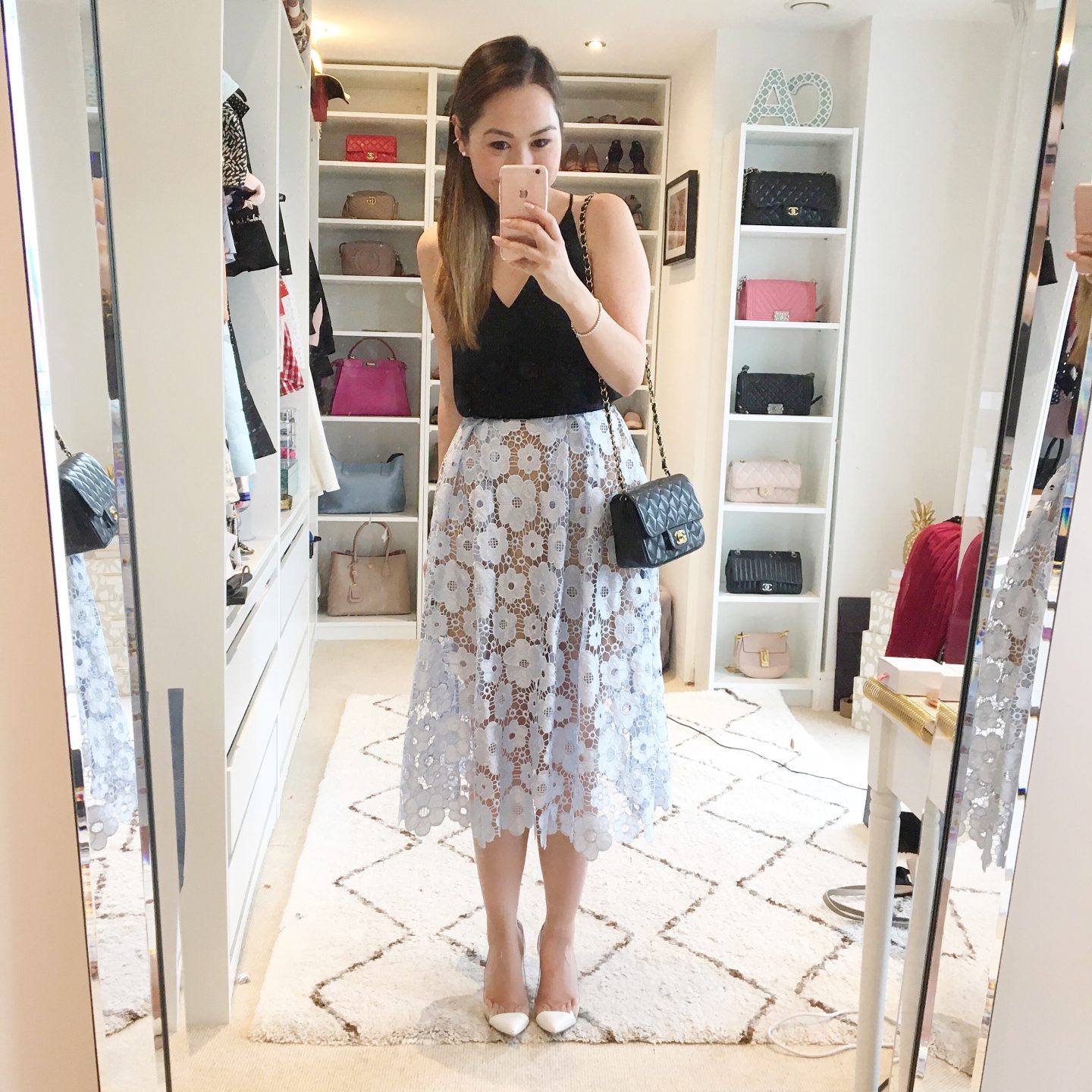 Black Top // Self-Portrait Skirt (sold out) – similar here // White Pumps // Chanel Mini // Ear Cuff
I wore this out to a friend's birthday and loved it. It felt dressed up but not too much (it was a dinner party) – and of course my plexi pumps were a no brainer. Whenever I know I may have to be on my feet for a while, these are my go-tos. The skirt is by Self-Portrait from a previous season but they've released a new version here.
And that's it for this Instagram round-up! I really need to do these more frequently, they take me an age to write up because I leave them so long! New resolution to do these more frequently. Let me know if you have any questions below and thank you so much for stopping by!