All images are clickable!
Today I'm sharing my beauty picks for the Nordstrom Anniversary Sale! Beauty is always a great one to shop at the #NSale – they tend to feature only best selling items and either offer these at a discount or in value pack sizing (and sometimes both!).
I looked through every page of beauty and realised I had tried the vast majority of products on offer! The products featured here are ones I would fully recommend and own myself (often with multiple repurchases!).
Featured Above
1. Jo Malone Set // 2. Olaplex Set // 3. Dennis Gross Set // 4. BeautyBio GloPro // 5. MoroccanOil Set // 6. NuFace Set // 7. Charlotte Tilbury PillowTalk Lip Kit // 8. Diptyque Set // 9. Dior Lip Set // 10. Slip Silk Pillowcase Set // 11. T3 Brush Set // 12. L'Occitance Hand Creams // 13. Slip Hair Ties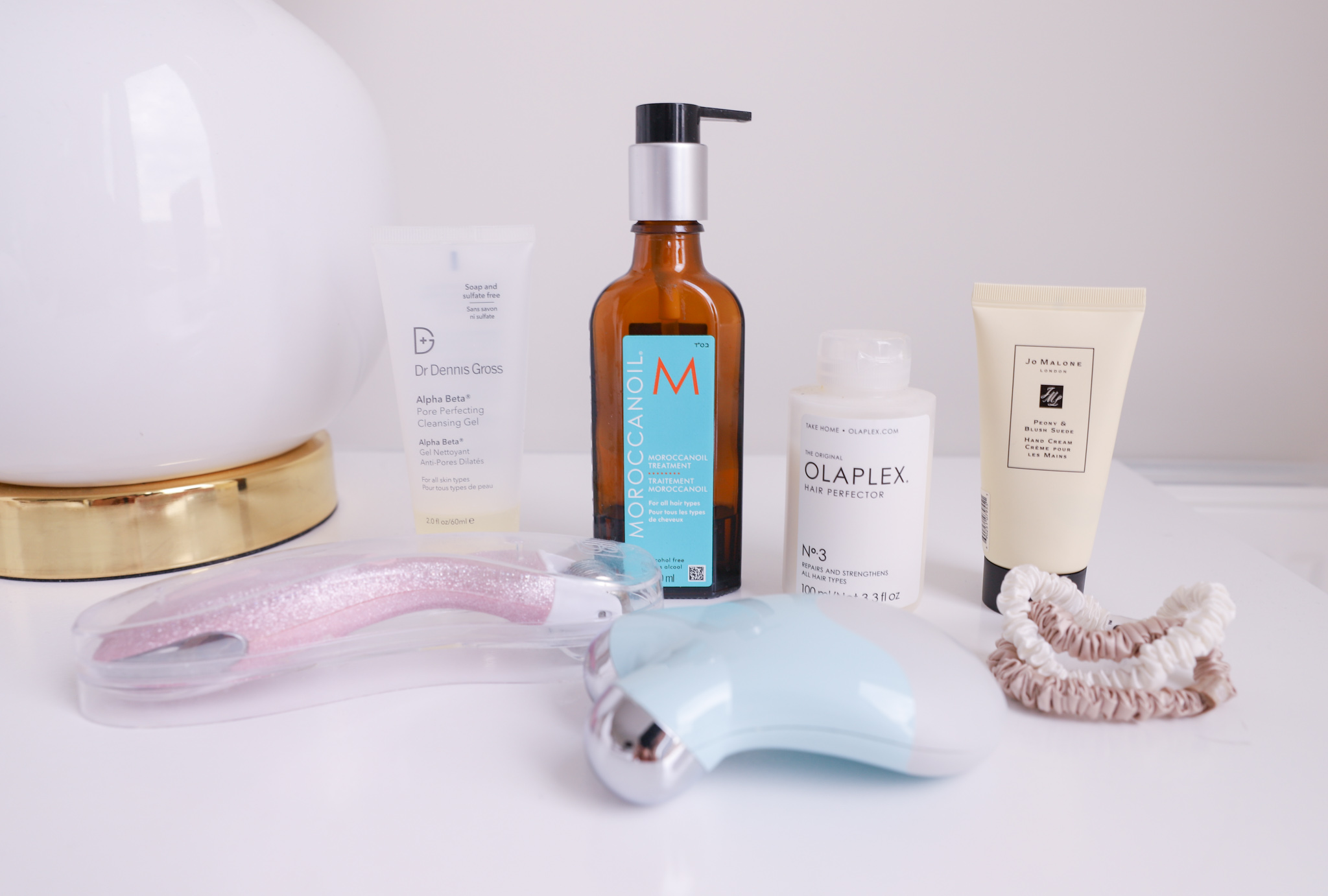 For those of you wanting to give your hair some TLC, the Olaplex kit is fantastic – and hyped for good reason! You get the treatment, a shampoo and conditioner, all at larger sizes in this set. The treatment usually comes in a fairly small bottle so this is a great chance for a better value option! I also still love and use the MoroccanOil treatment – it's a nightly ritual for me and I wouldn't be without it.
There are also some great options for gifts – whether it's for a loved one or treating yourself 🙂 There's a fantastic taster Jo Malone set that any fan would be delighted with and this Diptyque set is an annual repeat which I've gifted countless times – always to happy recipients! Finally, there's an amazing Charlotte Tilbury lip kit featuring some of my favourites – I've worn the pillowtalk lip pencil every time I've worn lipstick for the past two years! It's the perfect nude pink and the whole line is gorgeous.
BeautyBio GloPro vs. NuFace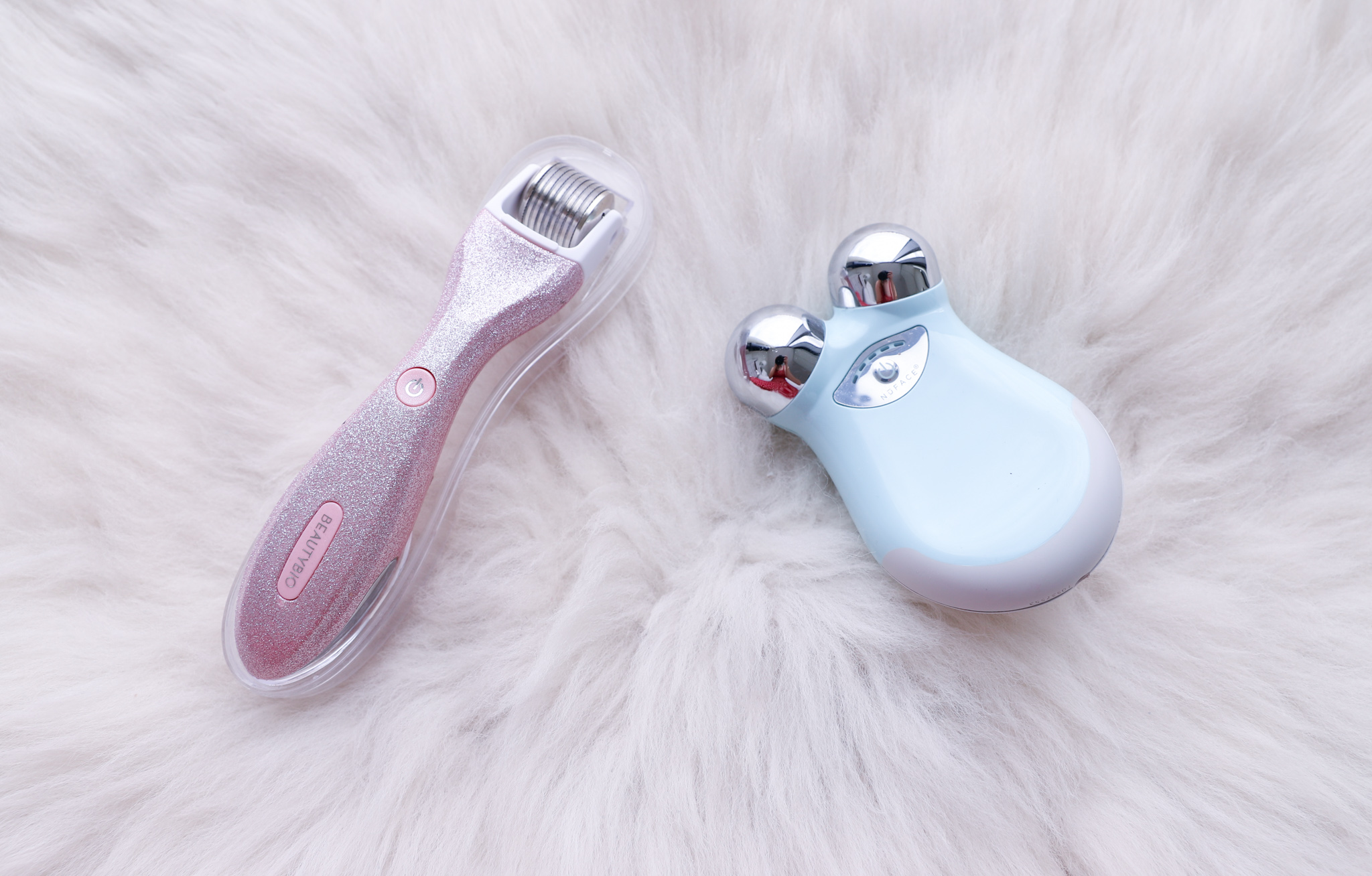 I know a lot of you are deciding between the GloPro and the NuFace so I thought I would break down what's best for what here.
BeautyBio GloPro Pros and Cons
The Glopro is a microneedling too aimed at preventing and helping fill in fine lines. By creating (really) tiny tears in the skin, it helps to promote collagen making your skin look more plump and youthful. Because of these tiny tears, it also helps to make any of your skincare products more effective, so you'll be getting more bang for your buck for all of your skincare!
It isn't suitable for use with 'actives' though, i.e. retinoids. If you're not using prescription-strength skincare though, you should be fine 🙂 It also won't help with pigmentation or sagging.
I use mine 3-4 times a week in the evenings only. The sensation is mildly prickly and my skin does look a little red after (I certainly don't find it painful though). I don't love the idea of my makeup sinking in further so I tend to avoid using it in the morning. It's fairly quick to use but you do have to make sure you sanitise it after use.
NuFace Pros and Cons
The Nuface is a toning device for your face. It won't help with wrinkles (although the 'NuFace Fix' that comes with their kit is supposed to!) but does help with sagging and general facial structure. The Nuface has a ton of celebrity fans from Bobbi Brown to Miranda Kerr – and for good reason! It's super nifty and you can see the results immediately – they actually encourage you to use it on one side of your face first… so you can see the difference!
The downside of the Nuface is that you need to use it morning and night to really see a difference long term so it does require a little bit more commitment! You'll also need to use a gel with it – I use the Nuface own brand gel and it does last a long time.
Hopefully that helps you if you're deciding between the two! I'd generally say if wrinkles are your main concern, go with the Glopro but if sagging and facial structure is more important to you, then the Nuface is best 🙂 If you wanted to go for both, I use my GloPro 3-4 times a week (only in the evening) and then the Nuface the rest of the time – both morning and night!
For all of you with access starting today – what did you pick up from the #NSale? Let me know below! 😀