All images are clickable!
There are so many great sales on, I don't know where to start! A lot of sales have been ongoing for a while but then periodically add new pieces which makes it trickier to keep track. I checked out a few sales that I had previously dismissed and was surprised to see how great they are now.
The SSense sale is definitely an example of this! They've updated their sale a lot of new styles – including a fair few Saint Laurent styles! The deal with the SSense sale is always the same; not the biggest discounts but a great chance to score a bag that might not always go on sale, at a cheaper price.
FEATURED ABOVE
1. Saint Laurent Grey WOC // 2. Saint Laurent Small Loulou Puffer // 3. Saint Laurent Pink WOC // 4. Saint Laurent Pink Shoulder Bag // 5. Saint Laurent Metallic WOC // 6. Saint Laurent Pink Camera Bag // 7. Saint Laurent Cassandra // 8. Saint Laurent Grey Camera // 9. Saint Laurent Mini Cassandra // 10. Valentino Grey Pouch // 11. Valentino Poudre Pouch // 12. Saint Laurent Zipped Grey Pouch // 13. Saint Laurent Metallic Kate // 14. Saint Laurent Grey Envelope // 15. Saint Laurent Pink Mock Croc Kate // 16. Givenchy Eden Bag // 17. Saint Laurent Grey Tote // 18. Givenchy Pink Antigona
I've included my favourite picks from the sale above – all around about 20% off. This sale is usually best for the US but it's always worth checking to see if any sale stock is available in your country (the stock selection does seem to change from country to country).
Other Sales Worth Checking Out
Reiss Sale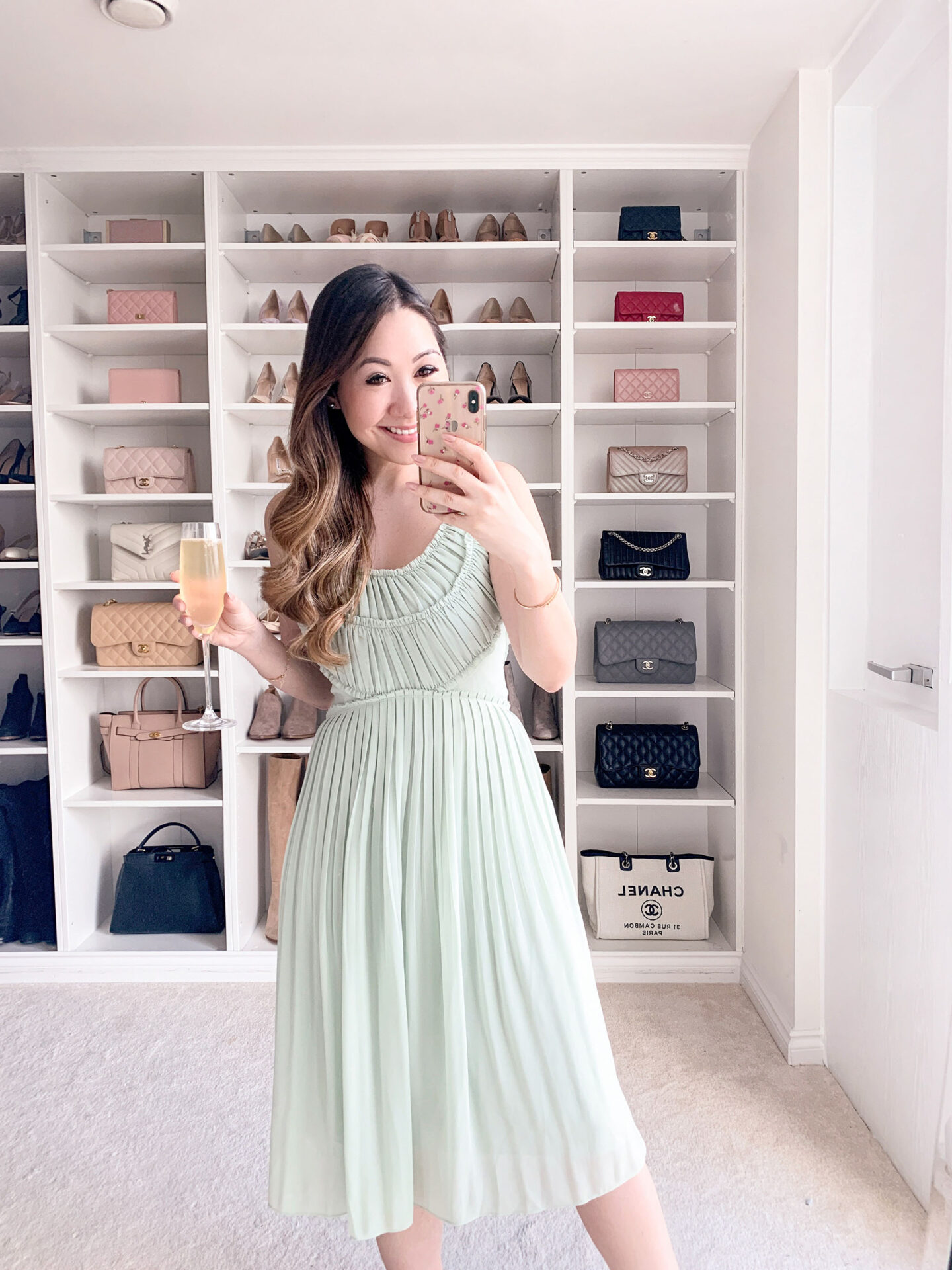 The Reiss sale is still going strong and several of the pieces that I love are included. Unfortunately my light green dress is pretty much sold out at Reiss but is available at Nordstrom for 60% off and looks to be pretty much fully stocked in most sizes (I took a size 2).
My rose gold skirt (seen on me here) is still available in a few sizes (I took a size UK 6/ US 2).
JOIE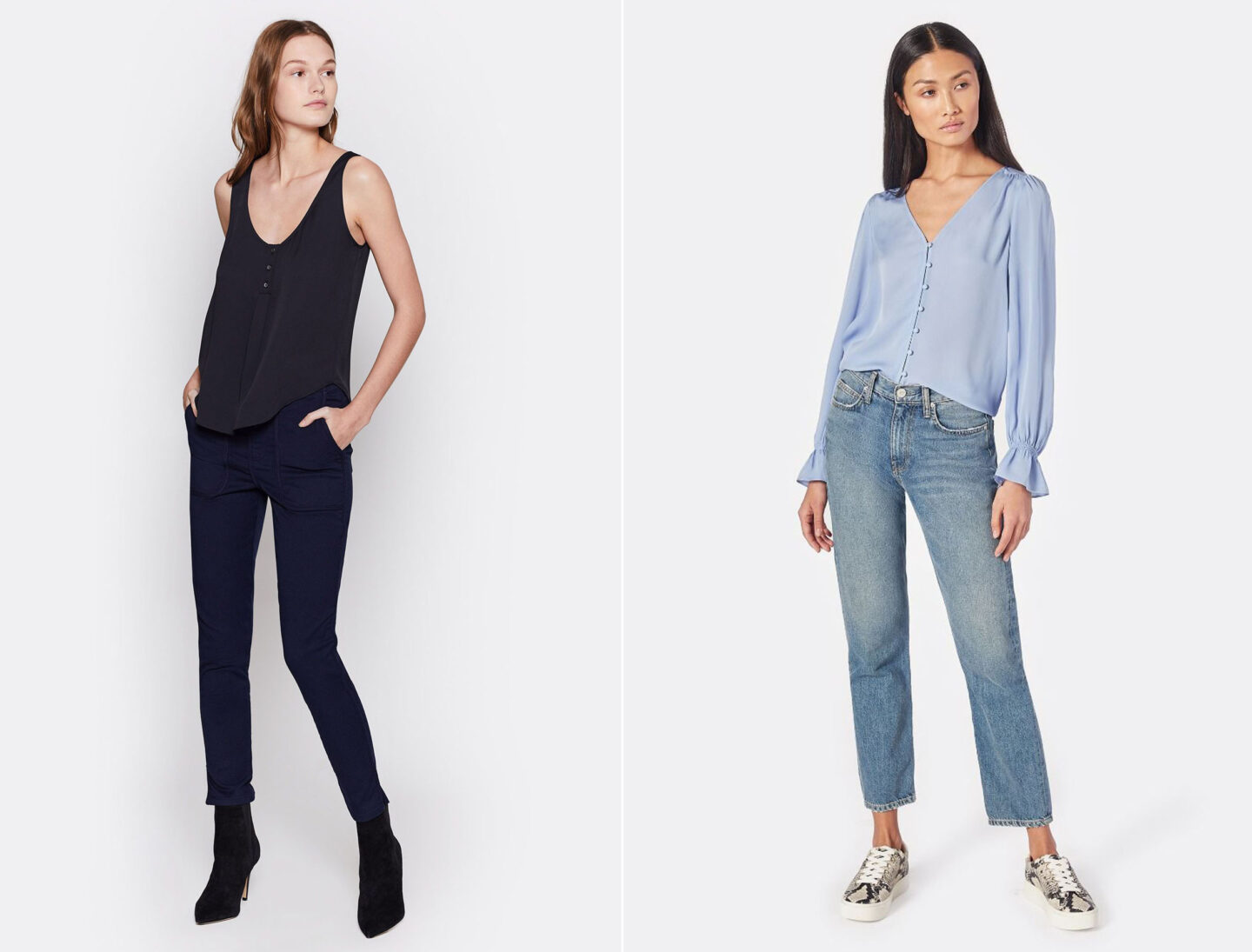 Joie is doing a huge 50% off – which I don't think I've ever seen them do! Their pieces are pricey but 100% worth it in terms of quality in my experience. 50% off obviously helps too 🙂 I bought this gorgeous blue top and this silk black vest. Their blouses are always the best so are always my first stop when browsing the site!
Use code JULY50 for 50% off sitewide (no exclusions)
Harvey Nichols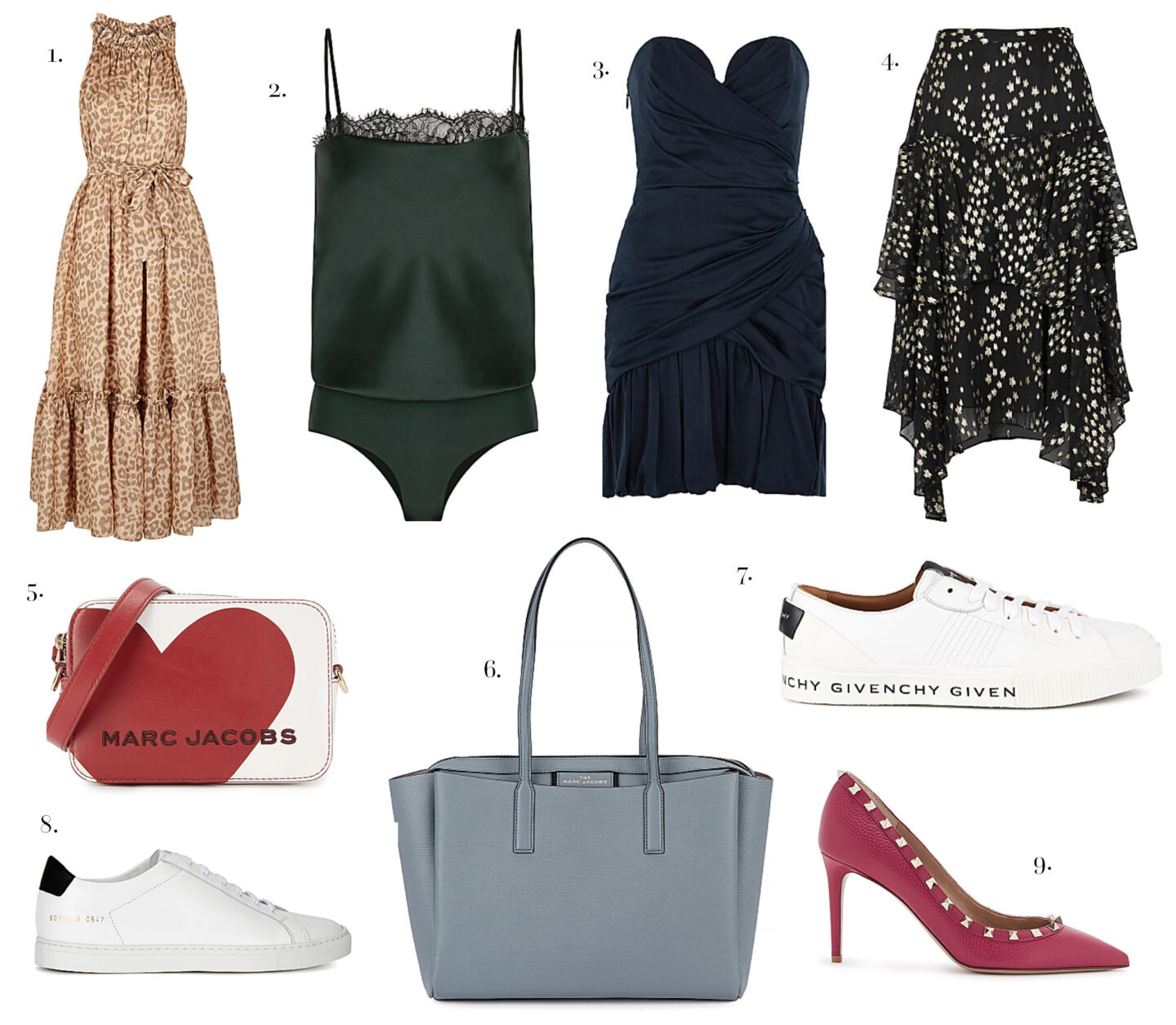 1. Zimmermann Dress // 2. Cami NYC Bodysuit // 3. Zimmermann Strapless Dress // 4. LoveShackFancy Skirt // 5. Marc Jacobs Crossbody // 6. Marc Jacobs Tote // 7. Givenchy Sneakers // 8. Common Project Sneakers // 9. Valentino Pumps
Harvey Nichols have also gone live with their end of season clearance – sizes aren't completely stocked but there are definitely some good deals to be found with some gorgeous pieces at hefty discounts.
Flannels (UK and Europe only)
1. Balmain Blazer // 2. Sophia Webster Pearl Clutch (my bridal shower clutch!) // 3. Burberry Scarf // 4. Valentino Pink WOC (multiple colours available) // 5. Valentino Sandals // 6. Valentino Camera Bag
The Flannels sale has gone live and it's pretty well stocked with brands like Valentino, Burberry and Balenciaga included. The selection is always a little random but you can score some great deals off some pretty classic pieces. like my Burberry scarf and this gorgeous Burberry trenchcoat!
Ann Taylor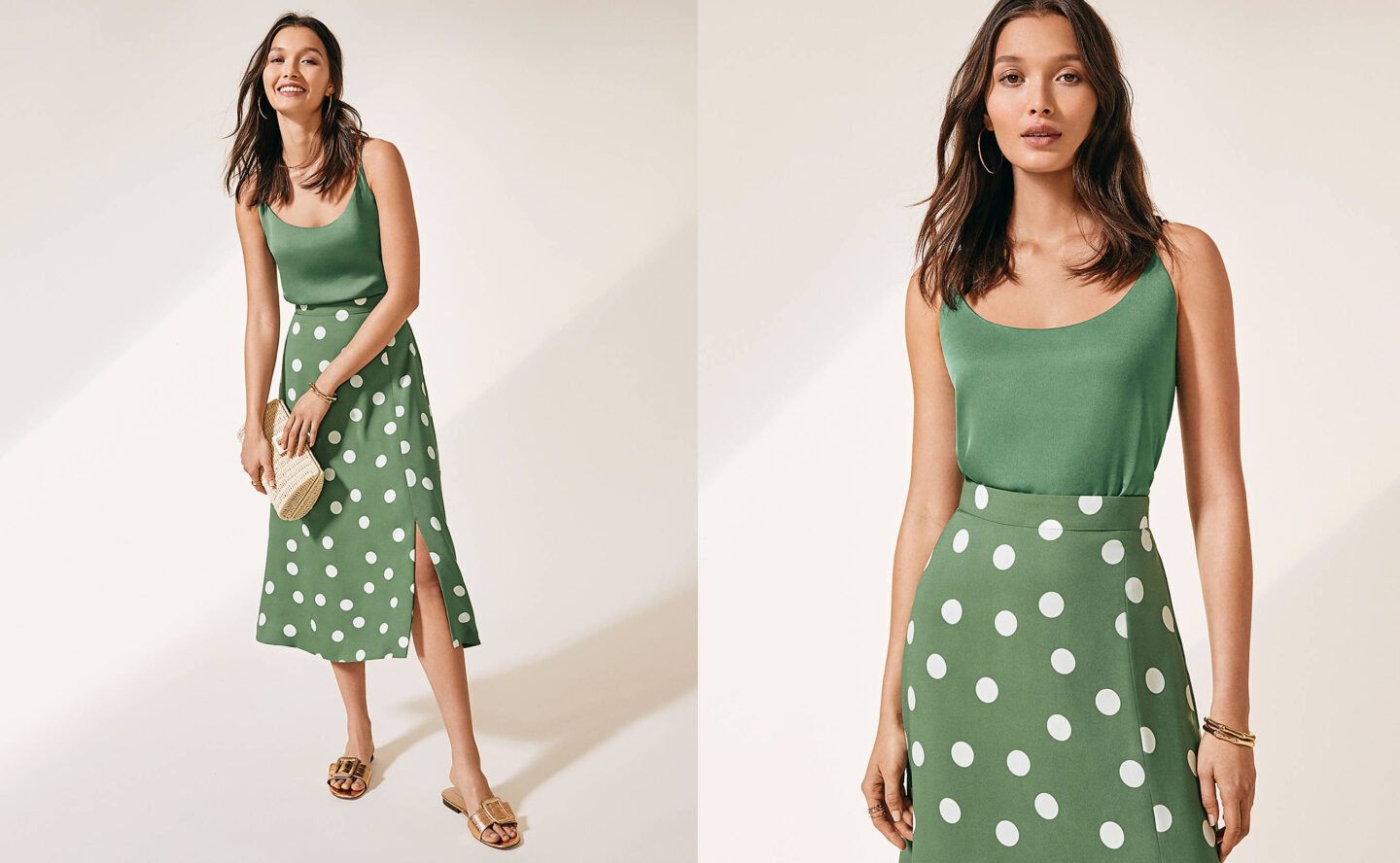 Ann Taylor is doing 50% off sitewide with further discounts off sale items. I ordered this gorgeous polka dot green skirt but there are so many beautiful styles to choose from!
Shopbop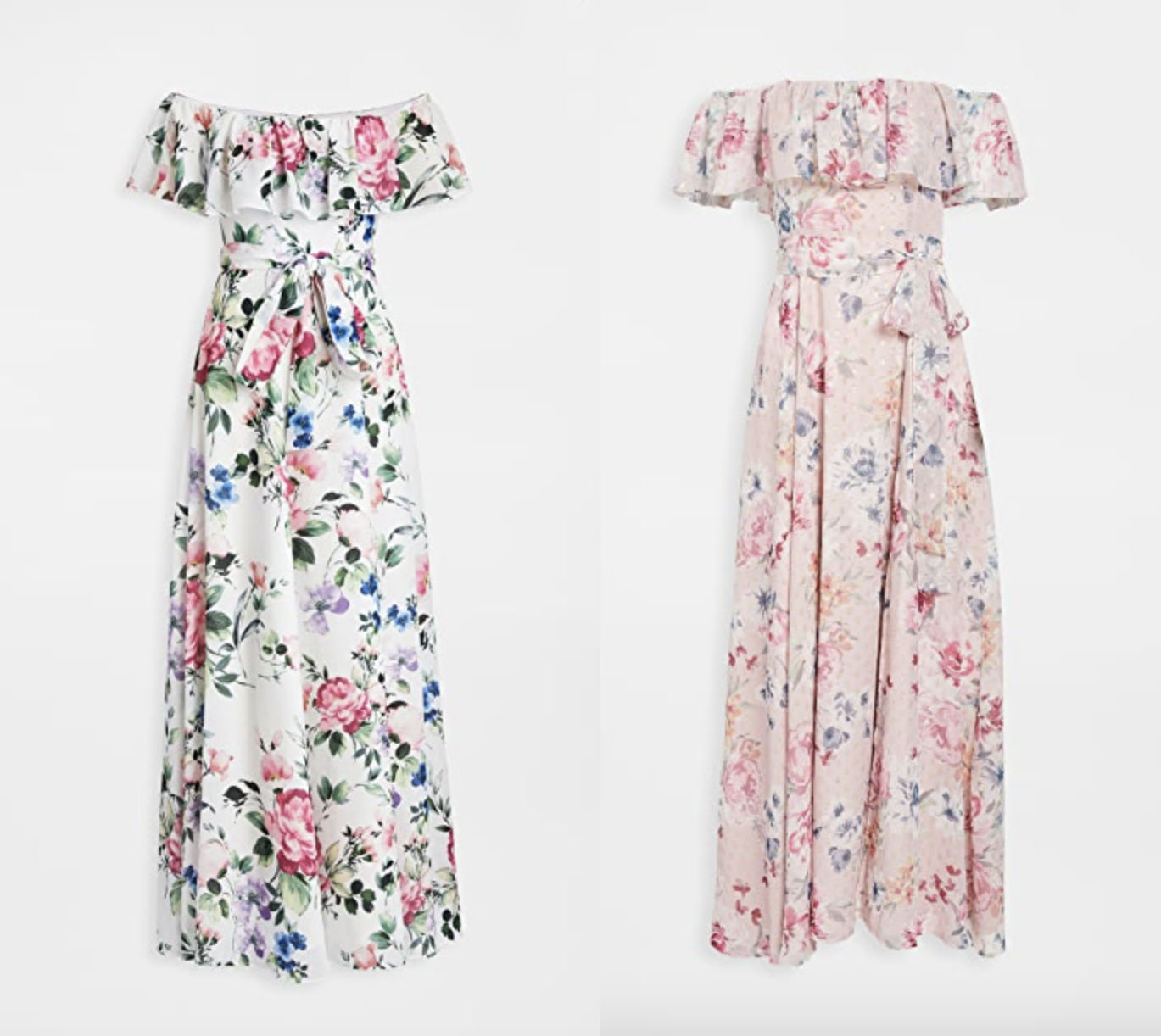 Shopbop are continuing their sale and their stock selection is so vast! There are some beautiful pieces included, including different colourways (light pink here!) of the Yumi Kim dress that I just bought (seen on me here – pic 3!).
Yet More Sales!
Nordstrom – huge clearance on. Lots of stock but some gems to be found, including my Tory Burch Perry Tote for 40% off! The full sale stock selection can be found here.
Saks Fifth Avenue – their designer clearance is on with a surprisingly good stock selection.
T3 – take 20% off with code T3JULY4. The hair curler I use (shown in this video!) is included here.
Revolve (UK, Canada and Europe only) – 20% off sitewide with code SUMMER20
BB Dakota – 40% off almost everything with code YAY40
LOFT – take 50% off your entire purchase (with further discounts on sale items) with code HBDUSA
J Crew – 50% off almost everything in the US with further discounts on sale styles. Use code GOFOURTH. For the UK, it's 30% off with code SHOP30.
Rebecca Taylor – take an extra 40% off sale styles (the sale selection is VERY well stocked!) with code EXTRA40
Rag & Bone – clearance sale is now on with full stock selection here. Particularly worth checking out? Their blazers – gorgeous fit and amazing quality (I own two and counting!).