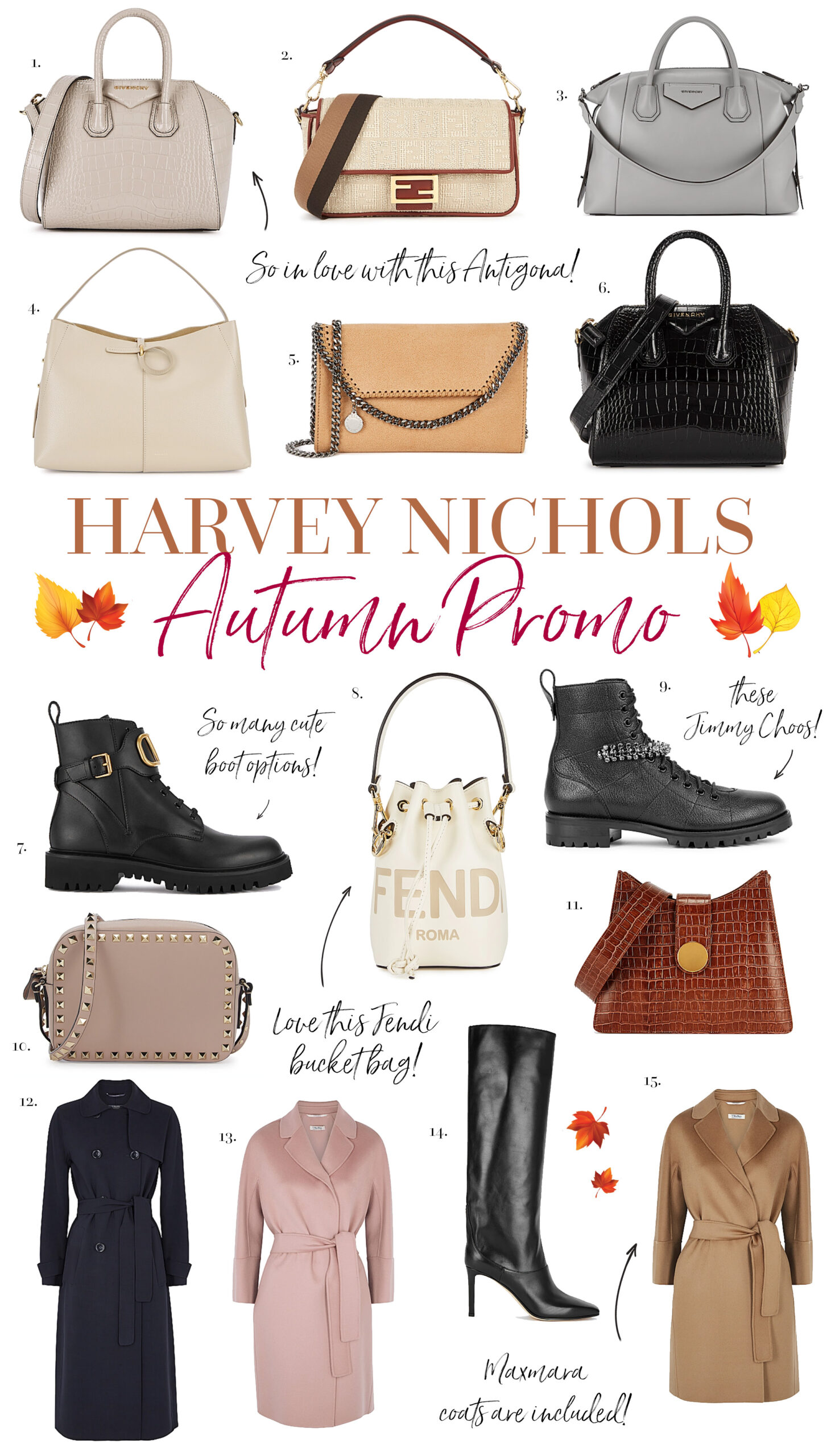 Autumn officially seems to be in the air and with it, all new season items – and happily, a new season promo code too! Harvey Nichols have *just* gone live with a sitewide promo code! You can get 10% off most items – including beauty, bags and fashion.
FEATURED ABOVE
1. Givenchy Antigona Light Grey Mock Croc // 2. Fendi Baguette // 3. Givenchy Soft Antigona // 4. Wandler Shoulder Bag // 5. Stella McCartney Falabella Bag // 6. Givenchy Antigona Black Mock Croc // 7. Burberry Boots // 8. Fendi Bucket Bag // 9. Jimmy Choo Jewelled Boots // 10. Valentino Camera Bag // 11. Elleme Mock Croc Bag // 12. Maxmara Blue Trenchcoat // 13. Maxmara Pink Coat // 14. Jimmy Choo Knee High Boots // 15. Maxmara Camel Coat
I've included all of my picks above and below but there is so much to choose from, so my picks really do only scratch the surface!
Discount Codes and Shipping
There are different discount codes depending on if you're shopping in the UK or internationally.
UK – use code AUTUMNHN10 – for the UK, you'll need to join their (free) rewards program,'Rewards'
International (including USA) – use code NEWSEASON10
Harvey Nichols is obviously well known in the UK – their department stores are gorgeous and this sense of luxury has completely carried through to their online shopping experience with beautiful packaging and prompt delivery.
Harvey Nichols also ship internationally – and for my US followers, they offer free shipping over $250. I mentioned this in my Labor Day Sale round-up video but coming from the UK, many luxury prices are less expensive than in the US – so it is definitely worth taking a look if there was anything on your wish/ shopping list! All taxes are also helpfully calculated at checkout so no surprises upon delivery.
Shoe Picks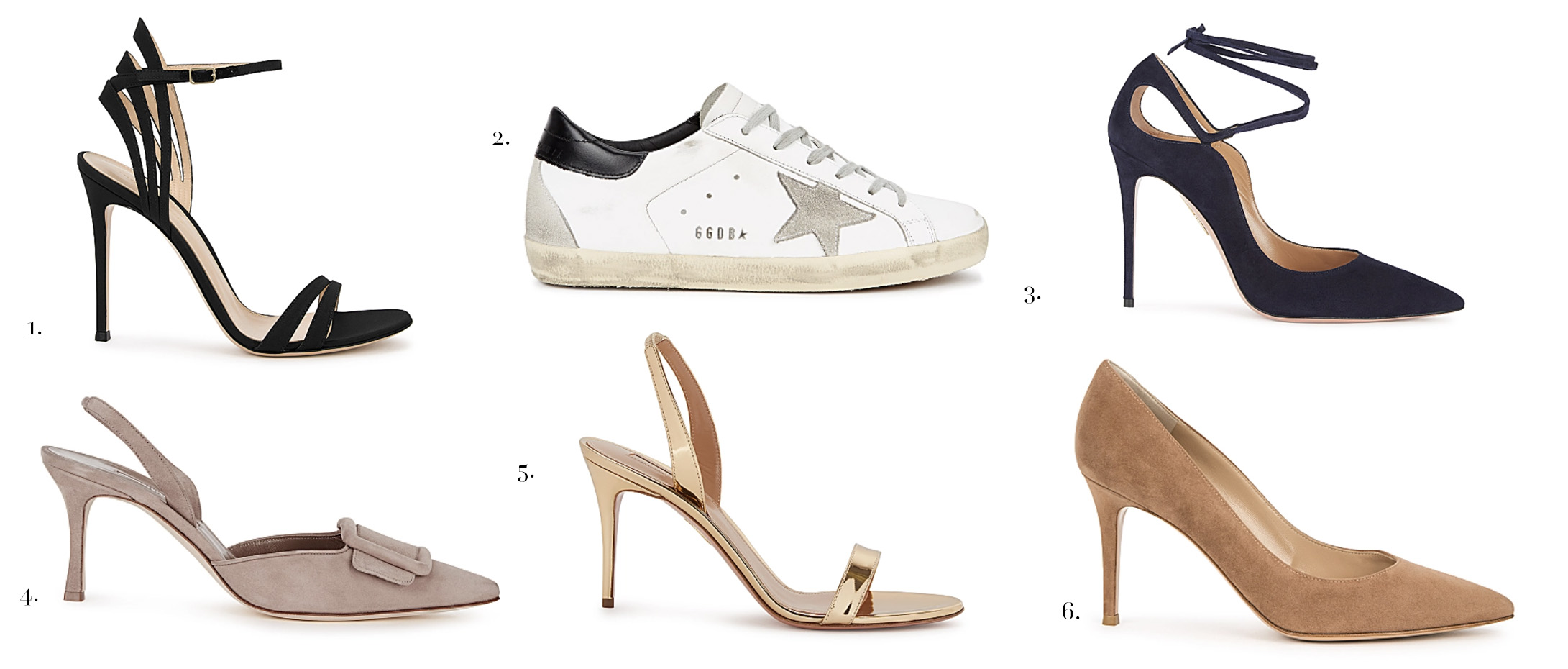 1. Aquazurra Black Sandals // 2. Golden Goose Sneakers // 3. Aquazurra Navy Heels // 4. Manolo Blahnik Slingbacks // 5. Aquazurra Gold Sandals // 6. Gianvito Rossi Suede Heels
The shoe selection is insanely good with everything from Manolo Blahnik to Jimmy Choo to Golden Goose included in the discount code.  The taupe version of my Manolo slingbacks are included as are all new season Aquazurra options (so many beautiful choices!).
Beauty Picks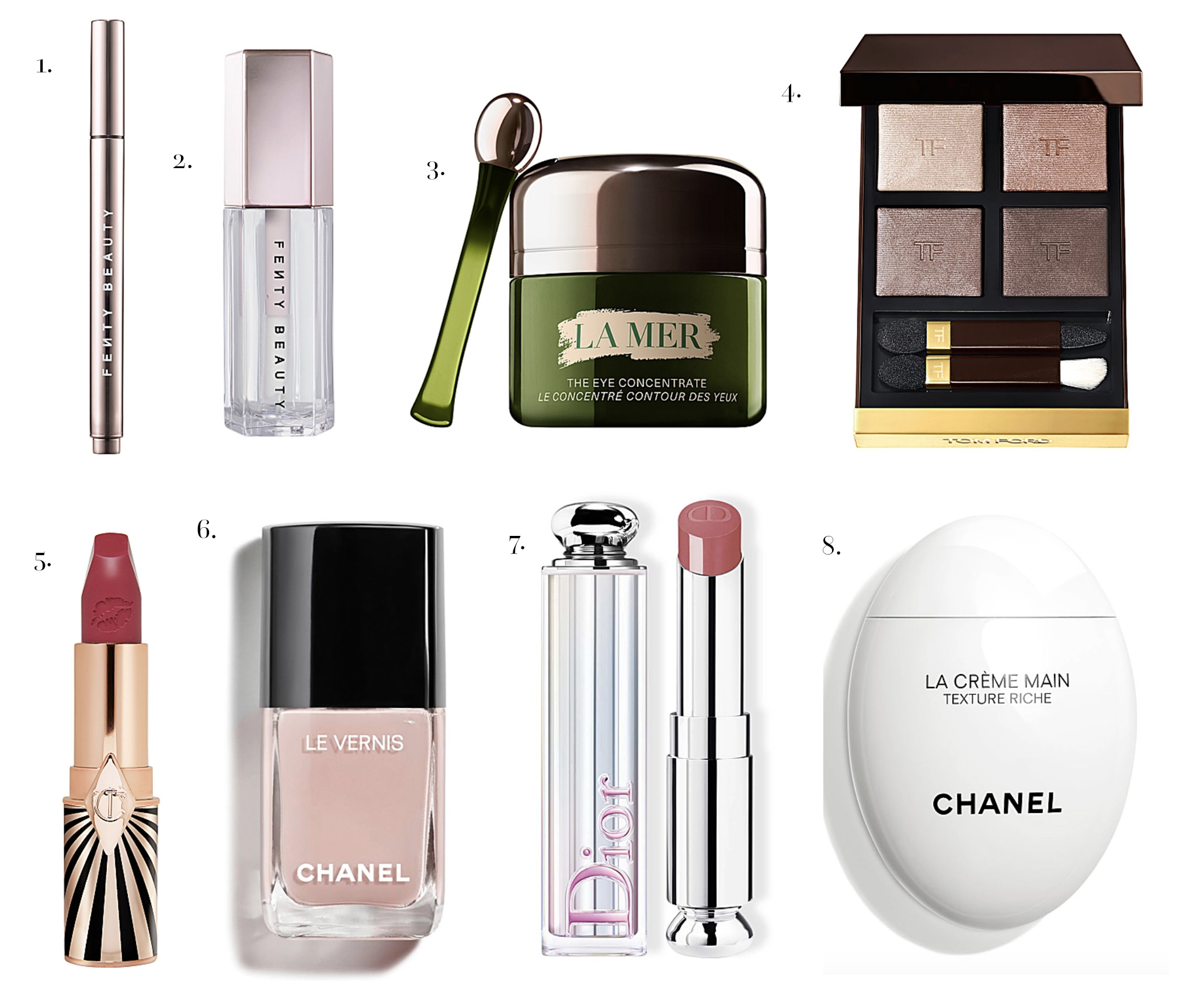 1. Fenty Eyeliner // 2. Fenty Lipgloss // 3. La Mer Eye Cream // 4. Tom Ford Nude Dip Eyeshadow Quad // 5. Charlotte Tilbury Hot Lips Lipstick in Amazing Amal // 6. Chanel Le Vernis – Organdi // 7. Dior Stellar Lip Shine – Mirage // 8. Chanel Hand Cream
Harvey Nichols have become my go-to recently for beauty buying as not only is delivery prompt and always well packaged, but they also stock some brands which are otherwise super tricky to find in the UK, including Fenty beauty. I've included some of my go-to products above – these are all repurchases for me, so a 10% discount is always very welcome!
Popular Brands
Fendi Bags
Chloe Bags
Givenchy Bags
Balenciaga Bags
Valentino Bags
Burberry Coats
Jimmy Choo Shoes
Manolo Blahnik Shoes
Golden Goose Shoes
Gianvito Rossi Shoes
The promotion runs from today through to Monday 14th September and excludes the following brands/ departments: Food & wine, Marketplace, Alexander McQueen, Larrys, Loewe, Gucci, Saint Laurent, Alexander Wang, Palm Angels, Moncler, Canada Goose, Jacquemus. All of the above brands are obviously included 🙂
Happy shopping!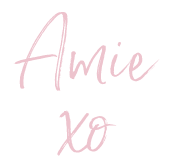 Thank you to Harvey Nichols for partnering with me on this post!