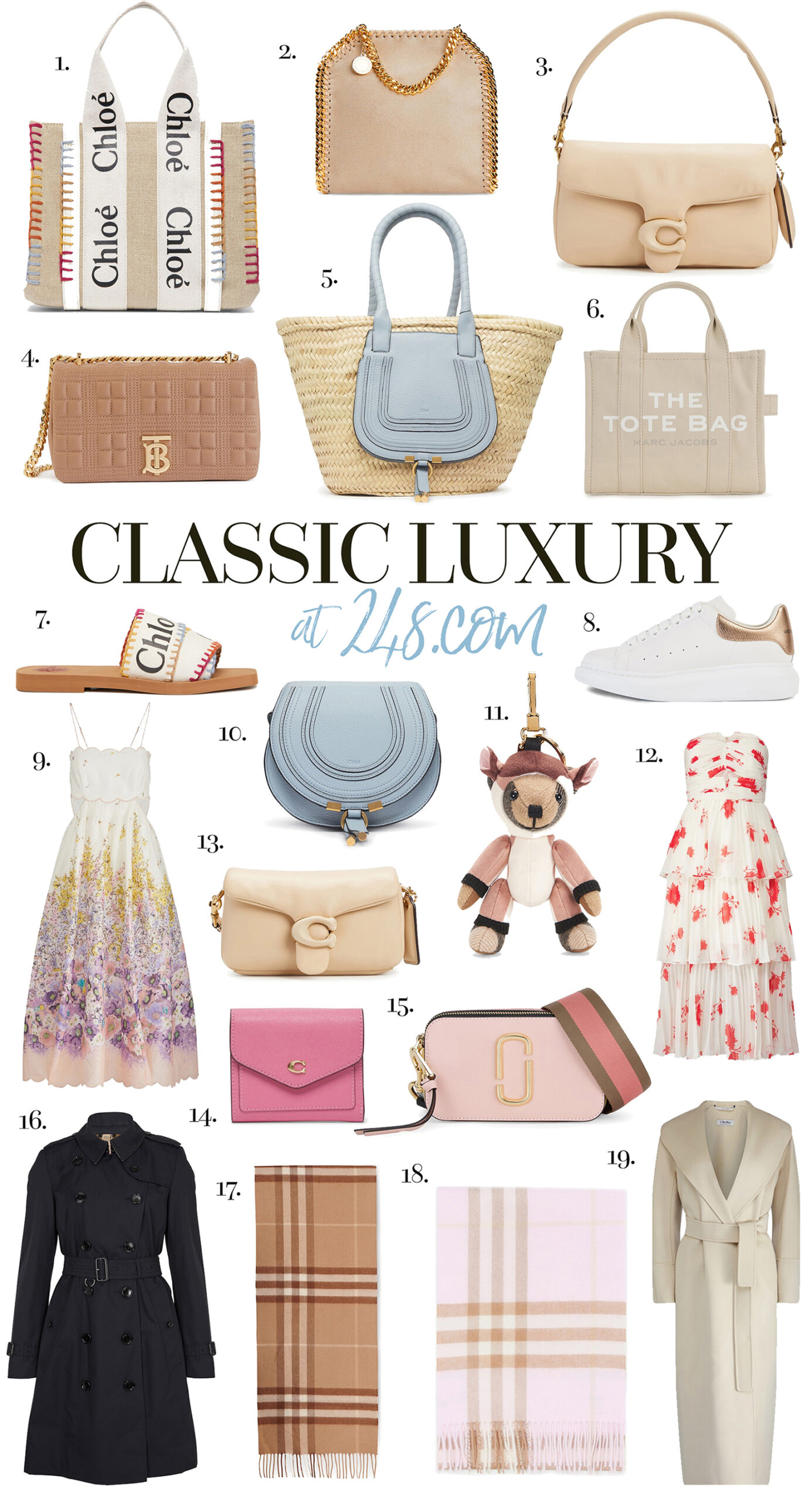 1. Chloe Woody Tote // 2. Stella McCartney Falabella // 3. Coach Tabby Bag // 4. Burberry Shoulder Bag // 5. Chloe Marcie Tote // 6. Marc Jacobs Tote // 7. Chloe Sandals // 8. Alexander McQueen Sneakers // 9. Zimmermann Dress // 10. Chloe Mini Marcie // 11. Burberry Bear // 12. Self-Portrait Dress // 13. Coach Mini Tabby Bag // 14. Coach Mini Wallet // 15. Marc Jacobs Snapshot Bag // 16. Burberry Trenchcoat // 17. Burberry Scarf // 18. Burberry Pink Scarf // 19. S Max Mara Coat
24s.com have a brand new offer for Chinese Valentine's Day! This is one of their biggest offers of the year and it is an amazing one. This one is a tiered discount with the starting discount beginning at 15% going up to a huge 25% off! The different tiers and corresponding codes are listed below:
15% off a spend over $/£/€ 150- use code CVD15
20% off a spend over $/£/€ 300 – use code CVD20
25% off a spend over $/£/€ 500 – use code CVD25
There are SO many amazing brands and items included and with the discounts as generous as they are, there are some incredible deals on super classic items. From Burberry scarves and trenchcoats to Chloe bags to stunning Zimmermann and Self-Portrait dresses – there are so many beautiful pieces included in the code and 25% is an absolute steal!
WINTER INVESTMENT PIECES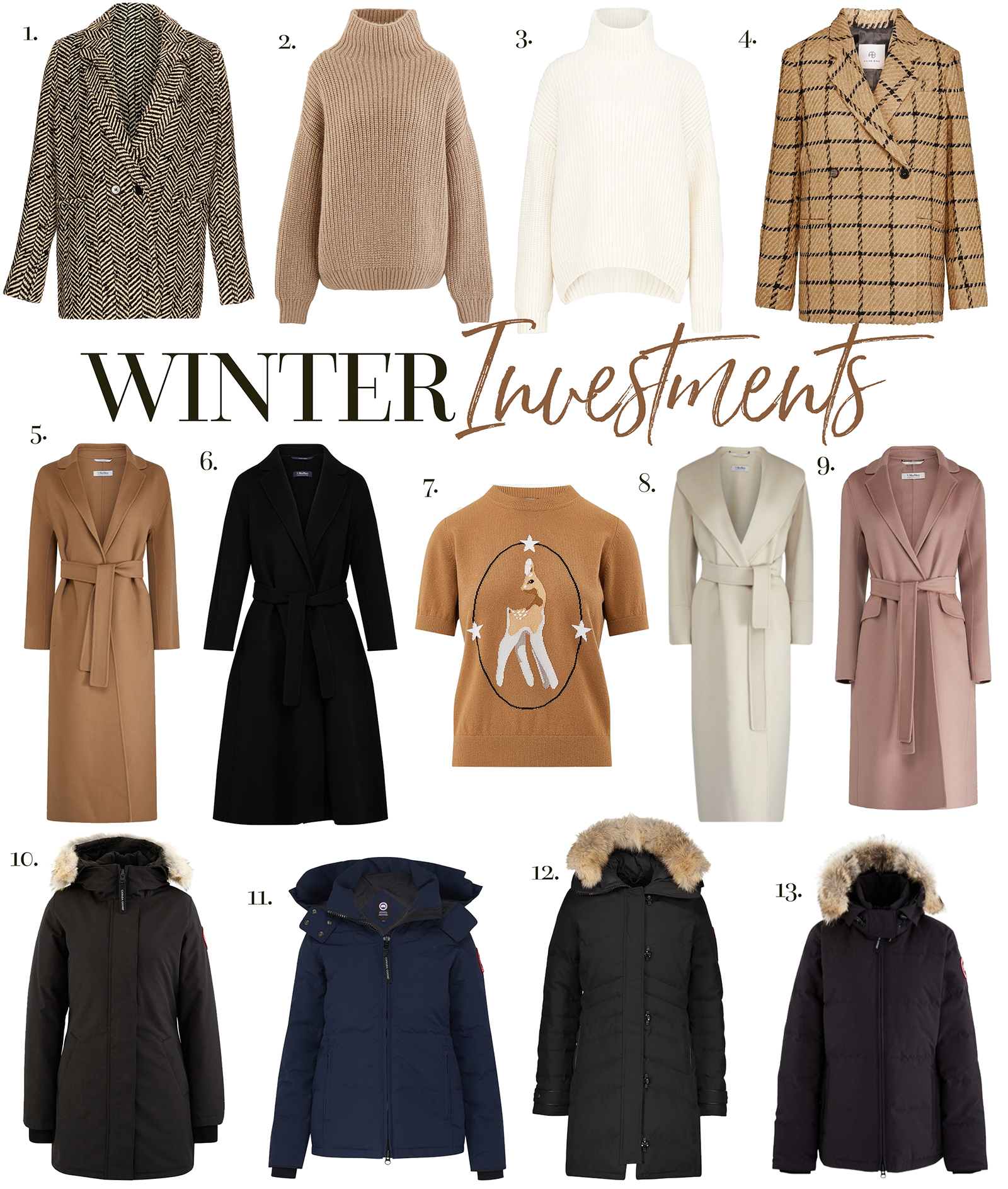 1. Anine Bing Blazer // 2. Anine Bing Camel Sweater // 3. Anine Bing Cream Sweater // 4. Anine Bing Plaid Sweater // 5. S Max Mara Coat // 6. S Max Mara Navy Coat // 7. Deer Sweater // 8. S Max Mara Cream Coat // 9. S Max Mara Pink Coat // 10. Canada Goose Coat // 11. Canada Goose Navy Jacket // 12. Canada Goose Quilted Coat // 13. Canada Goose Short Coat
I know it's the dead of summer but it's never too early to plan for wardrobe investments IMO – especially as all the new winter arrivals are currently fully stocked AND included in the even the highest tier of the discount code! That means Canada Goose jackets and S Max Mara coats are a huge 25% off because they all hit the highest spend tier of $/£500! As soon as it gets colder, it becomes harder to find these brands at a discount and even harder to find sizes in stock and at a discount. So this is one time that planning ahead can definitely pay off!
You can see the full selection of Canada Goose coats here and the full selection of S Max Mara coats here (there are many more styles beyond what I featured above!)
FUNCTIONAL BUT CHIC ACCESSORIES

1. Burberry Tote // 2. Marc Jacobs Tote // 3. Marc Jacobs Mini Tote // 4. Chloe Sandals // 5. Chloe Large Tote // 6. Chloe Medium Tote
There are so many great accessories included, I had to do a whole extra collage! From gorgeous Chloe Woody totes and sandals to the fantastic Marc Jacobs line which is currently well stocked in everything from the original larger size to the adorable new mini sizes.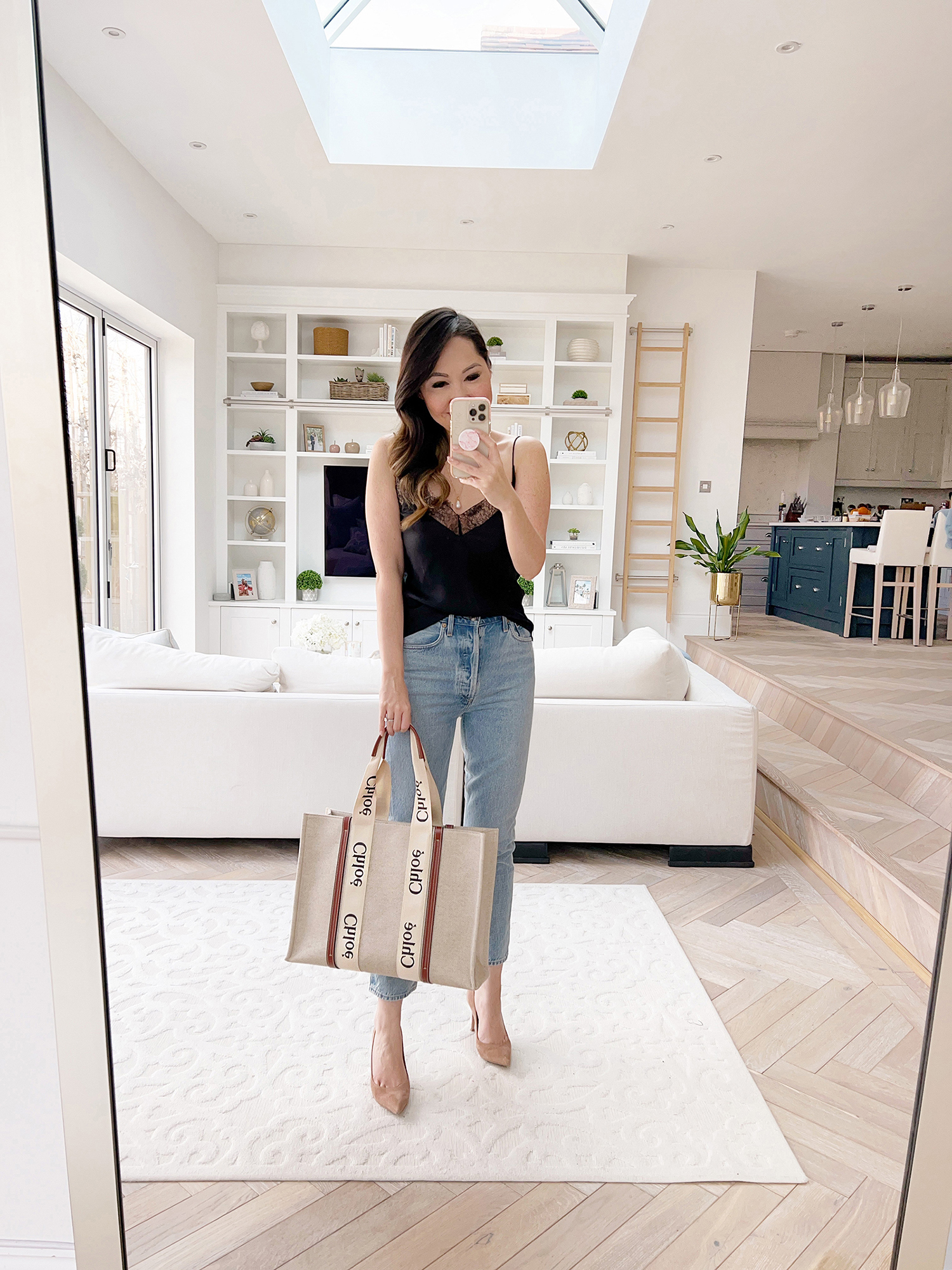 The Chloe Woody tote is a long time favourite and is currently in stock in the medium size in the brown, as well the larger size (picture on me above!) in the navy trim colour – all at a huge 25% off! Chloe have also been busy releasing all kinds of gorgeous new versions of the Woody tote including this adorable multi-colour trim option! You can see the full selection here.
MORE FASHION PICKS

1. Black Sundress // 2. Zimmermann Skirt // 3. Zimmermann Top // 4. Beige Sundress // 5. Self-Portrait Dress
There are also a ton of beautiful fashion picks – from the entire Zimmermann line to Self-Portrait and Faithfull dresses. I own this Zimmermann top (sadly a little snug for me at the moment so I couldn't do a mod shot!) and it's just the most adorable thing! So pretty with white jeans or denim shorts.
I'd also always recommend checking out Faithfull the Brand dresses – I own quite a few at this point and they never disappoint for their beautiful, feminine designs. Heads up, they run a little small in my experience and I would always take a size small vs. my usual XS.
WARDROBE FAVOURITES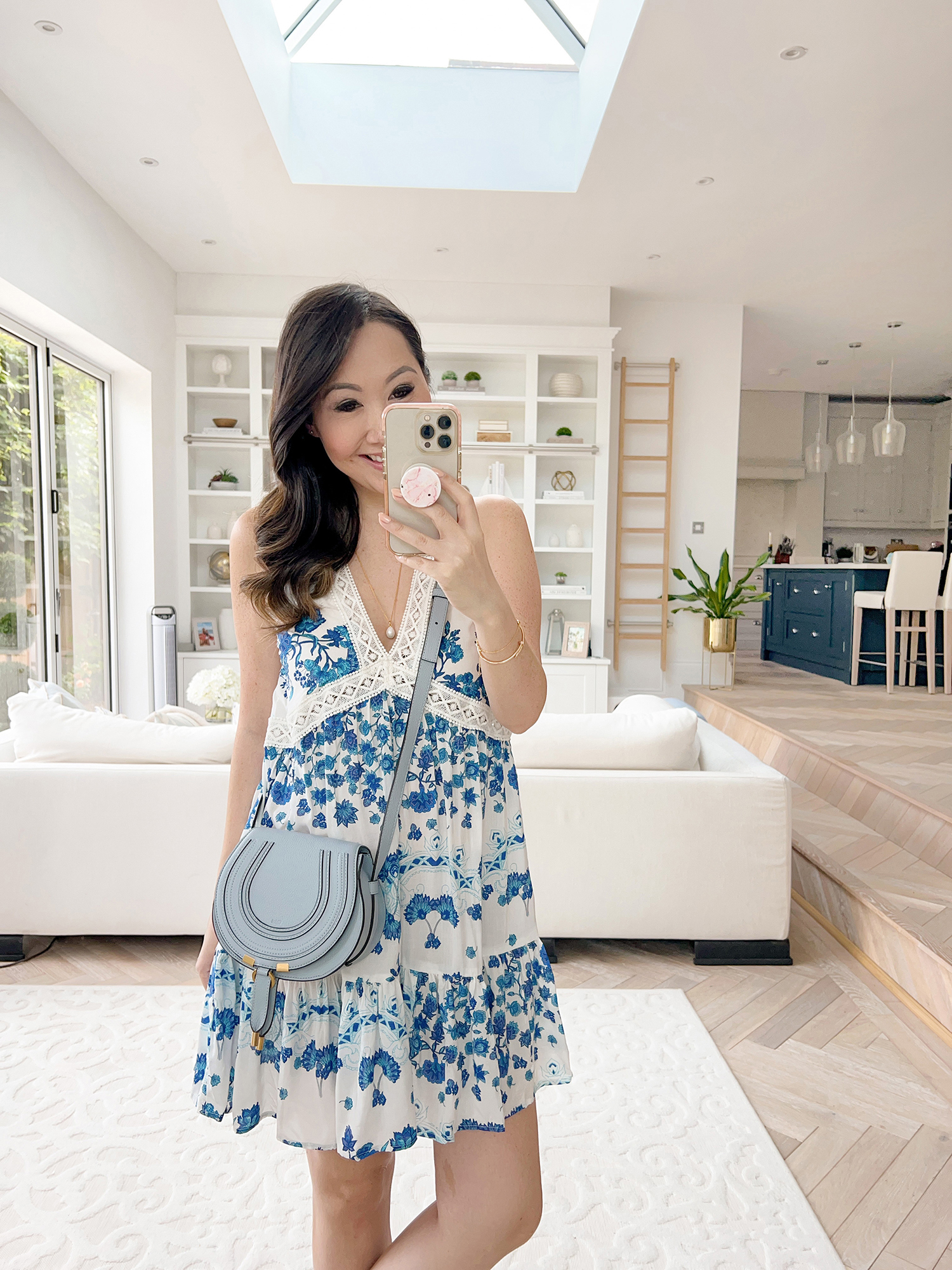 For wardrobe favourites I already own and love, I was so excited to see that my Chloe Mini Marcie is back in stock! You can nab the full 25% off since it hits the highest tier spend. I have been absolutely loving this bag – it really is such a wonderful easy breezy summer style and the colour is so stunning and seems to go with pretty much everything I pair it with.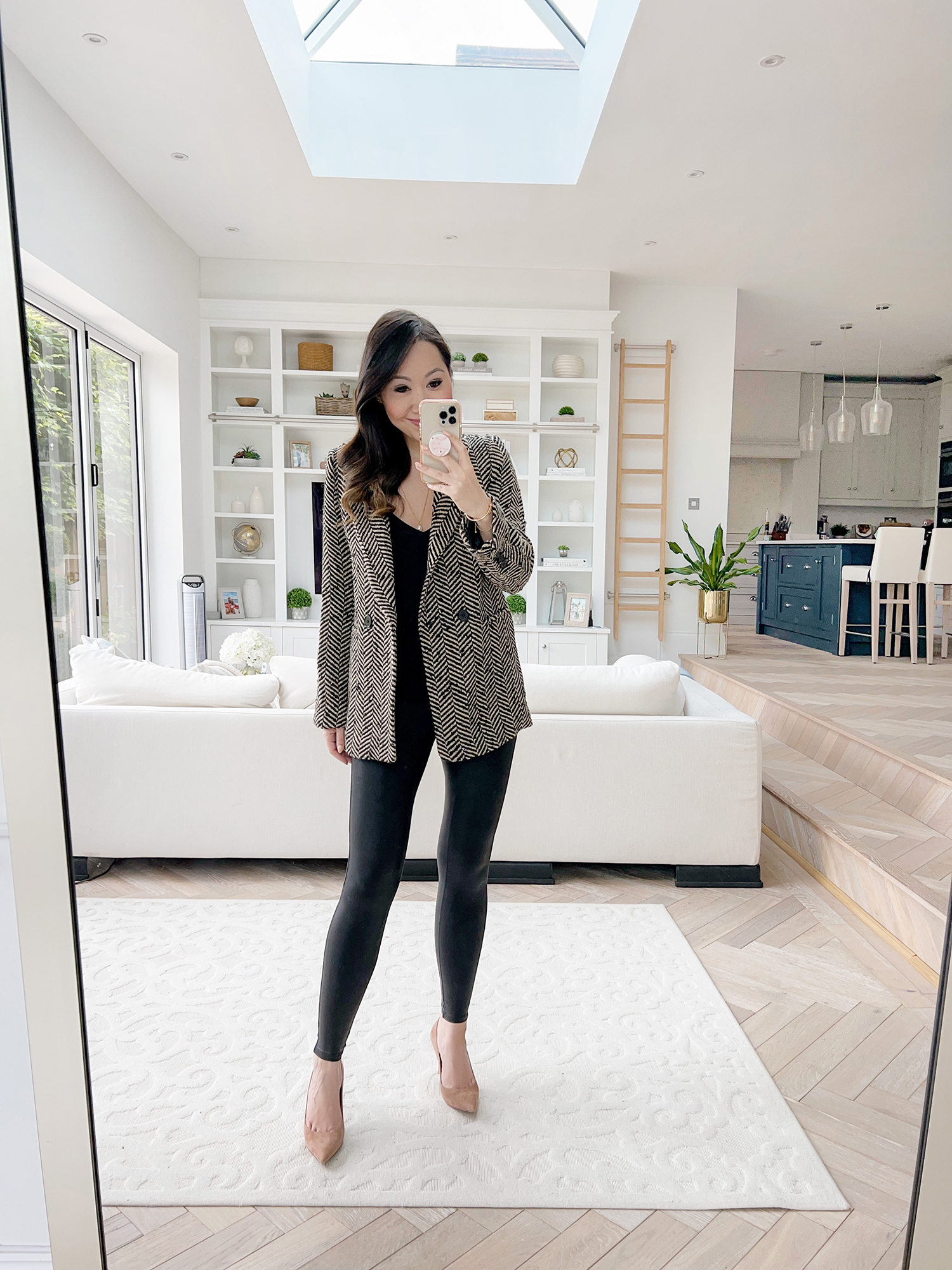 My Anine Bing blazer which I had on my wishlist for all of last winter is included and currently in stock! Now is definitely the time to nab this if you had your eye on it as it does seem to sell out in the smaller sizes (it runs large IMO – I took a size XXS but am wearing with a thin cami here) when it comes to the colder months. I wore this a lot in my styling shots in my Nordstrom Sale videos and I got so many questions where it was from! Such a gorgeous piece and I'm so excited for some cooler weather to properly get some use out of it.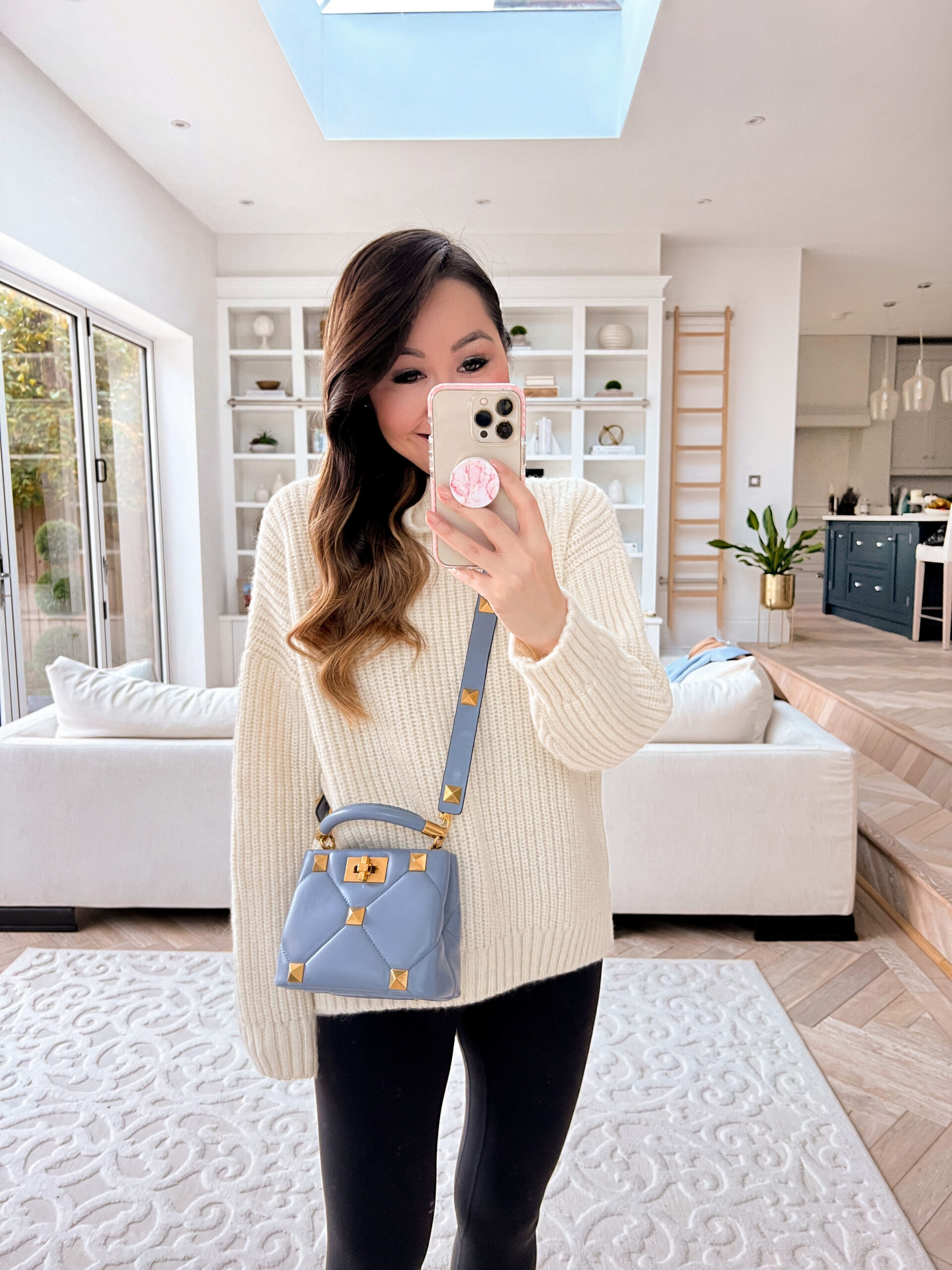 My chunky Anine Bing sweater is another favourite – can you tell I really love Anine Bing haha? Her pieces are so well made and really strike the perfect balance between being super classic whilst also on trend. This is the most wonderful chunky knit – wonderfully oversized without being unflattering, they bring this back year after year and I 100% get why!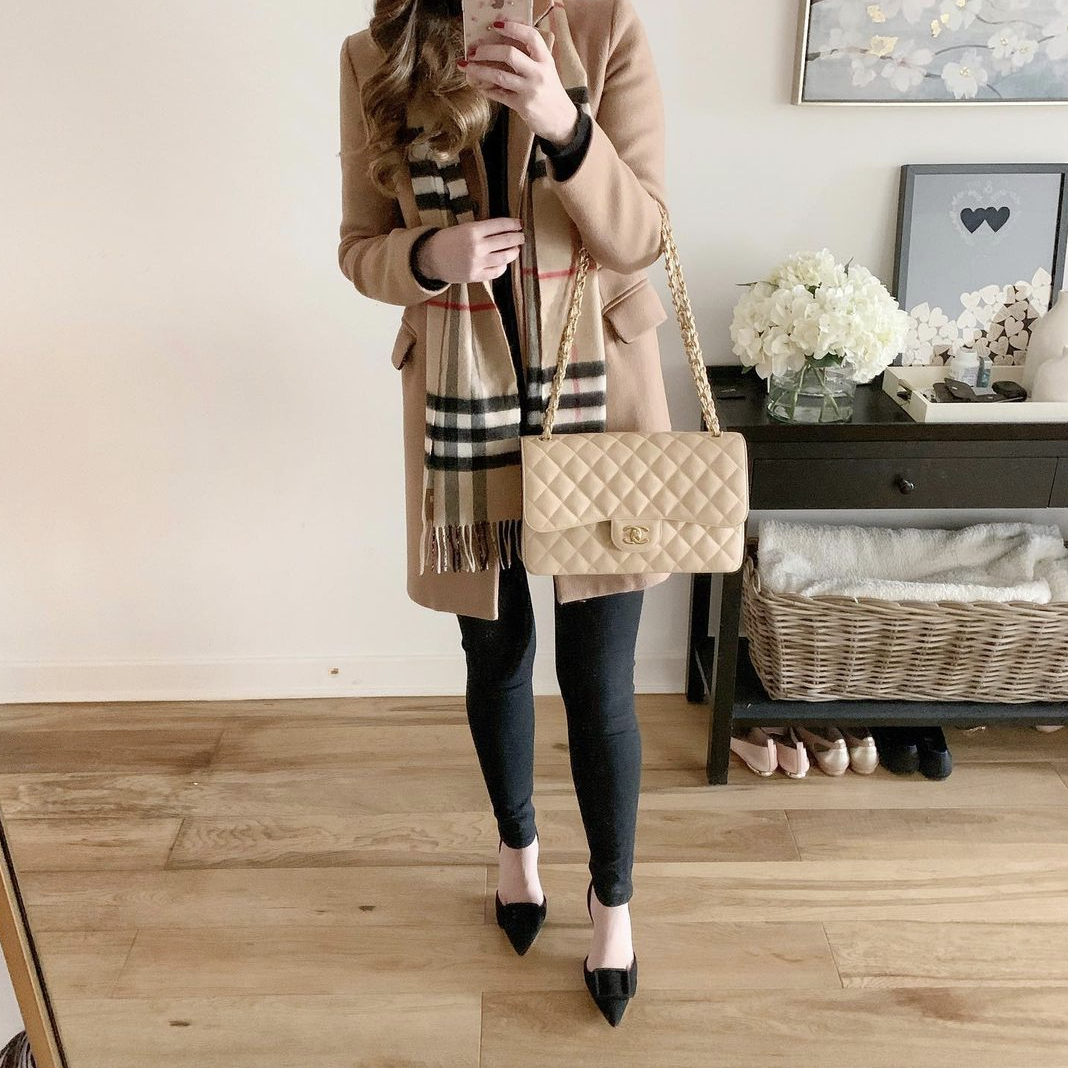 Burberry scarves are included too! These are included in even the highest tier of spend meaning that if you spend over $500/ £500, then you can get a huge 25% off! They have so many great colours in stock from the pale pink one I own, to this gorgeous new season camel coloured one.
I just nabbed this men's one for a Christmas present (never too early for me when there's a good deal haha!).
As you probably gathered, I 100% shopped this sale myself so I'll try to share my haul as soon as it arrives! Let me know if you snag anything! 🙂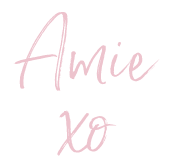 Thank you to 24s.com for sponsoring this blog post!