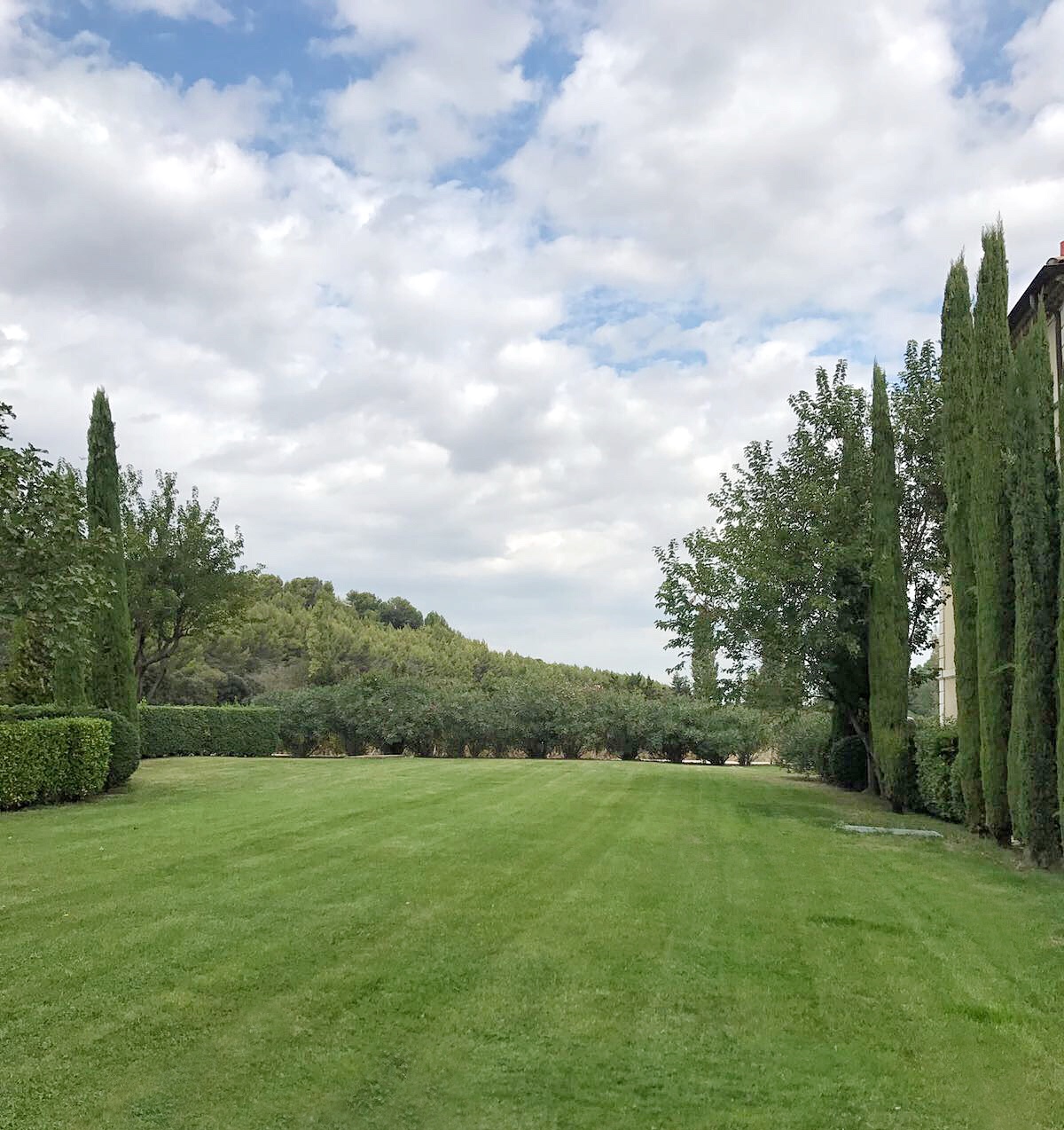 My wonderful wedding coordinators, Rose Gold Weddings (they're actually wedding planners but also offer on-the-day coordination services!) visited my venue recently and sent me the above photo which inspired today's post! I haven't really spoken too much about our venue or the process (other than probably complaining about how stressful it was trying to find somewhere!) so I thought I would do that today.
Finding the venue has been by far the hardest part of wedding planning so far. I imagine the experience is quite different if you have a limitless budget and plenty of time but neither of those things were true for us. We had just over a year when we started and whilst I thought our venue budget was pretty generous when we first began, I was soon informed that this was not the case! It took two trips to France, hours and hours and hours of online research and dozens of emails before we finally found 'our one' that was both within budget and that we loved the look of. So, here are my tips to helping you find that elusive one (assuming you've already found the groom of course :)).
Start early and be determined. After getting your ring insured, this should probably be the first wedding planning item you tackle after getting engaged. After the initial rush, it may not seem that fun but if you leave it too late, it will only get more difficult and more stressful. We found some venues that were completely booked up 14 months in advance – and I know some get booked more than 18 months in advance! Start early and be rigorous with your search.
Be uncompromising with your budget. It's easy to get a lot of quotes back for venues that look like they should be in your budget, only to find that they are all wayyy out of your budget. I don't know how many times this happened to us and it's still a total mystery to me how some venues price themselves! It's important to have faith that there will be in-budget options out there though and try not to waver too much with your venue budget. It's a big ticket item and if you go way over with this one, it'll be extremely difficult to stay on track overall.
Watch out for hidden extras. Factor in whether you'll need a marquee, furniture rentals (it's definitely not a given that your venue will have appropriate tables, chairs – or even cutlery!), extra toilets, more extensive travel costs etc. These items are not cheap and could take your reasonably priced venue to super-expensive territory.
Use all of the avenues on the internet. Look beyond Google – which in my experience, was not that helpful in finding venues. Instagram however, was great as were wedding blogs (I found our venue through randomly stumbling across a small wedding blog!). If you're totally new to venue hunting, try to narrow down the region and area you want to get married in – as soon as we had that, it really helped to focus our search. If the area isn't important to you, many venue searching sites will let you filter by look and feel (i.e. 'city chic' or 'rustic') or by facilities.
Be a little flexible. We had our wishlist of items and our eventual venue ticked almost every box – but not all of them. We weighed up the pros and cons and decided that what we loved about the venue far exceeded any small negatives. Your absolute ideal venue may not exist and even if it does, it may not be within budget – so try to be openminded and remember that a lot of potential issues can be solved with a little creativity 🙂
Pay attention to how you feel. It's important that you feel excited about your venue – and this is one tip that I've carried with me throughout all of the wedding planning so far. If a vendor or a decision doesn't make me feel super excited about the wedding, then I don't go for it because experience so far has taught me that if you look hard enough, you will be able to find something that not only works but makes you even more giddy with excitement about your big day! If when touring your venue, you can absolutely imagine yourself getting married there, then go for it! If you're struggling to picture it or if you get any kind of uneasy feeling, then perhaps you need to keep looking.
Don't give up! For every crazy popular venue that says they get booked up more than a year in advance, there will be another hidden gem that doesn't market themselves quite so well. It may feel totally hopeless at times, but the wedding industry is so massively populated that you will be able to find something that works for you – it may just take time, patience and a lot of resolve!
Our venue definitely isn't one of those go-to ones you see on Instagram and blogs all the time and we would never have found it if it hadn't have been for the almost obsessive internet-stalking we did so I can definitely attest to the merits of being determined and not giving up.
For us, the venue was a mix of everything that we liked whilst not feeling overwhelming or stiff. And the thing that sealed the deal? The fact that when we were trying to decide where to have the ceremony, we realised we had a ton of options – because everywhere you looked was absolutely stunning. We realised how lucky we were to be in such a beautiful place and how we could absolutely imagine all of our family and friends gathering to celebrate with us!
I hope you found these tips helpful and thank you so much for stopping by!