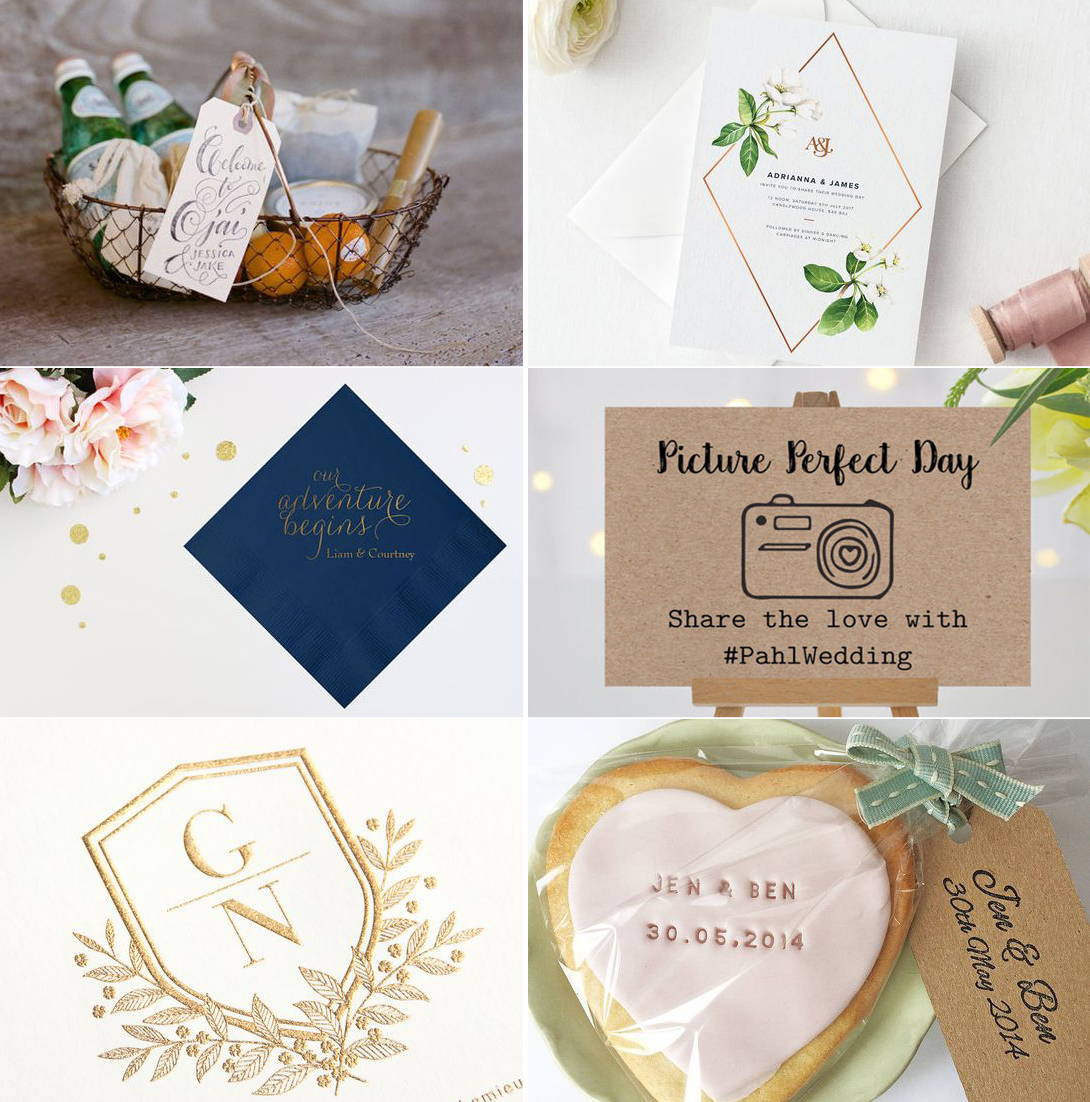 Today's post is going to be all about personalising your wedding! I don't always love the term 'branding your wedding' but I do appreciate the need to put your own stamp on your big day. Of course, a wedding is about as personal as it gets but I know so many people want to avoid 'cookie-cutter' weddings and personalisation is a great way to make it your own –  plus, I am all about the little touches! I am currently knee-deep in researching suppliers for some of the smaller details and along the way I've found some of the prettiest inspiration! So I thought I would round up my favourite ways of putting your own stamp on your big day.
This is also going to be my last official Wedding Wednesday post – I've had so much fun with these weekly updates but the time is right to end this little series of mine. Not to worry if you're still after some wedding related content – I'm planning on properly diving into my wedding series on YouTube come January and I'll still be doing some sporadic wedding posts on here, as and when I have something to say!
So without further ado though, here are my favourite ways to personalise your wedding!
Welcome Bags or Baskets
We attended one of Dan's best friends' wedding in Spain a couple of years ago and waiting for us in our hotel room was the loveliest welcome package – filled with snacks and water to see us through the weekend. I loved the idea so much that I've been busy planning welcome bags for our own wedding too – hopefully this time filled with French treats!
Not only is it a great way to set the tone but will surely be very welcome to your guests, particularly if they are travelling.
Custom Invitation Suite
I'm a bit of a stationary geek and love all things paper-related. Custom invitation suites can be expensive but if you can afford them (or if you're creative and can design them yourself!) then they are a wonderful way to personalise your wedding in exactly your style.
Wedding Logo
Tying into the above, a wedding logo can be a lovely way of putting your own stamp on things and can be used on your invitation suite. These can also get very pricey though. To save money, I ended up going on UpWork and was able to find a freelancer to do a beautiful watercolour logo at a snip of the price of a larger company or agency. It came out better than I could have imagined and I can't wait to base our invitations around it!
Printed Cocktail Napkins
This is a great one for a high impact effect that is surprisingly cost effective. There are many companies that offer custom napkin printing and you can get 100 customised napkins for just £15 (and I'm sure if you hunted around, you could find cheaper!). It's an adorable touch that looks super fancy but happily, doesn't cost the earth 🙂
Custom Favours
Favours aren't a necessary one these days but I love them and took a while to decide what we would go for. I see so many creative ideas all over Pinterest and it can be the perfect way to make something uniquely your own. The sky is really the limit with everything from personalised cookies to seed packets with custom stickers or monogrammed take-home trinkets. We're having edibles (after all, who doesn't like food!?) and we're customising the packaging to put our own twist on things 🙂
Wedding Hashtags
Wedding hashtags are probably the most fun – and best of all, the cheapest way of making your wedding completely your own! I love the ones that are a play on the bride and groom's names and there are some beautiful signs you can print out to display your hashtag proudly during your cocktail hour and reception.
I hope you enjoyed these ideas – please let me know if you have any other suggestions for personalising and making your wedding unique! I would love to hear them 🙂